Since September 2013 I'm posting regularly in English in addition to Catalan. If you want to read this post translated to English, please use the automatic translator on the right column.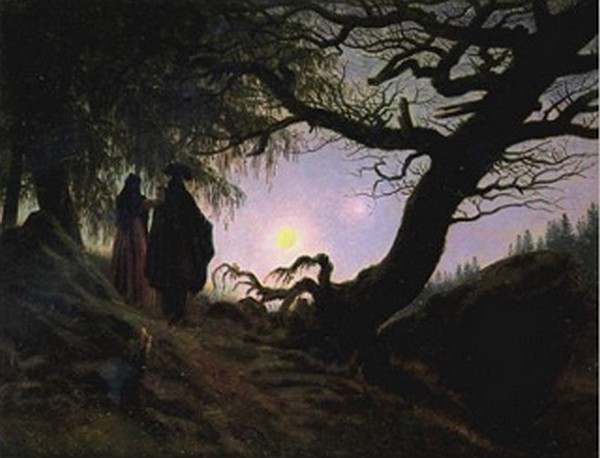 Home i dona contemplant la lluna. C.D. Friedrich
Em suggereix una amiga que expliqui què és el lied. Ens caldria una entrada ben llarga, però com a alternativa podem fer unes pinzellades per situar-nos.
Lied és un terme alemany per referir-se a cançó. I això és el lied com a gènere musical, cançons. Originàriament, els pares de la criatura s'hi referien com a Kunstlied (Kunst = art) per diferenciar-lo de la cançó popular, en la qual s'inspirava.
Perquè nosaltres poguem escoltar un lied cal un poeta que escrigui un poema, un compositor que l'esculli per escriure'n una cançó i un cantant i un pianista que la interpretin.
El lied és un gènere clàssic per naixement però romàntic per vocació. El període més important de composició s'extén des de començaments del segle XIX fins a mitjans del segle XX (amb una interpretació ben relaxada del Romanticisme).
Els lieder s'interpretaven en un començament entre amics, en vetllades musicals (Liederabende) en els salons de les cases. Amb els anys es va anar traslladant a les sales de concerts i tots dos tipus d'interpretacions van conviure fins a la I Guerra Mundial. Avui dia els recitals han perdut el seu caràcter privat i s'ofereixen en sales de concert, però conserven (o haurien de conservar) el seu caràcter íntim.
Els temes que canta el lied són els propis del Romanticisme: la natura, el panteisme, l'element sobrenatural, la nit, la mort i, per descomptat, l'amor.
El lied NO és òpera. Per més que bona part dels intèrprets de lied ho siguin també d'òpera són gèneres diferents i s'interpreten seguint codis diferents. La major part dels compositors de lieder més reconeguts ho són alhora per la seva obra simfònica i camerística però no per l'operística.
Sovint les cançons s'escriuen sense especificar el tipus de veu que les ha de cantar; per aquest motiu podem trobar veus femenines i masculines cantant les mateixes cançons.
El lied es va anar extenent per Europa al llarg del segle XIX i es va anar transformant tot adaptant-se a les característiques de cada entorn cultural. Les cançons més interpretades als recitals a banda de les alemanyes són les franceses (mélodie) i angleses (art song).
Ara que hem dibuixat uns límits ja podem començar a desdibuixar-los. De vegades el piano l'acompanya un altre instrument o l'acompanyament és orquestral, algunes cançons estan escrites per a dues veus, d'altres estan escrites per una veu en concret, de vegades l'estil de les cançons s'acosta molt a l'operístic... gairebé dos-cents anys donen per molt.
Per acabar podem escoltar Die Nacht (La nit), de Richard Strauss, un compositor que va excel·lir també a l'òpera. El poema, de Hermann von Gilm, ens parla d'una nit que s'enduu la bellesa que va trobant al seu pas. I què millor que protegir la bellesa de l'estimada abraçant-la?
Die Nacht pertany a un recull de vuit cançons (Acht Gedichte aus Letzte Blätter von Hermann von Gilm, op. 10) que es considera la primera obra liederística important de Strauss; la va escriure l'any 1885, quan tenia 19 anys. Pertanyen també a aquest cicle cançons tan conegudes com Zueignung, Nichts i Allerseelen.
És una cançó per cantar a mitja veu, dolça i sensual, d'atmosfera recollida; un exemple exquisit de nocturn. L'interpreten el tenor Jonas Kaufmann i el pianista Helmut Deustch.
Die Nacht
Aus dem Walde tritt die Nacht,
Aus den Bäumen schleicht sie leise,
Schaut sich um in weitem Kreise,
Nun gib acht.
Alle Lichter dieser Welt,
Alle Blumen, alle Farben
Löscht sie aus und stiehlt die Garben
Weg vom Feld.
Alles nimmt sie, was nur hold,
Nimmt das Silber weg des Stroms,
Nimmt vom Kupferdach des Doms
Weg das Gold.
Ausgeplündert steht der Strauch,
Rücke näher, Seel an Seele;
O die Nacht, mir bangt, sie stehle
Dich mir auch.
Del bosc sorgeix la nit,
avança des dels arbres sigilosament
observa entorn seu,
para atenció.
Totes les llums d'aquest món,
totes les flors, tots els colors
els extingeix i roba els feixos de palla
dels camps.
Tot ho pren, si és bell,
pren l'argent dels rius,
de la teulada de coure de la catedral
s'enduu l'or.
L'arbust és nu,
acosta't, cor amb cor;
em fa por que la nit
també se te m'endugui.