This week we welcome Juan Pablo Sandoval García; he suggests two love waks, with Johannes Brahms (Wir wandelten) and with Richard Strauss (Nachtgang) What do they share? What does make them different? Juan Pablo shares with us his reflections, thank you very much!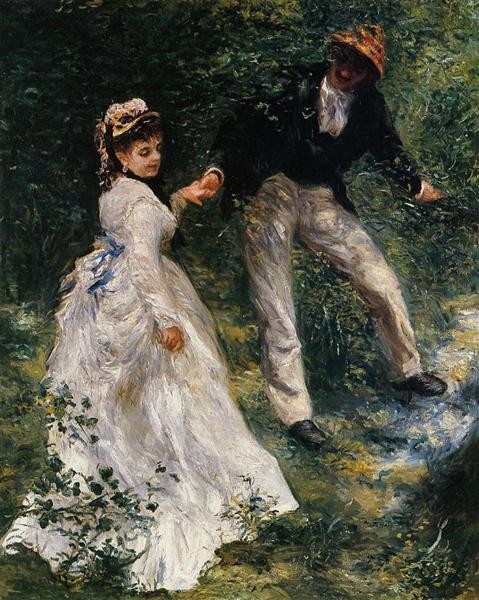 The promenade - P. A. Renoir
Two love walks
In 1884 the 51-year-old bachelor Johannes Brahms wrote Wir wandelten, based in one of the poems in Polydora by Georg Friedrich Daumer, which was inspired by a Magyar text. When Brahms had the opportunity to meet Daumer in 1872, the poet had never heard neither of the composer nor his Lieders despite the fact that Brahms had written music to more than sixty poems by Daumer, including the famous Liebeslieder Walzer.
Wir wandelten (We were walking) talks about two people who walk together happily in shy silence, eager to guess each other's thoughts. However, in contrast to the absence of words, beautiful thoughts rang like golden bells, "so wonderful as no other sound on earth". The discreet jingle announced already through the introduction of the piano will become evident in the second part of the song. Brahms uses a light and bright texture to sustain the spirit of this poem.
This song portrays an incipient, unconfessed love; probably like the one Brahms felt for Clara Schumann at the beginning of their relationship. The composer's ability to recreate that fresh, innocent illusion, in his mature years is remarkable.
Richard Strauss, thirty-one years old, wrote Nachtgang Op.29 No. 1 in 1894. He had been married for a year to the soprano Pauline de Ahna, a woman of strong character who once gave Strauss twenty minutes deadline to write a song before going out to an errand, in which time the composer created Traum durch der Dämerung, third song of the same opus, all three with texts by Otto Julius Bierbaum. Strauss had met Bierbaum looking for a probable librettist for his operas; although they never worked together, the composer put some of his poems to music.
In Nachtgang (Night Walk) there is a precise context, the quiet and cozy night, the silver light of the moon so, Strauss uses a low register of dark and velvety sounds and the melodic line only has two significant high notes underlining "Goldgrund" and "und rein".
This morbid and sensual music had a slower pace because, unlike Brahms's Lied, in this poem the lovers have a physical closeness connecting them beyond words: they go hand in hand looking into each other eyes and finally he holds her firmly and kisses her gently. Emotion is both present in the burning longing for tears that arises in his eyes, but also in his weeping soul. We are facing a consummate love in which the woman seems a saint haloed by the moonlight, evoking Klimt's paintings and the constant overlapping of erotic passion and mysticism.
One year after his marriage to Pauline, for whom Strauss surely wrote most of his songs and operas, it would be understandable that this poem reflected the couple's feelings.
Analyzing Brahms expressive setting tools, we hear the instrumental echoing of the song line made by the piano, commenting and reinforcing it or simply taking the part of the other stroller. The prelude places us in an environment full of expectation in which the reference to the small golden bells timidly appears; Brahms introduces in this beginning the main theme of the Lied in a canon which suggest the two strollers. Some melodic imitation appears later in the piano and the piano giving relevance to certain phrases. ("Wir zwei zusammen"; "was ich dachte"; "so himmlisch heiter war es all").
Strauss uses this resource only once in Nachtgang, underlining the importance of "dein Angesicht" (your face), however, he makes use of another imitative melodic resource: the leitmotif (small musical themes reminding us of something essential heard beforehand in the work).
Strauss uses two leitmotivs in the piano. That of the first sentence which I will call the theme of the walking, "Wir gingen durch die stille, milde Nacht", once on the bass after "wie die liebe Sonne", and a second time at the postlude at the end of the song. The other theme that he repeats, and that I will call the theme of physical contact, is the melody of the second phrase "Dein Arm in meinem, dein Auge in meinem" and he does it just under the voice in the almost recited phrases at the end of the Lied: ("Fester fasst ich dich und kusste dich ganz leise").
Another coincidence is that both composers set a rhythm of continuous movement on the piano, it stops only at special moments. In Brahms to emphasize "Nur eines sag ich", after which he will reveal to us the beauty of his thoughts. Likewise Strauss writes long chords when he describes the likeness of a saint ("Und du erschienst mir wie eine Heilige") and later when he holds her firmly and kisses her.
Thanks to the setting in music of these poems, these couples in love walk again before our eyes, whether they are shy youths full of hope or caressing worshipers.
Swiss tenor Ernst Haeflieger, of the post-war generation, sings Wir wandelten by Brahms with elegant line and bright voice that blends with Herta Klust's crystal piano. Hermann Prey, Berlin baritone, plays Nachtgang with intimate passion in his ensemble with Gerald Moore.
Wir wandelten

Wir wandelten, wir zwei zusammen;
Ich war so still und du so stille;
Ich gäbe viel, um zu erfahren,
Was du gedacht in jenem Fall.
Was ich gedacht—unausgesprochen
Verbleibe das! Nur Eines sag' ich:
So schön war Alles, was ich dachte,
So himmlisch heiter war es all.
In meinem Haupte die Gedanken
Sie läuteten, wie goldne Glöckchen;
So wundersüß, so wunderlieblich
Ist in der Welt kein andrer Hall.
We were walking, we two together;
I so silent and you so silent;
I would give much to know
What you were thinking then.
What was I thinking—let it remain
Unspoken! One thing only I shall say:
All my thoughts were so beautiful,
So heavenly and serene.
The thoughts in my mind
Chimed like golden bells:
So wondrously sweet and lovely
Is no other sound on earth.
(translation by Richard Stokes)
Nachtgang

Wir gingen durch die stille, milde Nacht,
dein Arm in meinem,
dein Auge in meinem;
der Mond goss silbernes Licht
über dein Angesicht;
wie auf Goldgrund
ruhte dein schönes Haupt,
und du erschienst mir wie eine Heilige:
mild und gross, und seelenübervoll,
heilig und rein wie die liebe Sonne.
Und in die Augen
schwoll mir ein warmer Drang,
wie Tränenahnung.
Fester fasst' ich dich
und küsste —
küsste dich ganz leise —
meine Seele weinte.
We walked through the silent, mild night
Your arm in mine,
Your eyes in mine.
The moon poured silver light
Upon your face,
As though gold
Rested on your fair head.
And you appeared to me an angel
Mild and great and overflownf with soul,
Holy and pure like the dear sun.
And in my eyes
Swelled urgent warmth,
As of threatening tears.
I held you tighter
And kissed you
Kissed you very softly,
My soul wept.
(translation by Emily Ezust)