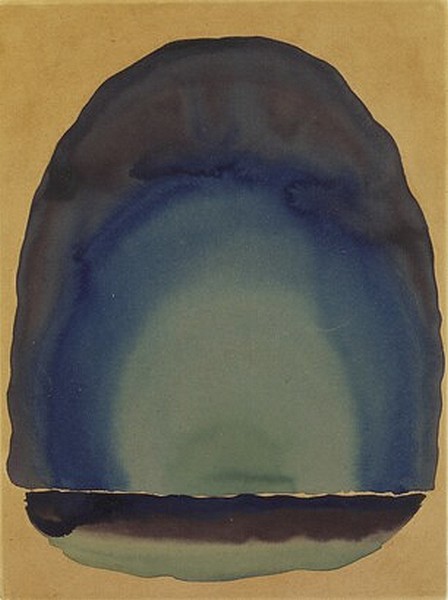 Light Coming on the Plains No. III - G. O'Keeffe
A few days ago I read the article A la recerca dels llegats musicals perduts, ("In search of lost musical legacies") published by pianist Daniel Blanch on Sonograma Magazine on 29 October, where he explains the difficulties a researcher finds while he's trying to recover a composer's work after his death. There are artists who provide how their legacy should be managed; others, manage it while alive, and some don't stipulate anything and, in this case, their heirs are expected to do it. Blanch's article describes a varied number of cases, and he does so in an easy-to-understand way and, which I particularly liked, with empathy. I can imagine the pianist in despair when dealing with a family not willing to cooperate with his research, but nevertheless he understands and explains their reasons. I think it's an interesting article for music lovers (maybe with a little help of a translator).
One of the aims of these researches, once music is documented and classified, is to get it across to the audience, that's to say, to play it, and this leads me to another article by Blanch published in the same magazine on 29 June, Origens d'una passió o el camí de l'intèrpret ("The origins of a passion or the path of the performer"), in which he explains how he decided to go into research and, as a performer, enter an unknown repertoire. This would have been a good article for a friend some years ago; her child had started to learning the piano and wanted to become a professional. Classical music world was alien to my friend, and she only knew the way of being a pianist that media talked about, that's to say, the acclaimed soloists.
I tried to explain to her that there are many ways of being a pianist, that the way she knew wasn't the only and, for many people, not even the most appropriate one, despite its social prestige. I told her that the path a pianist chose depends on his skills, inquisitiveness, personality, luck... That's to say, pianists are conditioned by the same things that any other professional. I talked her about the pianists who frequent this website, excellent musicians whose name isn't known to the people at large. I also talked her about the pianists I personally know which, having followed different paths, all of them enjoy their work. Because, in the end, that's what matters, isn't it?
Thanks to the pianists that choose becoming a researcher, as Daniel Blanch, new composers are gradually becoming known. Blanch's work goes further, he's the president of the Joan Manén Association, a non-profit entity dedicated to the recovery and dissemination of Catalan musical heritage; they program each season a concert series and also record recovered works. Such is the case on the album that will musically illustrate this article, Esclat d'amor ("Burst of love"), dedicated to the songs by Joan Manén, performed by the pianist, tenor David Alegret and soprano Julia Farrés-Llongueras.
Joan Manén, who lived between 1883 and 1971, was known primarily as a violin virtuoso. He was a child prodigy, that made his debut at seven and went soon on tours around the United States and Latin America; in the early years of the 20th century, he had got the acknowledgment as one of the great violinists of his generation. He also was a composer, and wrote operas, symphonies, concertos and, of course, songs. The first ones were composed around 1903: a cycle in Catalan, Tres cançons ("Three Songs"), and a cycle in German, Cinc cançons alemanyes ("Five German Songs"), Op. A-4. Reife is the last of the German songs and our song this week.
In 1898, Manén settled in Berlin, where he made friends with Baron Ernst von Wolzogen. Three years later, Wolzogen founded the first literary cabaret in Germany, the Buntes Teather, better known as überbrettl; given that the idea of this kabarett went beyond the variety shows, the brettl, Wolzogen used to refer to it with that name, a parody of Nietzsche's übermensch. Poets such as Otto Julius Bierbaum and Detlev von Liliencron or composers such as Arnold Schoenberg were involved in the theatre, and regular artists included Elsa Laura, Ernst's wife. She was a composer, singer, and lute player, and used to give recitals in which she accompanied herself with the lute to perform traditional songs, often arranged by herself, or her own songs.
She and her husband also wrote poetry, and they are the authors of the poems of Manén's Five German Songs: Ernst wrote the poem of the third song, and Elsa, the rest. I hope you like Reife [Ripeness], a song that tells us a moment of contemplation, performed by Julia Farrés-Llongueras and Daniel Blanch.
Reife
Ich habe mein Leben genossen
an einem einz'gen Tag,
da es wie Reifenwollen
über den Feldern lag.
Der Wind strich durch die Weiten
und brachte warmen Hauch,
rings war ein Klang wie Lachen,
in meiner Seele auch.
Und als der Tag gegangen,
da nahm ich noch die Nacht
un hab' aus ihrem Schweigen
tausend Himmel gemacht.
My life I enjoyed to its fullness
on just one single day,
when as of ripeness coming
over the fields it lay.
The wind from sunlit spaces of warmth
breathed gentle sighs,
around was sound of laughter,
and in my soul likewise.
And when the day departed,
the night I took as aid
and from its blessed silence
a thousand heavens I made.
(adapted text in English by Addie Funk)
Related articles