Since September 2013 I'm posting regularly in English in addition to Catalan. If you want to read this post translated to English, please use the automatic translator on the right column.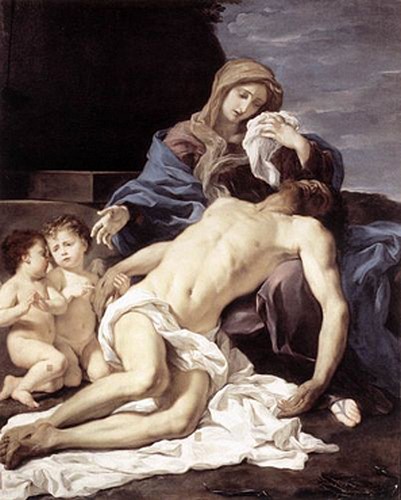 Pietà - G. B. Gaulli
El nom de Samuel Barber va lligat al seu
Adagio per a cordes
, una d'aquelles peces que surt de les sales de concert i arriba al gran públic, però l'obra d'aquest compositor nord-americà és extensa i les seves cançons són molt apreciades pel públic del seu país. Aquí no és que no se l'apreciï, és que no se'l coneix gaire.
Barber va néixer el 1910 i des de ben petit va començar a rebre formació musical. Va ser també un apassionat de la poesia, especialment de la dels segles XVIII i XIX, i de la cultura europea; abans de fer els vint anys ja havia fet el seu primer viatge de formació a Europa i hi va tornar molt sovint. El seu estil va ser qualificat de neoromàntic per alguns, de conservador per d'altres. No es va afegir mai als corrents que a partir dels anys 30 van trencar amb la tradició musical i la seva va ser una elecció conscient: per una banda, desitjava arribar a tantes persones com fos possible, no a les minories que podien gaudir d'un estil més intel·lectual. Per altra banda, considerava el que escrivia com l'evolució natural d'un llenguatge que encara estava molt viu i tenia molt a dir.
El 1952 va fer un viatge per Irlanda, a on va retre homenatge a alguns dels seus escritors preferits, com ara Joyce i Yeats. Sembla molt probable que fos durant aquest viatge quan va conéixer un recull de textos escrits per monjos irlandesos entre els segles VIII i XIII que s'havien trobat als màrgens dels fulls que copiaven o il·luminaven. Eren pensaments que els monjos escrivien d'amagat dels seus superiors parlant de les seves vivències: la solitud, la pietat, la feblesa humana, el contacte amb la natura... De vegades eren poemes, de vegades només unes poques paraules. Barber va escriure amb aquests textos les seves
Hermit Songs
, op. 29 (Cançons d'ermita), una mena de pelegrinatge, un viatge interior de deu cançons que recorda els cicles romàntics.
La cançó que sentirem aquesta setmana,
The Crucifixion
(La crucifixió) és la cinquena del cicle i la primera que va escriure Barber, l'octubre de 1952; era la seva preferida i va demanar que la interpretessin als seus funerals. El text, traduït del gaèlic per Howard Mumford Jones, és senzill i commovedor: el dolor físic de la crucifixió és menys cruel per a Jesús que el dolor que li causa el patiment de la seva mare. La cançó és intensa i austera, l'acompanyament descarnat ens recorda la buidor del Calvari, mentre sentim insistentment el piulet de l'ocell del primer vers. La melodia ens recorda la música religiosa medieval, i compleix la funció que segons Barber havia de tenir: per a ell, la música havia de ressaltar el text per facilitar-ne la comprensió, sense distorsionar el seu ritme natural. No us recorda això les indicacions dels primers poetes romàntics?
Les
Hermit Songs
es van estrenar el 1953 a la Biblioteca del Congrès, a Washington. Les va cantar Leontyne Price, que llavors tenia vint-i-sis anys i feia el seu primer recital, i la va acompanyar al piano el mateix Barber. Van ser un èxit de públic i de crítica (per cert, la premsa de l'època recull que la propina que van oferir els artistes va ser
C
, de Francis Poulenc) i des de llavors les cançons s'han anat interpretant regularment als Estats Units, tant en la seva versió original per a soprano com en la versió per a baríton (sembla ser que Barber era un molt bon baríton). Nosaltres l'escoltarem interpretada per Cheryl Studer i John Browning.
Que tingueu una bona Pasqua!
The Crucifixion
At the cry of the first bird
They began to crucify Thee, O Swan!
Never shall lament cease because of that.
It was like the parting of day from night.
Ah, sore was the suffering borne
By the body of Mary's Son,
But sorer still to Him was the grief
Which for His sake
Came upon His Mother.
Amb el crit del primer ocell
van començar a crucificar-Te, o Cigne!
Mai no deixarem de lamentar-nos per això.
Va ser com el comiat de la nit i el dia.
Dolorós va ser el patiment suportat
pel cos del Fill de Maria,
però més dolorós per a Ell va ser l'aflicció
que per la seva causa
va patir la seva Mare.