Since September 2013 I'm posting regularly in English in addition to Catalan. If you want to read this post translated to English, please use the automatic translator on the right column.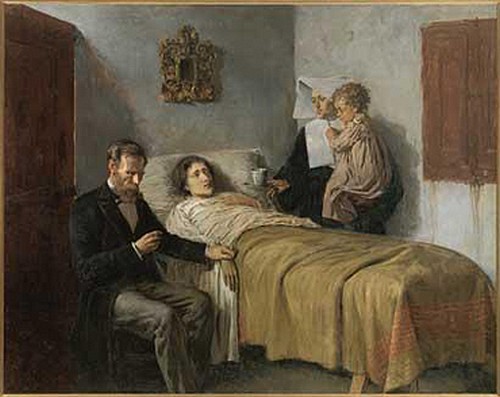 Ciencia y caridad - Picasso
Apunt autobiogràfic: quan m'arriba un disc nou i no el puc escoltar com cal el poso mentre feinejo per casa i faig una audició a mitges, com qui fulleja una revista abans de llegir-la. Un dia estava mig escoltant un disc i una cançó va fer que m'aturés, deixés el que estava fent (sort que no era el dinar, si no se'm crema) i anés a veure què hi estava passant.

La cançó en qüestió és Befreit (Alliberats), de Richard Strauss, composta el 1898 (el 1933 va fer-ne la versió orquestral) a partir d'un poema de Richard Dehmel publicat el 1895 dins el recull Lebensblätter (Fulls de vida). El poema potser és ambigu (després hi tornaré sobre això), però crec que hi ha poc dubte que en aquesta reflexió d'un home davant la imminent mort de la seva dona s'hi barregen dolor, amor, alleujament i resignació.

Les tres estrofes que el formen tenen una estructura similar: als tres primers versos l'home imagina com serà el comiat; serà silenciós, no caldrà (o no podran) dir res. Els dos versos següents són reflexions (sobre la seva llar, que ha estat l'únic món que els calia; sobre els fills tan estimats, sobre el futur sol) que ens mostren el profund amor que es tenen. I, per acabar cada estrofa, les paraules O Glück! (O, quina alegria!), que contenen tot el dolor del món. Perquè aquesta expressió d'alegria en un moment tan dur? Pel convenciment que l'amor transcendirà la mort? Per agraïment perquè fins i tot el moment de la mort el comparteixen?

A partir d'aquest poema emocionalment tan complex Strauss va compondre una cançó que si hagués de triar una paraula per a descriure-la seria serena. I diria que precisament per això, per la seva serenitat, és una cançó colpidora. Musicalment, les tres estrofes no són iguals però mantenen una estructura similar, sobretot les dues primeres. Als tres primers versos la melodia varia poc i lentament; en els dos següents la melodia ascendeix fins al final de l'estrofa, O Glück!, que deixa pas a un interludi entre estrofes o el postludi en el cas de l'última. Pels intèrprets no és una cançó gens fàcil perquè han de matisar molt per expressar els sentiments que conté el poema amb la contenció que marca la música.

Per no allargar-me gaire més, em centraré en l'última estrofa, però quan l'escolteu fixeu-vos també en els detalls de les dues primeres. El primer vers és molt similar al que comença el lied, en pianissimo; el segon és el més significatiu del poema, wir haben einander befreit von Leide (ens hem alliberat mútuament del patiment), i es canta en crescendo, de forma que a von Leide escoltem el dolor que causa alliberar-se del dolor. La veu es recull novament en el tercer vers, i el quart torna a començar en pianissimo; a partir d'aquí hi ha novament un crescendo fins que arriben les paraules und mit mir weinen (i ploraràs amb mi). L'intens weinen, el plor, s'extèn dolorosament durant quatre compasos. I, per acabar la cançó, novament O Glück! però aquest cop repetit; la repetició es va extingint durant cinc compasos com s'extingeix la vida de la dona.

L'escoltem? Després encara us comentaré un parell de coses més. He triat un enregistrament en directe, la impressionant versió que van fer Simon Keenlyside i Malcolm Martineau (ja sé que més d'un i més de dos els trobáveu a faltar) l'estiu de 2011 a Edimburg.


Befreit
Du wirst nicht weinen. Leise, leise
wirst du lächeln und wie zur Reise
geb' ich dir Blick und Kuß zurück.
Unsre lieben vier Wände, du hast sie bereitet,
ich habe sie dir zur Welt geweitet;
O Glück!
Dann wirst du heiß meine Hände fassen
und wirst mir deine Seele lassen,
läßt unsern Kindern mich zurück.
Du schenktest mir dein ganzes Leben,
ich will es ihnen wieder geben;
O Glück!
Es wird sehr bald sein, wir wissen's beide,
wir haben einander befreit vom Leide,
so gab' ich dich der Welt zurück!
Dann wirst du mir nur noch im Traum erscheinen
und mich segnen und mit mir weinen;
O Glück!
No ploraràs. Suaument
somriuràs i com si marxessis de viatge
et tornaré la mirada i et faré un petó.
Les nostres parets estimades, tu n'has tingut cura,
jo les he convertit en el món per a tu;
o, quina felicitat!
Llavors, ardentment, prendràs les meves mans
i em deixaràs la teva ànima,
deixant els nostres nens amb mi.
Tu em vas regalar la teva vida sencera,
vull tornar-se-la a ells;
o, quina felicitat!
Serà molt aviat, tots dos ho sabem,
ens hem alliberat mútuament del patiment,
et torno al món.
Després d'això només et veuré en somnis
i em beneiràs i ploraràs amb mi.
O, quina felicitat!
Al començament he fet referència a l'ambigüitat del text. Dehmel va dir que el seu poema parlava de la mort (aquesta és la interpretació que vaig fer jo quan vaig llegir el poema), després va dir que no parlava de la mort sinó d'una separació i més tard va es va tornar a desdir recuperant la primera versió, la de la mort. Sense acabar de concretar en quina interpretació estava pensant, Dehmel va dir que trobava la cançó d'Strauss toveta (literalment,
zu weich
); massa serena, amb emocions superficials, mancada d'amargor... Ell esperava una cançó a on les emocions es mostressin més violentament, i comentant-ho amb altres persones he trobat també qui opinava que la cançó no era prou trista. Quina sensació us ha fet a vosaltres?
Amb aquesta entrada acabem el repàs a les
les deu cançons més tristes
, hem trigat sis mesos però ho hem aconseguit. I la setmana vinent començarem una llista nova.