Since September 2013 I'm posting regularly in English in addition to Catalan. If you want to read this post translated to English, please use the automatic translator on the right column.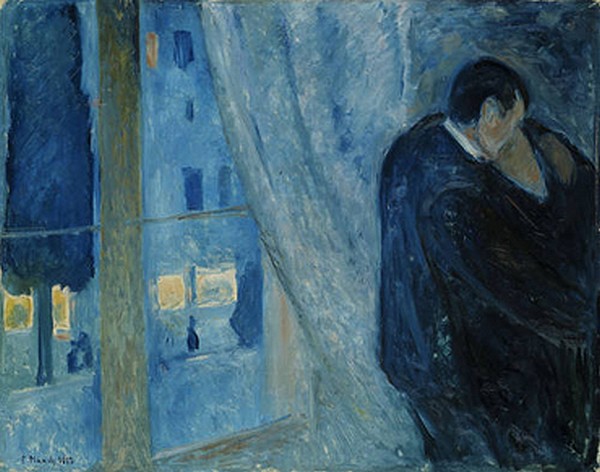 Petó a tocar de la finestra - E. Munch
Quan vaig incloure
Cäcilie
a la llista de
cançons més felices
vaig dir que era una manera irresistible de dir "no saps el que et perds si no véns amb mi". Una cançó exuberant, apassionada, tan seductora que el poeta només podia rebre un sí per resposta. Aquell mateix dia una tuitera em va comentar que trobava que
Cäcilie
era més un intent desesperat de convèncer que no una cançó feliç. El poeta sempre parlava en condicional, "Si tu sabessis", i no estava tan segura que ella digués que sí; precisament l'encant de la cançó és aquest dubte que ens queda. Llavors vaig pensar que potser la felicitat l'afegim (o no) nosaltres.
Vaig recordar una versió de la cançó que era ben diferent a la que tenia pensada per il·lustrar aquesta entrada; en aquesta altra versió, realment, se sent més l'intent desesperat de convèncer. Vaig agafar la partitura, vaig escoltar un cop i un altre totes dues versions (sempre un plaer) i ja posats vaig recuperar d'altres versions i vaig escoltar-nes tantes de desconegudes com vaig trobar. Però no patiu, que només us demanaré que escolteu les dues primeres.
Cäcilie
és una de les moltes cançons que va escriure Richard Strauss per a la soprano Pauline de Ahna; és una cançó especial perquè forma part del petit recull (
Vier Lieder
, op. 27) que li va oferir com a regal de noces; la va escriure el 9 de setembre de 1894 i l'endemà es van casar. Si la dona d'Strauss es deia Pauline, qui era Cäcilie? Probablement (no he pogut confirmar-ho), la dona de l'autor del poema, Heinrich Hart, sobre el qual no he trobat gaire informació. Si les meves dades són correctes, el poema és de l'any 1883 i no es va publicar fins el 1907, Strauss potser el va conéixer directament de la mà de Hart.
Cäcilie
té tres estrofes amb una estructura regular, en cadascuna el poeta mira de convèncer l'estimada perquè l'accepti; en la primera parla de la felicitat d'estar junts, en la segona del consol que tindria en els mals moments, en la tercera, d'arribar a la plenitud plegats. Malgrat la regularitat als versos, Strauss escriu una cançó molt variada a la qual el piano, que comença i acaba en
fortissimo
, no deixa de sonar ni un moment, apassionat, anant i venint en onades.
La cançó porta la indicació de caràcter
Sehr Lebhaft und drägend
(Molt viu i urgent) i l'escriptura de la veu té molt d'operística (tot i que Strauss no era encara el compositor d'òperes que coneixem: només n'havia estrenat la primera,
Guntram
, que va ser un fracàs). Una mostra d'aquesta escriptura és l'agut que sopranos i tenors poden lluir a la tercera estrofa, al vers
zu seligen Höhn
(cap a alçades benaurades); la veu s'enfila també cap aquestes alçades. Però si ens pensavem que aquest era el clímax de la cançó anem ben errats, perquè el darrer vers,
Du lebtest mit mir!
(viuries amb mi!), té sobre la primera síl·laba de
lebtest
una llarga pujada cap a un agut que supera l'anterior (vol dir això que viure amb ell és encara millor que arribar a aquestes alçades benaurades?)
Com us deia al començament, aquest cop us proposo d'escoltar dos enregistraments de la cançó. No és tracta tant de dir quina us agrada més (o sí, si us ve de gust) com de veure dues formes d'acostar-s'hi; la primera és la que estava prevista, la de Jonas Kaufmann i Helmut Deutsch; la segona, la de Simon Keenlyside i Malcolm Martineau. Sent l'un tenor i l'altre baríton la primera diferència és la tessitura, que afecta també el piano perquè en la segona versió perd brillantor; en una cançó amb tanta presència de l'acompanyament no és un detall menor. Una altra diferència, aquesta més subjectiva: la versió de Kaufmann és lluminosa i t'arrossega, sembla ben convençut que rebrà un si com a resposta; Keenlyside sembla que no ho té tan clar, hi ha més urgència i més dubte a la seva veu.
En comú tenen l'elegància en el fraseig. Abans he descrit la cançó com a irresistible i diria que en bona part és degut a l'alternança entre frases curtes i frases llargues (imagineu que el poeta està parlant: entre frases curtes se'l podria interrompre i rebatre, és amb les frases llargues que és persuasiu), fixeu-vos com les dibuixen tots dos cantants. Si us animeu i escolteu més versions trobareu cantants que trien escurçar les frases més llargues, i com més les escurcen menys persuasius i més imperatius (em) sonen.
I ara, si teniu cinc minuts escolteu les dues cançons i si teniu un parell de minuts més doneu-nos-en la vostra opinió...
Cäcilie - Jonas Kaufmann
Cäcilie - Simon Keenlyside
Wenn du es wüßtest,
Was träumen heißt von brennenden Küssen,
Von Wandern und Ruhen mit der Geliebten,
Aug in Auge,
Und kosend und plaudernd,
Wenn du es wüßtest,
Du neigtest dein Herz!
Wenn du es wüßtest,
Was bangen heißt in einsamen Nächten,
Umschauert vom Sturm, da niemand tröstet
Milden Mundes die kampfmüde Seele,
Wenn du es wüßtest,
Du kämest zu mir.
Wenn du es wüßtest,
Was leben heißt, umhaucht von der Gottheit
Weltschaffendem Atem,
Zu schweben empor, lichtgetragen,
Zu seligen Höhn,
Wenn du es wüßtest,
Du lebtest mit mir!
Si sabessis
què significa somiar besades ardents,
passejar i descansar amb l'estimada,
mirant-se als ulls,
i abraçar-se i parlar,
si ho sabessis,
inclinaries el teu cor!
Si sabessis,
què significa tèmer les nits solitàries,
envoltat per la tempesta, perquè ningú consola
amb paraules dolces l'ànima cansada de lluitar,
si ho sabessis,
vindries a mi.
Si sabessis,
què significa viure envoltat
per l'alè creador de Déu,
elevar-se, transportat per la llum,
cap a alçades benaurades,
si ho sabessis,
viuries amb mi!