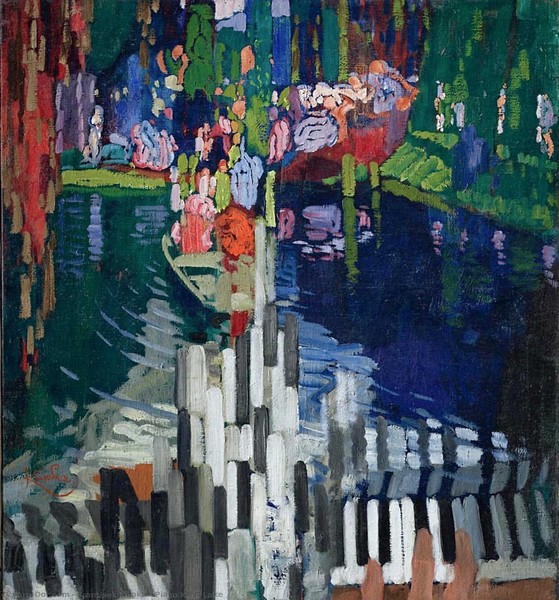 Les tecles del piano (llac) - F. Kupka
I was introduced to Ned Rorem's music thanks to another music lover, an expert in contemporary repertoire. His first cycles I heard were More than a day (1995), for countertenor and chamber orchestra, and Evidences of things not seen, premiered in 1998 to celebrate the composer's 75th birthday, which I presented to you almost ten years ago. A few years later I proposed another Rorem's song, O you whom I often and silently come, composed in 1961; although it was initially part of the Five poems of Walt Whitman cycle and then was moved to Fourteen Songs on American Poetry, I presented it to you as an isolated piece; as I said back then, it was a love at first sight.
Ned Rorem was born on October 23, 1923, in Richmond (Indiana) and died a few days ago, on November 18, at his home in Manhattan. The events were already being prepared to celebrate his centenary, which would have been next year, but I imagine that, although he will no longer be present, the acts will be maintained; they should also serve to disseminate through Europe the work of someone considered by many to be one of the best American composers; A musical work of Schubertian magnitude complemented by about fifteen books and numerous published articles.
This week, I would like to introduce one more cycle by Ned Rorem, Santa Fe Songs, commisioned by the Santa Fe Chamber Music Festival and composed between December 1979 and June 1980, when it was premiered; Rorem was that year's resident composer of the Festival (which this year arrives at its 50th edition) and again in 1982, 1985 and 1990. The cycle consists of twelve songs that talk about usual matters such as love, nature and spirituality, and others not as common as music, and is written for voice (baritone or mezzo-soprano), piano and string trio.
Rorem was a great reader and used to carefully choose the poets and poems for his songs, but this time it was the Festival that, when commissioning him, suggested a name: Witter Bynner. Born in New York in 1881, Bynner lived for several years in China and Japan before settling permanently in Santa Fe, where he lived for more than forty years and died in 1968. The poet (who met Mark Twain and Henry James) contributed to revitalize the cultural life in New Mexico, gathering over the years at home (in Santa Fe or at Chapala Lake, Mexico) personalities such as D.H. Lawrence, Georgia O'Keeffe, or Tennessee Williams.
Rorem did not know the poetry of Bynner previously, and selected poems from different collections; in an interview given a few years later he said that he had found Bynner's poetry very attractive and singable; he also said he didn't know quite what they are all about, but he liked them.: "what it is about is less important than how it says it". In the case of the song that we will hear, Opus 101, it is understandable that he didn't understand the poem; in fact, that was what the poet meant.
In 1916, Witter Bynner and his friend Arthur Darson Ficke decided to make a joke in the cultural world at the time, when many poets were ascribed to different movements such as futurism, imagism, or idealism. They each prepared a small collection of poems they published jointly and under pseudonym (Emanuel Morgan and Anne Knish) in a volume called Spectra: A Book of Poetic Experiments. The book featured a new poetic movement, spectrism, which the authors presented and defended in the prologue; roughly and much simplifying the four pages of the manifesto, spectrism sought to express the immediacy of the experience, no matter if the experience could not be expressed rationally. The movement didn't exist, of course, but the book contained a fresh, full of live poetry, with images that, even if they weren't always clear, were visually attractive; the publication was successful, and when a time later the joke was uncovered, it appears that everyone (including literary critics) accepted it with good humor.
Opus 101 is the penultimate poem in the Bynner/Morgan collection, and the second song in the Rorem cycle. According to spectrism, one can understand the main idea of the poem; also some images, while others aren't so immediate. Although the poem speaks of a piano and a pianist, comparing their relationship to that of a couple of lovers, the title doesn't refer to any particular work (or maybe it does, it could be a Beethoven sonata); the title of all the poems included in Spectra is an opus number. Even if the piano is a prominent character in the poem, it has in Rorem's music a discrete presence, and leaves the strings to lead the accompaniment. As a result, the song has a mysterious, exotic, and I would say very seductive ambiance. Rorem was satisfied with the Santa Fe Songs, considered it one of his favourite cycles, and I think this song is a good example.
Our performers will be Susan Graham (who has often sung works by Rorem and to whom the composer dedicated the 11 Songs for Susan), Malcolm Martineau and the Ensemble Oriol. If you like it, I hope you'll find the time to keep listening to the music of Rorem. To conclude this article, I leave you with one of his reflections, published in Lies (2000), the last volume of memoirs published:
"I don't believe that composers notate their moods, they don't tell the music where to go. It leads them ... Why do I write music? Because I want to hear it. It's simple as that. Others may have more talent, more sense of duty. But I compose just from necessity, and no one else is making what I need."
Opus 101
He not only plays
One note
But holds another note
Away from it --
As a lover
Lifts
A waft of hair
From loved eyes.
The piano shivers,
When he touches it,
And the leg shines.
Related articles