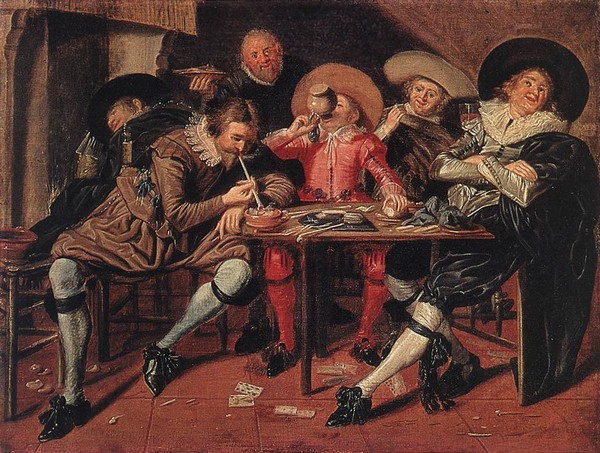 Merry Party in a Tavern - D. Hals
Goethe's Faust has not been as celebrated by composers as Wilhelm Meister's Apprenticeship, by the same author. However, some of its songs have also been frequently set to music. The most famous are the sung by the female protagonist, Margaret; most notably, the one beginning with the verses "Meine Ruh' ist hin" (Gretchen am Spinnrade in Schubert's version), but also the ballad Der König in Thule. Schubert and other composers have also composed music for Gretchen's scene in the cathedral and her prayer to the Virgin Mary, although those verses aren't a song (we didn't listen to none of them yet, but I jotted them down on my notebook.)
There is, however, one more song that sets aside the misfortune of Margaret, which have been musicalized many times. It is known as "Flea Song" or "Mephistopheles Song."
Scene V of Faust: we are at Auerbach Cellar in Leipzig, which still exists today. The regular customers are somewhat bored; they drink, chat, and sing. They sing about politics, and they tell their opinion about the Holy Roman Empire and the Catholic Church. They sing about love, and they laugh at the lover. They sing about a mouse that ends its days in the frying pan, and some people sympathize with it. Then, Mephistopheles and Faust go into the cellar, two foreigners who will entertain them. Faust doesn't say anything, but Mephistopheles joins the group right away. He tells them that they just came from Spain, "the beautiful land of wine and song," and they ask him to sing.
Mephistopheles tells them the story of a king who had a giant flea that was as spoilt as his own son was. The customers joke, chore, and comment on the song between stanzas. TThey laugh at the idea of a flea dressed like a court gentleman who soon invites his siblings to settle in. They also laugh at the idea of noblemen who need to scratch, but scratching is not allowed. Everybody in the cellar is familiar with fleas, and they are able to get rid of these annoying creatures by crushing them with the nail. They're also able to identify political criticism in the song, such as the authoritarian and ridiculous king who imposes as a minister someone annoying and without any merit.
We have heard two songs composed upon this drink song so far: Beethoven's Aus Goethes Faust (in the series "10 buggy songs") and Wagner's Lied des Mephistopheles I. Today, we are listening to the version of Modest Mussorgsky, a composer who is known for his observational skills and his original and descriptive music. We can expect a fun song.
Mussorgsky wrote this song in 1879, using the Russian version of the text by Alexander Strugovschikov (it is also sung with the original German text). At the time, he was on what would be his last tour, with singer Daria Leonova; he was in poor health and died two years later. We are immediately placed in the presence of the king by the solemn chords, the climbing notes seem to be barely disguised laughter, and the staccato tells us about the flea and his jumps. Mussorgsky adds laughter and repetitions to the text, a kind of voice-over; the keyword for following these repetitions is blokha, 'flea' in Russian. Don't miss the disbelief of the tailor when he is asked to sew the clothes for the flea, in Russian, a kaftan; he repeats this word and burst into laughter (I hope, for his sake, that privately). We also hear the customers laughing and singing, which might sound like a threat when everyone agrees on what to do with the annoying fleas.
A reader asked me to share this song, so this post is dedicated to him. A song that we usually know as "Flea Song", but is really called Песня Мефистофеля в погребке Ауэрбаха [Pesnja Mefistofelja v pogrebke Au`erbakha, Mephistopheles' Song at Auerbach's Cellar]. I chose a relatively modern recording, that of Sergei Leiferkus and Semion Skigin, with the original voice and piano version. In 1914, Igor Stravinsky created a brilliant orchestration that you can find immediately with a little search. If you search more, you'll find the recording of Fiodor Chaliapin, who made this song popular.
Before I leave you with the music, one thing: next week, the blog article will be published on Thursday instead of Wednesday.
Enjoy the fleas!
Pesnia Mefistofelia v pogrebke Auerbakha
Below you will find the original text in Russian, with the add-ons that I mentioned; before, the English phonetic transcription of the text in Cyrillic, and the translation of Goethe's original text.
Jil bil korol kogda-to,
Pri niom blokha jila,
Blokha... blokha!
Milei rodnogo brata ona iemu bila;
Blokha... kha, kha, kha! blokha?
Kha, kha, kha, kha, kha!... Blokha!
Zoviot korol portnogo: ,,Posluixai ti, txurban!
Dlia druga dorogogo
Sxei barkhatni kaftan!``
Blokhe kaftan? Kha, kha! Blokhe?
Kha, kha, kha, kha, kha!
Kaftan? Kha, kha, kha!
Blokhe kaftan?
Vot v zoloto i barkhat
Blokha nariajena,
I polnaia svoboda iei pri dvore dana. Kha, kha!
Kha, kha! Blokhe!
Korol iei san ministra
I s nim zvezdu daiot,
Za neiu i druguie poixli vse blokhi v khod.
Kha, kha!
I samoi koroleve,
I freilinam ieia,
Ot blokh ne stalo motxi,
Ne stalo i jitia. Kha, kha!
I tronut-to boiatsia,
Ne to txtobi ikh bit.
A mi, kto stal kussatsia,
Tottxas davai duixit!
Una vegada hi havia un rei
que tenia una gran puça,
a la qual no estimava menys
que al seu propi fill.
Va cridar el seu sastre,
i el sastre hi va anar.
"Pren-li mides al cavaller per a un vestit
i per a uns pantalons"
Amb vellut i seda
anava ara vestida,
duia cintes a la roba,
hi duia també una creu.
I aviat va esdevenir ministre,
i tenia una gran estrella.
I els seus germans es van convertir
també en grans senyors a la Cort.
I les dames i els cavallers de la cort,
estaven ben fastiguejats,
la reina i les seves donzelles,
cosides a picades,
i no tenien permès remoure's,
ni fer-les fora gratant-se.
Però nosaltres ens removem i les esclafem
quan ens piquen.
Жил был король когда-то,
При нём блоха жила,
Блоха... блоха!
Милей родного брата она ему была;
Блоха... ха, ха, ха! блоха?
Ха, ха, ха, ха, ха!... Блоха!
Зовёт король портного: ,,Послушай ты, чурбан!
Для друга дорогого
Сшей бархатный кафтан!``
Блохе кафтан? Ха, ха! Блохе?
Ха, ха, ха, ха, ха!
Кафтан? Ха, ха, ха!
Блохе кафтан?
Вот в золото и бархат
Блоха наряжена,
И полная свобода ей при дворе дана. Ха, ха!
Ха, ха! Блохе!
Король ей сан министра
И с ним звезду даёт,
За нею и другие пошли все блохи в ход.
Ха, ха!
И самой королеве,
И фрейлинам ея,
От блох не стало мочи,
Не стало и житья. Ха, ха!
И тронуть-то боятся,
Не то чтобы их бить.
А мы, кто стал кусаться,
Тотчас давай душить!
Related articles