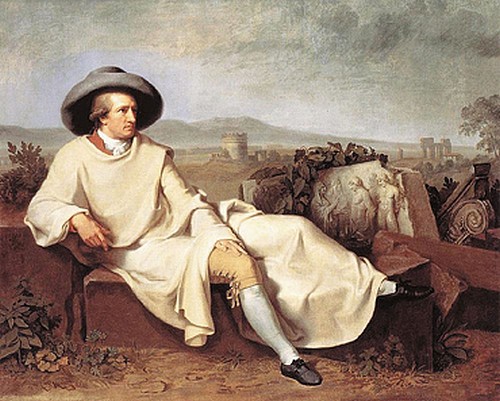 Goethe in the Campagna- J. Tischbein

Last week I started to talk about Goethe's Wilhelm Meister's Apprenticeship and its songs. As I told you back then, this week I would explain some more things about Wilhelm's life before starting with the first song. If you are thinking of reading the novel, I would recommend to go direct to the song. If you continue reading, though, I hope you have enough time and energy. Are you ready?
Wilhelm Meister is a young man from a wealthy family, son of a businessman. The money to set up those businesses comes from Wilhelm's grandfather legacy. Wilhelm remembers his childhood surrounded by pieces of art until his grandfather's death when he's ten years old. Then his father, who is not keen on art, sells the valuable collection and with the profits, he buys a luxurious house and invests on his own company. Wilhelm also remembers that by then, he gets interested in theatre. First with puppets and later, as a teenager, with his friends, he performs every possible work within a play: actor, director, author, scene, costumes.
Wilhelm is 21 or 22 at the beginning of the novel, and his father is upset with him because he goes to the theatre too often and doesn't pay any attention to his work (as you would guess, Wilhem's father hopes someday his son takes charge of the company). Anyway, what Wilhelm's parents don't know is that their son sees an actress in her rooms after the performance. And what the young man doesn't know either is that the actress, Mariane, has also another admirer, the rich Norberg. Wilhelm sees his love for the actress as a sign of destiny which urges him to devote himself to the theatre. So he decides to leave home, to go to Serlo's house, his friend and theatre director so that once settled, Mariane will meet him and they will get married. The big opportunity to carry out his plan arrives when Wilhelm's father organizes for him a long business trip.
As travel arrangements are been made, Wilhelm goes on a short trip, just for two or three days, to fetch his horse at his father's friend state. When he arrives to his destination he finds himself in an unpleasant situation: his friend's daughter has run away with an actor. They are arrested and Wilhelm intercedes on their behalf so the judge lets them go. Also Wilhelm asks the father to forgive his daughter and to allow the couple to get married. The father agrees only if they leave town for good.
Werner, Wilhelm's best friend and his father's business partner son, takes advantage of Wilhelm's absence to confirm the rumours: his friend has an affair with an actress who is two timing him. Back home, Wilhelm doesn't believe Werner and writes a letter to Mariane to propose marriage. When he visits her to hand over the letter, Mariane doesn't allow him to enter pretending she is sick; before leaving, Wilhelm takes as a token the scarf she is wearing . We readers know that Mariane is pregnant and worried because she will be fired when her pregnancy is known. She has to choose between Norberg and Wilhelm; Barbara, her servant, praises Norberg for his money but Mariane loves Wilhelm despite being poor and featherbrained. Wilhelm, unaware of the girl's worries, comes back some hours later to Mariane's street and sees a man leaving her home; then he takes Mariane's scarf out of his pocket and a love note written by another man falls. For Wilhelm, then, that's the final proof. He hasn't the slightest doubt about the relationship between Mariane and that man.
That's the end of the first of the eight books in which the novel is divided. Perhaps you think the summary is a bit too long but, believe me, everything I explain will have some repercussions sooner or later... At the beginning of the second book the narrator says that some years went by. Wilhelm is getting over the shock he suffered. He confides to Werner, the only one who knows the reasons of his illness, he's giving up on love, women and theatre; from now on he is just working in his business. So he sets out on the trip he postponed and goes from town to town running errands for his father. After some days of bad weather, he stops to rest in a little town. And now it's time to say "to be continued", because we are about to arrive at the first song in the novel.
We need a song to illustrate this post and to recover after so many words. We are listening to one more version of Kennst du das Land; last week's was the one by Duparc, this week is the one by Tchaikovsky, Песнь Миньоны (Pesn' Min'ony, Mignon's Song), the third of Шесть романсов, Op. 25 (xest' romansov, Six Romances). The Russian text is by Fyodor Ivanovich Tyutchev and the performers are Nina Rautio and Semon Skigin.
Pesn' Min'ony
Kennst du das Land, wo die Zitronen blühn,
Im dunklen Laub die Gold-Orangen glühn,
Ein sanfter Wind vom blauen Himmel weht,
Die Myrte still und hoch der Lorbeer steht,
Kennst du es wohl?
Dahin! Dahin
Möcht' ich mit dir, o mein Geliebter, ziehn.
Kennst du das Haus? Auf Säulen ruht sein Dach,
Es glänzt der Saal, es schimmert das Gemach,
Und Mamorbilder stehn und sehn mich an:
Was hat man dir, du armes Kind, getan?
Kennst du es wohl?
Dahin! Dahin
Möcht' ich mit dir, o mein Beschützer, ziehn.
Kennst du den Berg und seinen Wolkensteg?
Das Maultier sucht im Nebel seinen Weg;
In Höhlen wohnt der Drachen alte Brut;
Es stürzt der Fels und über ihn die Flut,
Kennst du ihn wohl?
Dahin! Dahin
Geht unser Weg! o Vater, lass uns ziehn!
Know'st thou the land where lemon-trees do bloom,
And oranges like gold in leafy gloom;
A gentle wind from deep blue heaven blows,
The myrtle thick, and high the laurel grows?
Know'st thou it, then?
'Tis there! 'tis there,
O my belov'd one, I with thee would go!
Know'st thou the house, its porch with pillars tall?
The rooms do glitter, glitters bright the hall,
And marble statues stand, and look me on:
What's this, poor child, to thee they've done?
Know'st thou it, then?
'Tis there! 'tis there,
O my protector, I with thee would go!
Know'st thou the mountain bridge that hangs on cloud?
The mules in mist grope o'er the torrent loud,
In caves lie coil'd the dragon's ancient brood,
The crag leaps down and over it the flood:
Know'st thou it, then?
'Tis there! 'tis there
Our way runs; O my father, wilt thou go?
(translation by Thomas Carlyle)
And this is the Russian text, for those who can read it:
Ты знаешь край, где мирт и лавр растёт,
Глубок и чист лазурный неба свод,
Цветет лимон и апельсин златой,
Как жар, горит под зеленью густой?
Ты знаешь край?... Ты знаешь край?...
Туда, туда, туда с тобой
Хотела б я укрыться, милый мой!
Ты знаешь знаешь путь?
Туда, туда и нам с тобой
Проложен след: уйдём, властитель мой!
Ты знаешь путь?
Туда и нам
След проложен: уйдём, властитель мой!
Ты знаешь дом на мраморных столбах,
Сияет зал и купол весь в лучах;
Глядят кумиры молча и грустя:
Что, что с тобой, бедное дитя?
Ты знаешь дом?...
Ты знаешь дом?...
Туда с тобой уйдём, родитель мой!