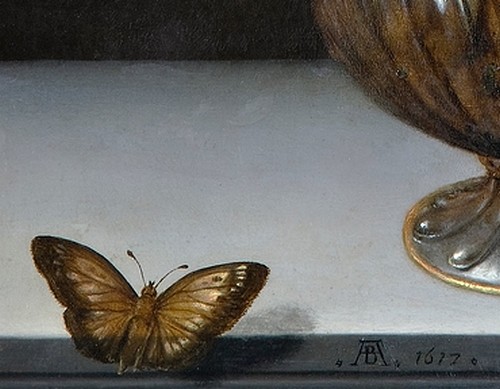 Still Life with flowers (fragment) - Ambrosius Bosschaert the Elder
BUG. An insect or similar organism, such as a centipede or an earwig.
Small animal prone to be crushed with a slipper.
The first definition is from the dictionary; the second is from a friend and it's very useful when you're not good at Zoology. Please don't misunderstand me, it's just a saying; I don't spend my time crushing ladybugs or butterflies, let alone bees. I do mosquitoes though, in self-defence.
There are cute bugs, like ladybugs; there are some others that seem old-fashioned, like fleas; some are difficult to tell apart when you are a true urbanite like me (among a bunch of crickets, grasshoppers and cicadas, I'm afraid I would only recognize crickets) and others, like cockroaches, are pretty urban themselves. What do all those bugs have in common? All of them are main characters in songs. Yes, cockroaches too. Today we are starting a new ten-song list about ten different bugs (and from ten different composers); as we always do with lists, today we are listening to the first song and will have nine more posts about bugs during the following months. That's our musical bestiary:
Butterfly. butterflies are so cute (if you don't look at them too closely, right?) and coloured that we can find them quite often mentioned at songs, but there are at least two songs where butterflies are main characters: Der Schmetterling by Schubert, a happy, light song, and Le papillon et la fleur by Fauré, a tender love song. As it could just be one song on the list, I chose Fauré's.
Flea. fleas got to Lied through Goethe, who made it famous with one of the Mephistopheles' songs in Faust. The most popular version is that to Mussorgsky, but I chose another bug by him; last year we listened to Wagner's Flea Song so we are listening to the one by Beethoven, Aus Goethes Faust.

Cricket. the chirping of crickets accompanies the lonely nights of the narrator at Der Einsame by Schubert. However, it's really the main character in one of Ravel's Histoires naturelles, Le grillon.
Cicada. I only know two things about cicadas: they die in winter because of their pathetic future foresight (shame on you ant! You let the cicada starve to death!) and also, they become the soundtrack in most summer hot days at the countryside. Les cicades, a song by Emanuel Chabrier, talks exactly about cicadas' singing.
Grasshopper. Grasshoppers are those tiny creatures that jump in front of you when you are too close; you walk through a grassy lawn and you'll see small clouds made of grasshoppers. I don't know why French composers are so fond of bugs, but our grasshopper song is by Francis Poulenc, La sauterelle, include in his song cycle Le Bestiare.
Beetle. Do you remember that we listened to a song by Mussorgsky, In the corner, where a child was crying because her nurse had punished him? The same naughty boy now is playing with The beetle, poor thing! (I mean the beetle, not the child).
Ladybug. We couldn't miss the ladybug in our list, the cutest bug ever, also very useful in gardens because it loves eating aphids. We also find it in a children's song, Marienwürmchen, included in the Liederalbum für die Jugend by Schumann.
Bee. The hard worker bee, like the butterfly, is present in many songs, but none as delightful as Der Knabe und das Immlein, a Möricke Lieder by Hugo Wolf.
Cockroach. I guess you'd never imagine a song about the most impopular bug, the cockroach, on this blog. We should thank it to Ferran Sors, ​​who wrote a funny song, Muchacha, y la vergüenza, where we learn that cockroaches are toothless.
Snail. Well, I confess I'm kind of tricking you here, because the main character of this song is not a snail but a dragon, and you are very unlikely to crush a dragon with your slipper. Nonetheless, the dragon eats big fat snails, and I needed a song to complete the list. We could pay tribute to the poor victim of Saint George with Green-Eyed Dragon by Charles Wolseley.
This week we are listening to Aus Goethes Faust, the Song Flea by Beethoven. We talked about the poem on a post dedicated to Richard Wagner; perhaps you remember when Mephistopheles and Faust go to a tavern full of students where they have a really good time laughing at the boys. But before, Mephistopheles sings the story of a king who is so fond of a flea that he invites the bug and all its relatives and friends to live in his court. Our Mephistopheles will be Dietrich Fischer-Dieskau, accompanied by Jörg Demus.
Aus Goethes Faust
Es war einmal ein König,
Der hatt' einen großen Floh,
Den liebt' er gar nicht wenig,
Als wie seinen eig'nen Sohn.
Da rief er seinen Schneider,
Der Schneider kam heran;
"Da, miß dem Junker Kleider
Und miß ihm Hosen an!"
In Sammet und in Seide
War er nun angetan,
Hatte Bänder auf dem Kleide,
Hatt' auch ein Kreuz daran,
Und war sogleich Minister,
Und hatt einen großen Stern.
Da wurden seine Geschwister
Bei Hof auch große Herrn.
Und Herrn und Frau'n am Hofe,
Die waren sehr geplagt,
Die Königin und die Zofe
Gestochen und genagt,
Und durften sie nicht knicken,
Und weg sie jucken nicht.
Wir knicken und ersticken
Doch gleich, wenn einer sticht.
There once was a king
who had a large flea
whom he loved not a bit less
than his very own son.
He called his tailor
and the tailor came directly;
"Here - make clothing for this knight,
and cut him trousers too!"
In silk and satin
was the flea now made up;
he had ribbons on his clothing,
and he had also a cross there,
and had soon become a minister
and had a large star.
Then his siblings became
great lords and ladies of the court as well.
And the lords and ladies of the court
were greatly plagued;
the queen and her ladies-in-waiting
were pricked and bitten,
and they dared not flick
or scratch them away.
But we flick and crush them
as soon as one bites!
(translated by Emily Ezust)