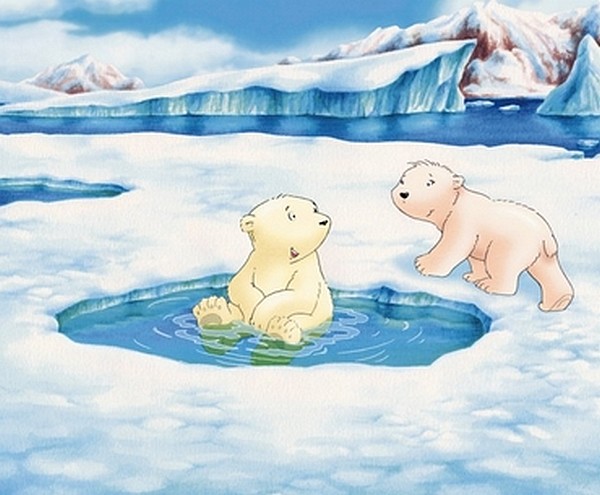 El petit ós polar - H. Lincoln
Second summer issue: water. If we believe in advertising, summer without water (and I'm not thinking of rain) is not a summer at all. Generalizations always exaggerate, but my summers have always been tied up to the sea. This week we have a Lied that talks about a boat ride, but before this, we are going over three of the songs about water that we've heard on this blog so far:
Au bord de l'eau, by Gabriel Fauré, is a song that I could also have included in last week's list, when we talked about lying down and lounge around. Here, a loving couple is sitting on the bank of a river and watch it flow; they gaze everything around them but, above all, they gaze each other and their love. It's a quiet scene, perhaps a bit melancholic. Our version was the one by Elly Ameling and Dalton Baldwin.
I talked about Der Jüngling an der Quelle as a "miniature" Lied, one of the pearls by Franz Schubert. A young man takes refuge by a brook to feel relieved from his love woes, but everything reminds him of her. A song made of sighs, drops of water and sunshine, that we listened performed by Jonas Kaufmann and Helmut Deutsch.
Our third Lied is by Schubert too, Meeres Stille. It's amazing how Schubert manages to convey the disturbing dead calm that the poem describes. Our performers were Bryn Terfel and Malcolm Martineau.
The song I'm adding to this short list is, of course, by Schubert; no other composer had a closer relationship with water than Schubert. Auf dem Wasser zu Singen is from 1823 and was written while he was at the sanatorium. It's a gorgeous song, please don't miss it! You can see that the poem has a very regular structure: each of the three stanzas has ABABAB rhyme, but the whole words rhyme, not just the last syllable: at the first stanza, the verses end in Wellen (waves) and Kahn (boat); at the second in Haine (groves) and Schein (light); at the third, Flügel (wings) and Zeit (time). There's no doubt about the most important words in the poem, don't you think? It seems unavoidable that from this poem comes a strophic Lied, with a false traditional tune, like a barcarolle, and an elegant and elaborated piano accompaniment. Let the waves swing you with Ian Bostridge and Julius Drake.
Auf dem Wasser zu singen
Mitten im Schimmer der spiegelnden Wellen
Gleitet, wie Schwäne, der wankende Kahn;
Ach, auf der Freude sanft schimmernden Wellen
Gleitet die Seele dahin wie der Kahn;
Denn von dem Himmel herab auf die Wellen
Tanzet das Abendrot rund um den Kahn.
Über den Wipfeln des westlichen Haines
Winket uns freundlich der rötliche Schein;
Unter den Zweigen des östlichen Haines
Säuselt der Kalmus im rötlichen Schein;
Freude des Himmels und Ruhe des Haines
Atmet die Seel' im errötenden Schein.
Ach, es entschwindet mit tauigem Flügel
Mir auf den wiegenden Wellen die Zeit.
Morgen entschwinde mit schimmerndem Flügel
Wieder wie gestern und heute die Zeit,
Bis ich auf höherem strahlendem Flügel
Selber entschwinde der wechselnden Zeit.
Please visit this
link
if you need an English traslation.