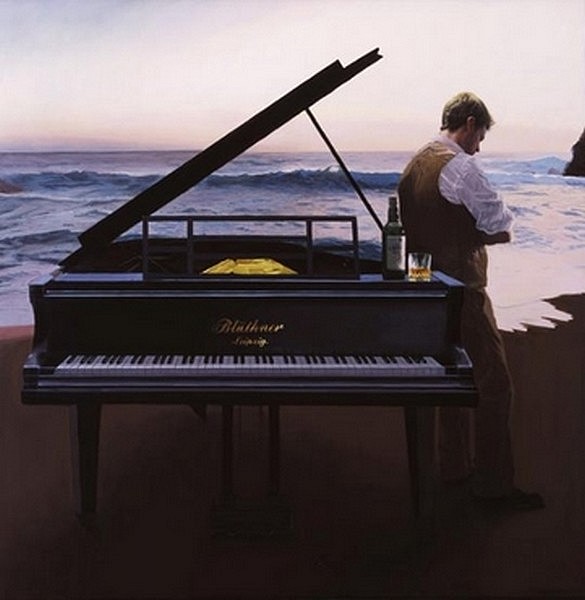 Atlantic Echo 2 - I. Faulkner
One of the first posts of this blog was about
songs and cherries
. You know how it is, you pick a cherry and you get a few more because of their intertwined stems; the same happens with some songs, you listen to one and inevitably a few more come to your mind, because they are somehow related.
Two weeks ago we listened to Strauss's
Ständchen
; today we're listening to another cherry, Schubert's
Ständchen
; sometimes a song leads me to another one because of what they have in common; this time I want to draw your attention to what sets them apart: both are serenades, but the spirits of both lovers are so different!
This week's song is such a well known one that I'm quite sure most of you have heard it sometime; so well known that we often forget that Schubert has one more serenade,
Ständchen
D889. We'll talk about it some day, today we're talking about the serenade included in
Schwanengesang
, D957, with a poem by Ludwig Rellstab. Ludwig Rellstab (1799-1860) was an influential music critic as well as a poet; he used to meet his contemporary poets and composers. He visited Beethoven in 1825. Later, Rellstab sent him twenty poems if he liked some of them and wrote some songs, but Beethoven died during the spring of 1827 without having written any songs. The summer of 1827, Schubert often visited Anton Schindler, who had been Beethoven's secretary and was in charge of his papers; Schubert found Rellstab's poems and Schindler offered them to him. It seems that Schubert wrote some lieder those following days, and later, in the Spring of 1828, the seven lieder that his brother Ferdinand found in a drawer after his death. These seven lieder became eventually, along with six Heine and one Seidl's lieder, the cycle
Schwanengesang
D957, published by Tobias Haslinger. The original poems returned to Rellstab, who was happy of having them back with the notes written by Schubert and Beethoven.
It's very unlikely that Schubert would have published the song cycle as Haslinger did (probably he intended to publish together the six Heine); that's why singers take different options: some of them don't think
Schwanengesang
is a real cycle, so they sing isolated songs in their recitals. Some of them only sing Heine's songs, or only Rellstab's, along with other pieces; some of them sing it as a complete cycle; other don't sing Seidl song and other sing it as an encore.
Ständchen
is one of the songs which is usually sung separately. As I said before, is one of the most well known songs by Schubert. Does it happen to you that so often you pass by a beautiful building, you soon become completely insensitive about its beauty, just because you've seen it every day? And sometimes, don't you feel the urge to stop and look at it as it was the first time? I think that we could do the same with
Ständchen
, to listen to it as it was the very first time.
Schubert reorganized the five stanzas of Rellstab's poem; he put together the first two, and did the same with the third and fourth, writing exactly the same music for the two resulting new stanzas, like a strophic Lied; the last stanza has a different music. The song begins with the piano that remind us of a mandolin or a guitar, the usual accompaniments of serenades; we hear this accompaniment throughout the whole song, but notice how the piano echoes the voice (at "durch die Nacht zu dir," for example) or doubles it (at the repetition of "in des Mondes Licht"). Notice also the ornaments used at some syllables (as the first one of "fürchte, Holde, nicht"), like in an Italian song.

Are you still listening to this Lied as it was new for us? We can listen carefully to the lovely interlude between the two stanzas; after that, we can appreciate how the singer changes his expression, more innermost. The last stanza arrives without interlude, full of passion, desperation and resignation, but always with tenderness, delicately. How different is the triumphal end of Strauss's Ständchen from the sad and last "beglücke mich!", with the piano extinguishing slowly---

We are listening to this great song performed by the tenor Peter Anders accompanied by Michael Raucheisen.
Ständchen
Leise flehen meine Lieder
Durch die Nacht zu Dir;
In den stillen Hain hernieder,
Liebchen, komm' zu mir!
Flüsternd schlanke Wipfel rauschen
In des Mondes Licht;
Des Verräters feindlich Lauschen
Fürchte, Holde, nicht.
Hörst die Nachtigallen schlagen?
Ach! sie flehen Dich,
Mit der Töne süssen Klagen
Flehen sie für mich.
Sie verstehn des Busens Sehnen,
Kennen Liebesschmerz,
Rühren mit den Silbertönen
Jedes weiche Herz.
Lass auch Dir die Brust bewegen,
Liebchen, höre mich!
Bebend harr' ich Dir entgegen!
Komm', beglücke mich!
If you need and English translation, please follow ths
link.