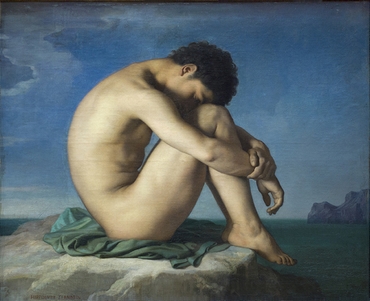 Jeune homme nu assis au bord de la mer - H. Flandrin
The bicentenary of
Gretchen am Spinnrade
, regarded as the first romantic Lied, was celebrated not long ago; Schubert composed it on 19th of October in 1814 that symbolizes the birth of the genre. A year and a half later, in April 1816, Beethoven wrote what is considered the first relevant song cycle,
An die ferne Geliebte
. Beethoven's songs, such as those of Haydn and Mozart, are usually viewed as classical. Does that mean that any important work of a romantic genre becomes classical? I don't think we should worry about this apparent contradiction; cultural movements know no calendars, their boundaries are blurred and bordered artists come and go between styles. If I'm mentioning this it's because I've noticed that some people feel too lazy to listen to Beethoven's Lieder, as if not being clearly romantic, would diminish its merit or beauty. So, please don't miss this week's song for this reason.
Beethoven's times before the composition of
An die ferne Geliebte
were hard. There were several reasons but the most important, for sure, was his poor health; his loss hearing had worsened to the point that in January 1815 he made his last concert as a pianist. It's easy to understand his depression, don't you think?
An die ferne Geliebte
is considered one of the first works of Beethoven during his last period as a composer (although it was one of the last times he wrote lied).
The poet of the cycle is Alois Jeitteles who in 1816 was 22 years old; he was a medicine student and also, an occasional poet plus founder and editor of a literary magazine. We don't know for sure how Beethoven got to know about these poems; maybe he read them on the magazine or he met the poet. According to some scholars, Beethoven could have ordered the poems himself. The issue of the cycle is easily inferred from its title, "To the distant beloved": the six songs are dedicated to a woman with whom the narrator had a relationship at some point and now, she is far away from him. We do not know if Beethoven thought of a woman in particular or he was showing his sadness through a literary device. The woman could be his "
unsterbliche Geliebte
", the immortal beloved to whom he adressed his famous letter in 1812, but who knows if he had in mind another impossible love.
The six songs, that last no more than fifteen minutes, are perfectly linked; I won't go into keys but if you listen to the whole cycle you'll notice that every song begins exactly where the previous one ends, somehow like Schumann's
Dichterliebe
. This week we're listening to the first song, Auf dem Hügel sitz ich spähend (I sit on the hill peering), where the poet says to her beloved that he will sing songs that talk about his pain, hoping they will wipe away distance and time between them. It's an "almost strophic" song or, if you prefer, an apparently strophic one. You know that we say a song is pure strophic when all the stanzas are sung to the same music; like
Das Wandern
, the first song from
Die schöne Müllerin
, for instance. In this Lied, Beethoven slightly modifies the voice's melody so that, at list at first hearing, seems the same in every stanza. But what clearly varies is the piano accompaniment, every stanza more complex. This way we hear a song apparently popular and still sophisticated.
After this first song, as a kind of introduction, four more songs follow that talk about the poet's suffering. The sixth song closes the cycle and the poet asks her beloved to sing the songs too, because they will keep them together; the last stanza recovers the music from the first song.
If you are in Barcelona next Sunday 25th, you'll have the opportunity to listen to An die ferne Geliebte at the Palau de la Música Catalana; the performers will be the baritone Joan Martín-Royo and the pianist Marco Evangelisti. If you want to know more about the recitals in Barcelona you could check
this page
or the calendar on the right column (if a recital is missing, please let me know!)
We're listening to
Auf dem Hügel sitz ich spähend
performed by Peter Anders and Michael Raucheisen.
Auf dem Hügel sitz ich spähend 
Auf dem Hügel sitz ich, spähend
In das blaue Nebelland,
Nach den fernen Triften sehend,
Wo ich dich, Geliebte, fand.
Weit bin ich von dir geschieden,
Trennend liegen Berg und Tal
Zwischen uns und unserm Frieden,
Unserm Glück und unsrer Qual.
Ach, den Blick kannst du nicht sehen,
Der zu dir so glühend eilt,
Und die Seufzer, sie verwehen
In dem Raume, der uns teilt.
Will denn nichts mehr zu dir dringen,
Nichts der Liebe Bote sein?
Singen will ich, Lieder singen,
Die dir klagen meine Pein!
Denn vor Liedesklang entweichet
Jeder Raum und jede Zeit,
Und ein liebend Herz erreichet,
Was ein liebend Herz geweiht!
On the hill sit I, peering
Into the blue, hazy land
Toward the faraway pastures
Where I you, beloved, found.
Far am I from you parted;
Separating us are hill and valley,
Between us and our peace,
Our happiness and our sorrow.
Ah! The look can you not see,
That to you so ardently rushes,
And the sighs, they blow away
In the space that separates us.
Will then nothing more be able to reach you,
Nothing be messenger of love?
I will sing, sing songs,
That to you speak of my pain!
For before the sound of love escapes
every space and every time,
And a loving heart reaches,
What a loving heart has consecrated!
(translation by Hyperion)