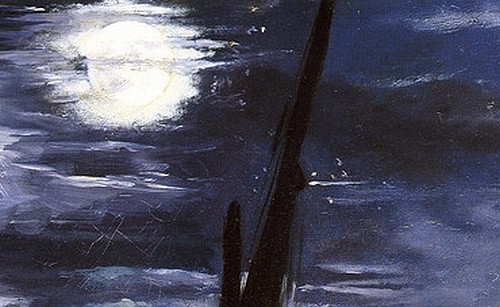 Clair de lune sur le port de Boulogne (fragment) - E. Manet
Last week we were listening to
Chanson Triste
by Henri Duparc, a mélodie from the early days of the genre, which began around 1870. However, what was there in France before the
Mélodie
? Any other song genre? Yes, there was
Romance
. Let's place ourselves in the middle of the 18th century. The French Court sung either songs inspired by ancient legends or songs that talked about pastoral or sentimental stories in an ancient poetic style; those songs were called romances. The texts were simple and the music was simple too, so as everybody was able to perform them; however, unlike Classical Lied (born in Germany at the same time) romance wasn't related to traditional music and, most of all, didn't have any artistic ambition. An example from that period is
Plaisir d'amour
by Jean Paul Martini, that we listened on this blog a few months ago; although it's not the most representative because it's a "high-end song" but it can be used to identify the style.
Romance moved to bourgeois salons after the Revolution and was at its peak during the First Empire and the Restoration, until around 1830. Still, it couldn't be called proper art, it was mainly a social entertainment; it was a sort of fashion that ladies composed and edited their own songs (of course publishers were delighted with this trend). "Serious" composers tried to ignore Romance and when they didn't, they were criticized for devoting their talent to these trifles so inappropriate for them.
Romance began its decline during the 30s. In that time, Schubert's Lieder began to spread in Paris thanks to Franz Liszt and the tenor Adolphe Nourrit. The first French edition of Schubert Lieder, dated in 1833, was entitled
"Six melodies célèbres avec paroles françaises par M. Bélanger de F. Schubert"
; we can see that the word "mélodie" is used and the songs are translated into French. After Schubert, Schumann and Mendelssohn arrived and this German "invasion" generated a debate in favour and against Romance; Some supporters praised its French values and detractors said that Lied had much higher quality than Romance. This discussion took to a resurgence of Romance as an alternative to Lied, now looking for artistic quality and involving composers like Gounod, Delibes, Berlioz and Massenet; eventually, what we know as mélodie was born and both styles, Romance and Mélodie, coexisted for a while.
Today I suggest listening to three songs composed from the following poem by Paul Verlaine:
La lune blanche
Luit dans les bois ;
De chaque branche
Part une voix
Sous la ramée...
Ô bien aimée.
L'étang reflète,
Profond miroir,
La silhouette
Du saule noir
Où le vent pleure...
Rêvons, c'est l'heure.
Un vaste et tendre
Apaisement
Semble descendre
Du firmament
Que l'astre irise...
C'est l'heure exquise.
The white moon
shines in the woods.
From each branch
springs a voice
beneath the arbor.
Oh my beloved...
Like a deep mirror
the pond reflects
the silhouette
of the black willow
where the wind weeps.
Let us dream! It is the hour...
A vast and tender
calm
seems to descend
from a sky
made iridescent by the moon.
It is the exquisite hour!
(translation © by Grant A. Lewis)
Verlaine published this poem in 1870 in his collection La Bonne Chanson. Jules Massenet musicalized it the following year; he might have been the first composer to write a song from a poet who would become one of reference authors of Melodie. His beautiful song Rêvons, c'est l'heure, a duet, it's of great use to talk about some features that differentiate Mélodie and Romance which are related to the way the poem is handled. Mélodie, as Lied, places great emphasis on verses, paying attention to their prosody and intelligibility, and therefore, avoids ornaments; it also tries to preserve its original form, without changing words or adding repetitions (generally speaking). In Romance those points are not that important; in this song by Massenet, for instance, the two voices don't always sing the same and intelligibility is lost; there are repetitions of some verses and ornamentations of the voice. Bear in mind that the mentioned Romance composers were also opera composers and we can hear this in their songs; however, most Mélodie composers didn't write opera (like most Lied composers) and we can also hear it.

I wanted to share with you a song of each style from the same poem but I wasn't able to choose between La lune blanche by Gabriel Fauré and L'heure exquise by Reynaldo Hahn as an example of mélodie because I like both very much. So I thought that you would decide... Both songs were composed the same year, in 1893; the first one is no. 3 from La bonne chanson and the second is no. 5 from Chansons grises, two cycles dedicated to Verlaine.

Here they are, I hope you enjoy all three songs! If you want more, there are dozens more songs on the same poem ... The performers of Rêvons, c'est l'heure are Felicity Lott, Anne Murray and Graham Johnson; La lune blanche is performed by Christopher Maltman and Graham Johnson and L'heure exquise by Susan Graham and Roger Vignoles.
Rêvons, c'est l'heure 
La lune blanche 
L'heure exquise