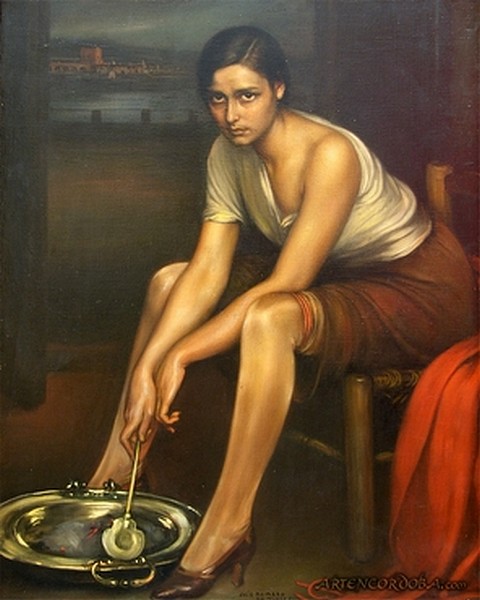 La chiquita piconera - J. Romero de Torres
We're at the end of July and we have been enduring fierce heat and sultry, sleepless nights for a long time. So ... it's time for some reflections! Today these thoughts come up from some conversations with my friends that allow me to speak on a subject that appears occasionally here: why we like whatever we like. If you're reading this English version post you might not know what
La bien pagá
means so let me explain that it's a famous
copla
, one of my favourite; here is a link to
La bien pagá
performed by a great copla singer, Carlos Cano. And now, let's go on with my story.
All started with a conversation with my friend J. Here, I open parenthesis: all friends mentioned in this post are long-term music lovers, especially opera lovers, and they are very used to analyze and share their tastes and dislikes; they are my perfect lab rats. Parenthesis closes. My friend J. told me that he liked a recording of Schubert's
Ständchen
by the tenor Josef Schmidt. I told him that there was something about it I didn't like, he "tenored" a bit, and he said to me: "Oh, but I like it that way!" Honestly, I'm not sure I can use that verb, "to tenor" in English; in Catalan I used
"tenorejar"
which is a verb that doesn't exist either, but we, opera lovers, use it to describe the need that some tenors sometimes have to resemble the Duke of Mantua and his famous
pensieeeeeeeeeeeer!
at the most inappropriate moments. My friend J. likes it, I don't. Nothing can be done about it. Then, although quite possible tenors should avoid thinking of the Duca while singing Art Song, if a listener likes it that way, we can't assert the contrary.
Then we went on about Alfredo Kraus, a singer who my friend loves passionately. Passionately meaning that he likes whatever he sings, even if he sings Strauss' Lieder, which in my opinion, doesn't suit him... And it comes
La bien pagá
. It's a joke among friends; when we talk about a singer we love, regardless of whether what he sings is beyond his style or possibilities, we say that we like him "even if he sings
La bien pagá
". We know them quite well and we know all their strengths and weaknesses; if necessary, we're perfectly capable of arguing what they did better and worse but if it's not necessary... what for?
My friend J. and I also talked about
Maria Stuarda
, the opera performed at that time at the Gran Teatre del Liceu. My belcantistic friends were displeased by the lowering of the score so as Joyce DiDonato (who is mezzosoprano, not soprano) was able to sing the main role (I ignore if the modified score was or wasn't blessed by Donizetti). I'm not much a bel canto lover (i.e., I attend all the bel canto programmed at the Liceu but I don't listen to it at home) and it was the first time I heard this opera; I understood my friends' concerns and I could even theoretically share them but the truth is that I got into the music and I had a great time. What can you do? However, I assure you that if I should attend to a "distorted" performance of
Don Giovanni
I wouldn't be so philosophical about it...
We can blame our brain for those stories about liking music... When we hear music the brain works in three phases. The first one is "mechanical": the feature extraction (frequency, intensity, duration...). The second one is more complex, the integration of these features to create an image of the music. That integration depends on several factors such as the prior knowledge we have of the music (maybe because we heard it before or because we can identify characteristics of a particular style) or any additional information that we have at that moment. Once the image is constructed, the brain has a third task, to determine the emotional associations, starting with whether we like or not that music. These associations obey to previous musical patterns that our brain modifies at every audition; basically, we like music, or not, according to a balance between what we anticipate and what it's new. That's to say, it's easier that we like a piece of work from our favorite composer at first hearing, than some music from the remotest place on earth. However, the balance between the two factors depends mainly on our interest and experience with music; wider experience increases our chances to like new music.
These factors that have an influence on music appreciation are easily recognizable in our behavior as listeners: that we know or not an style, that we like it more or less, that we consider some aspects of music really important or some "collateral" factors as the performers. There are other aspects related to emotional associations that we discussed at the posts
More on the bad memory
or
The music we love
and we could go on talking about them on many other posts (don't rule it out). Tastes are a complicated matter, aren't they?
What are we listening to illustrate all these reflections? Well, I like Fritz Wunderlich even if he sings
La bien pagá
. I'm not the only one, of course. My friend H. recently wondered how possible I chose a Lied by another singer to illustrate a post; the funny this was, though, that I hadn't even mentioned what Lied it was! Today that great singer performs something that suits him better than
copla
: Schumann.
Die Lotosblume
, n. 7 of his
Myrten
, with poem by Heinrich Heine. Wunderlich is accompanied by Hubert Giesen.
À mes amis
.
Die Lotosblume
Die Lotosblume ängstigt
Sich vor der Sonne Pracht,
Und mit gesenktem Haupte
Erwartet sie träumend die Nacht.
Der Mond, der ist ihr Buhle
Er weckt sie mit seinem Licht,
Und ihm entschleiert sie freundlich
Ihr frommes Blumengesicht.
Sie blüht und glüht und leuchtet
Und starret stumm in die Höh';
Sie duftet und weinet und zittert
Vor Liebe und Liebesweh.
The lotus flower is anxious
In the Sun's radiance,
And with hanging head
Waits, dreaming, for Night.
The moon, who is her lover,
Awakens her with his light,
And for him she smilingly unveils
Her innocent flower-face.
She blooms and glows and gleams
And gazes silently upwards;
She sends forth fragrance, and weeps and trembles,
With love and love's torment.
(translation © by Lawrence Snyder)