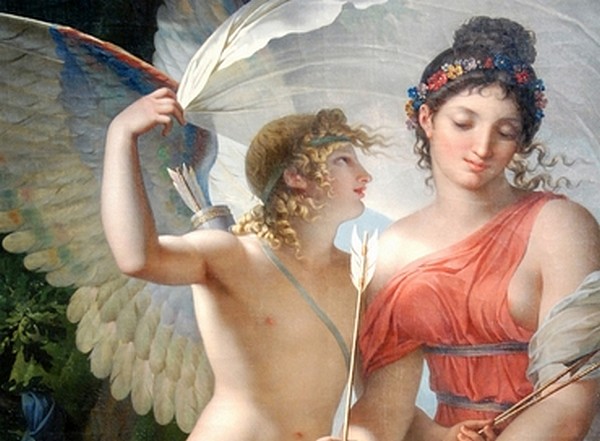 Erato, muse of lyrical poetry (detail) - C. Maynier
About two years ago, I wrote a
post
about how programs including poems and their translations, which used to be so familiar at song recitals in Barcelona, were vanishing from concert halls. I asked if you also needed the poems, as I do, to fully enjoy the concerts and your answers were unanimous: all of you, audience members, singers and pianists, said that texts are essential, even if the songs are sung in our mother tongue. You also explained your reasons and suggested some alternatives to printed texts. Of course, the sample was small so my poll didn't have a high statistical value but it was very enlightening for me. Today, I'm talking from another side: singers who don't want the audience to have the texts.
Last May, Fred Plotkin posted this
article
about a recital with Blyte Stephanie and Warren Jones. He explained how the soprano announced that the public wouldn't have a program with the texts and songs translations (in French and English). She would recited instead the English texts (originals or translations) before interpreting them; the experience was positive for the author of the article, so I think it's worthy to read his reasons and his readers' comments, both for and against. I've been in some recitals where the texts were recited and I wasn't that happy about it. If those translations are readed by groups, when you hear the last text, you hardly remember the first one; if the translations are read song by song there are too many breaks, especially if a cycle is performed. Let's imagine Winterreise, twenty-four poems read before the performance, or every poem read before every song. In addition, this way we only have the translation, we miss the original text (I won't persevere with this point because I already spoke about it).
Why didn't Stephanie Blyte want the audience to have the texts? She explains it on a video embedded on Plotkin's article: she doesn't like to see our heads down in the program, she wants to see our faces while she sings. She says that people who read the texts "don't actually hear the recital. They don't take part in it." Mrs. Blythe generalizes and I can only speak for myself but I listen, read, look at the singer, look at the pianist... And if I didn't, it would be my problem. However, if the singer wants to see the audience faces, and some other singers also mentioned it to me, there's an easy solution that some of you proposed: projected titles. That way, everybody, singers and audience, is happy, isn't it? Well, not really.
Natalie Dessay made her only concert (if I'm not wrong) at the Wigmore Hall in London in March 2012. The audience was warned that they should read the texts in advance because during the concert, that wouldn't be possible. The soprano had asked for dimmer light than usual (for those of you that have never been in a recital, the light is dim but you can read). When Dessay came on stage, she asked to dim the light ever more because she was still able to see the audience. That day the audience was unable to read the texts for which they had paid a few pounds because the singer didn't want to see their faces. According to some comments I read, at least part of the audience was delighted.
But there's some more. Natalie Dessay gave a concert some weeks ago in Madrid, at the Teatro Real. The lights were off as she likes; the program didn't include the texts but, surprisingly, they weren't either projected, as it's usually done; Mario Muñoz explains in his
review
that the singer asked for it. I'm puzzled about the reasons a singer wouldn't want the audience to fully enjoy the recital by reading the texts. Do you have any idea? And, whatever the reason is, why should it be imposed? There are singers that consider essential that texts are available, so it's up their audience to decide to read them or not. If a singer thinks that it would be better not to read them, why doesn't she or he explain to us before starting and let us decide?
Maybe Natalie Dessay will read this post and will be kind enough to explain her reasons (or just to deny it was her initiative. Nevertheless, if the opera house decided not to project the texts, it's also mystifying to me). Meanwhile, we're listening
Clair de lune
by Claude Debussy performed by the soprano and Philippe Cassard; the poem is by Paul Verlaine and we listened to Gabriel Fauré's version some time ago; that's the
post
, if you want to listen to it again. As always, here you are the original poem and the translation and, as always, you decide if you read them.
Clair de lune

Votre âme est un paysage choisi
Que vont charmant masques et bergamasques,
Jouant du luth et dansant, et quasi
Tristes sous leurs déguisements fantasques!
Tout en chantant sur le mode mineur
L'amour vainqueur et la vie opportune.
Ils n'ont pas l'air de croire à leur bonheur,
Et leur chanson se mêle au clair de lune,
Au calme clair de lune triste et beau,
Qui fait rêver, les oiseaux dans les arbres,
Et sangloter d'extase les jets d'eau,
Les grands jets d'eau sveltes parmi les marbres.
Your soul is a chosen landscape
charmed by masquers and revellers
playing the lute and dancing and almost
sad beneath their fanciful disguises!
Even while singing, in a minor key,
of victorious love and fortunate living
they do not seem to believe in their happiness,
and their song mingles with the moonlight,
the calm moonlight, sad and beautiful,
which sets the birds in the trees dreaming,
and makes the fountains sob with ecstasy,
the tall slender fountains among the marble statues!
(translation by Peter Low)