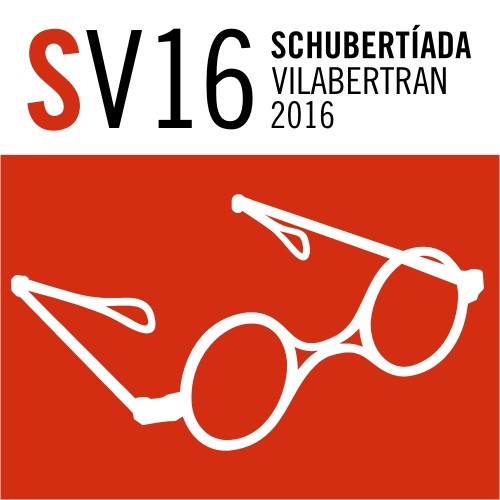 Today, the Schubertiade Vilabertran 2016, the 24th festival, has been presented. That's why I'm posting later than usual; I wanted to talk about the programme, especially regarding the song recitals. First of all, the dates: the SV16 will take place from 18th August to 3rd September and the format will be arranged as some years ago: the fifteen concerts are concentrated in three long weekends. The first one, from Thursday 18th to Sunday 21st; The second one, longer, from Thursday 25th to Monday 29th and the third one, the shortest, from Thursday 1st to Saturday 3rd.

Six song recitals are scheduled; two in the first weekend, four during the second one and one at the third, plus three talks related to three recitals, one each week. This year, the predominance of the German language is overwhelming: Schubert (a lot of him, as you can imagine), Schumann, Brahms, Mendelssohn, Berg, Beethoven and Wolf. The only exceptions will be some songs by Duparc and Shostakovich. Let's see all of this in more detail.
The two recitals in the first week are performed by Juliane Banse and Adrian Eröd, accompanied by Wolfram Rieger. Banse is one of the most loyal singers to the Schubertiade, she was very young when she took part in the first festival and since then, she has often come back, the last time in 2010. I would say it's the first time that baritone Adrian Eröd sings at the Schubertiade and I haven't met him yet. For me, he will be one of the most interesting novelties. What could I tell you about Wolfram Rieger? If you don't know him and you are still on time, please listen to this recording of his Winterreise, last summer, with Manuel Walser. He was superb. At the opening concert, Banse will sing lieder by Brahms, Schubert and Duparc. In the second one, the 20th, both singers will sing during the first part Schumann and Mendelssohn, with a very attractive programme that includes duets from both composers, works which are not often performed. At the second part, soprano and baritone will sing a selection from the Italienischen Liederbuch by Wolf. The first conference about that composer, will take place before this recital.
On Thursday 25th, the young tenor Peter Mauro will perform for the very first time at the Schubertiade. He made his debut at the Schubertiade Schwarzenberg at the age of 26. If I'm not wrong, it was a substitution and he drew the audience's attention with his performance of Die schöne Müllerin. Shortly after, at the 2013/14 season, he made his debut at the Wigmore Hall. This year, he does so at the Schubertiade and always accompanied by another great pianist, Helmut Deutsch. They'll also perform Die schöne Müllerin which I like it, because I think, that's a cycle for young singers, as Winterreise is for not-so-young singers. Before the concert, Joan Grimalt will talk about the performers of the cycle (I wonder whether young people or not that young).
As in recent years, Matthias Goerne will perform twice: on Saturday 27th and on Monday 29th, with Alexander Schmalcz, his accompanist over recent years in Vilabertran. The first program is dark, truly dark. Luckily enough Dichterliebe will enlighten us! The recital will start with Vier Gesänge, op. 2 by Alban Berg, Dichterliebe comes next and in the second part, Wolf, Brahms and Shostakovich. Those three works have some things in common; for instance, the three of them are the last ones (or almost) from those composers; the Three poems by Michelangelo by Wolf and Brahms' Vier ernste Gesänge were written in Vienna a year apart (in 1897 and 1896, respectively). Wolf and Shostakovich share the poet and the three cycles talk about death. Goerne will dedicate the second concert to Beethoven, with the famous cycle An die ferne Geliebte and the almost unknown Gellert-Lieder.
Finally, on Friday 2nd September we will enjoy the debut of another young performer, soprano Anna Lucia Richter (she's only 25), who will be accompanied by Michael Gees. Richter sang during the release of the 2016/17 season at the Wigmore Hall, you can hear it here. Her maturity is amazing and please, pay attention to her improvisations! Her programme, all-Schubert, is about women: Suleika, Mignon, Rosamunde, Ellen or the Queen in that terrible story, Der Zwerg (mental note: to write about this song). Jesus Aguado will talk about those women in his lecture prior to the concert.
The nine remaining concerts are instrumental: two matinées with Bach, with Lina Tur Bonet and Arnau Tomàs; three piano recitals with Kathia Buniatishvilli, Daniel Kharitonov and Noelia Rodiles; two quartets, Dalia and Casals; and two concerts with Camerata432: the family one and the closing one.
Today, a mini Schubertíada in Barcelona was also announced, to whet our appetite: two concerts at the Auditorium of the Conservatori del Liceu. The first one is next Monday; the performers will be the mezzo-soprano Maria Seidler and the pianist Hilker Dumno with a very nice programme with Schubert, Brahms, Wolf and some ballads. The second, in April, will be a piano recital by Daniel Kharitonov.
I made a quick summary of the SV16 program, you'll find all the details on their website and I'll enter the recitals on the calendar as soon as possible. And, to end this post, we're listening to Peter Mauro and Helmut Deutsch at that debut in Schwarzenberg in the summer of 2012. From Die schöne Müllerin, the second lied, Wohin?
Wohin?

Ich hört' ein Bächlein rauschen
Wohl aus dem Felsenquell,
Hinab zum Tale rauschen
So frisch und wunderhell.
Ich weiß nicht, wie mir wurde,
Nicht, wer den Rat mir gab,
Ich mußte gleich hinunter
Mit meinem Wanderstab.
Hinunter und immer weiter
Und immer dem Bache nach,
Und immer frischer rauschte
Und immer heller der Bach.
Ist das denn meine Straße?
O Bächlein, sprich, wohin?
Du hast mit deinem Rauschen
Mir ganz berauscht den Sinn.
Was sag ich denn von Rauschen?
Das kann kein Rauschen sein:
Es singen wohl die Nixen
Dort unten ihren Reihn.
Laß singen, Gesell, laß rauschen
Und wandre fröhlich nach!
Es gehn ja Mühlenräder
In jedem klaren Bach.
I hear a brooklet rushing
Right out of the rock's spring,
Down there to the valley it rushes,
So fresh and wondrously bright..
I know not, how I felt this,
Nor did I know who gave me advice;
I must go down
With my wanderer's staff.
Down and always farther,
And always the brook follows after;
And always rushing crisply,
And always bright is the brook.
Is this then my road?
O, brooklet, speak! where to?
You have with your rushing
Entirely intoxicated my senses.
But why do I speak of rushing?
That can't really be rushing:
Perhaps the water-nymphs
are singing rounds down there in the deep.
Let it sing, my friend, let it rush,
And wander joyously after!
Mill-wheels turn
In each clear brook.

(translation by Emily Ezust)