Since September 2013 I'm posting regularly in English in addition to Catalan. If you want to read this post translated to English, please use the automatic translator on the right column.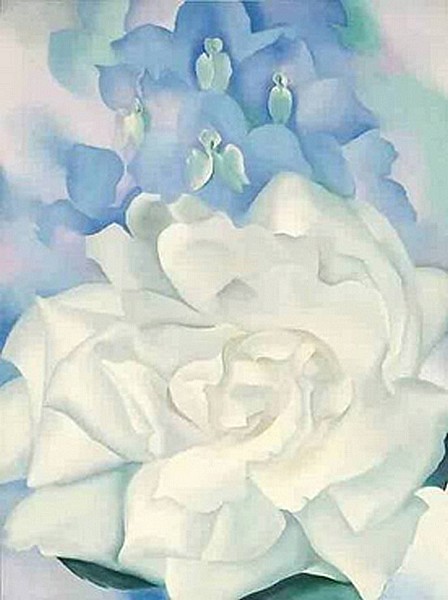 Rosa blanca amb esperó de cavaller no. 2 - G. O'Keefe
Enguany es commemoren els 50 anys de la mort d'Eduard Toldrà. Violinista, fundador del Quartet Renaixament, de l'Orquestra d'Estudis Sinfònics i de l'Orquestra Municipal de Barcelona (l'actual OBC), pedagog i compositor, la seva figura mereix ser recordada i en ocasió d'aquest aniversari s'han celebrat diversos concerts al mes de juny amb música de Toldrà com a protagonista.

Dins de la producció musical d'Eduard Toldrà la dedicada a la cançó no és la menys important, va posar música a poetes tan diferents com ara Josep Carner, Joan Alcover, Joan Maragall i Joan Salvat-Papasseit, l'autor del text de la cançó que escoltarem avui.

El poema de la rosa als llavis es un recull de poesia amorosa publicat el 1923, l'any abans que Salvat-Papasseit morís, a trenta anys, de tuberculosi. És de les poques vegades que he conegut els poemes abans que les cançons i probablement molts de vosaltres l'heu llegit també; si no ho heu fet, permeteu-me que us el recomani, és una delícia. Dels trenta-dos poemes que formen el poemari, Toldrà n'escull sis per a compondre un cicle de cançons per a veu i orquestra (més tard en faria la versió per a veu i piano). Els sis poemes no són correlatius ni els trobem cantats en el mateix ordre que els podem llegir; el cicle comença amb un poema que parla de la pèrdua de l'estimada i acaba amb un festiu Visca l'amor; entremig, quatre cançons intimistes que il·lustren el que sovint sónt brevíssimes imatges amoroses.

Avui escoltarem la tercera cançó del cicle, i el seu esguard, així, començant el poema amb minúscula i acabant-lo amb dos punts, coses dels poetes avantguardistes. Són només cinc versos (veureu que he intentat reproduir els versos trencats tal i com es van publicar) i Toldrà comença amb un preludi relativament llarg, si tenim en compte la brevetat de la cançó. Després dels dos primers versos, un interludi que reprèn el tema que acabem de sentir i que apareix breument abans de l'últim vers; la cançó es tanca amb uns compasos molt similars al preludi. Veiem doncs que l'acompanyament té molt de protagonisme, més que en d'altres cançons del cicle. Tot i que probablement hi tornarem més endavant, si teniu ocasió no deixeu d'escoltar-lo sencer, una preciositat que dura només deu minutets.

La rosa els llavis l'havia d'estrenar la soprano Conxita Badia el 1936, malauradament van venir la guerra i l'exili i Toldrà va esperar fins que ella en va tornar, així que no es va poder escoltar per primer cop fins el 1947. Nosaltres sentirem la cançó en la interpretació que van oferir Marta Mathéu i l'OBC dirigida per Salvador Mas el passat 18 de juny al Palau de la Música Catalana.


i el seu esguard
i el seu esguard damunt el meu esguard
sóc presoner
que la vull presonera:
aquest matí que una flor m'ha posat
li deia així
baix baixet
a l'orella:

sota els teus ulls, és un bes el que em plau: