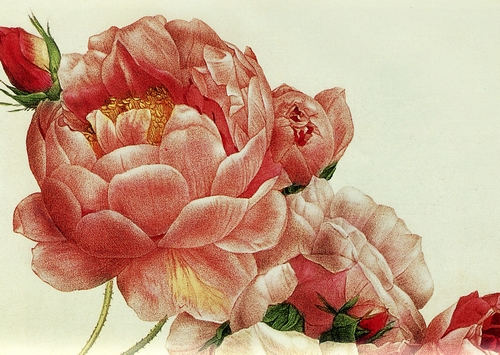 Damask rose Celsiana - P. J. Redouté
Next Saturday, it's St. George's Day and, as every year, plenty of roses will cover the streets of Catalonia. Also, as every year, this week I'm bringing a rose for you, a rose disguised as a song. For the first time, we can infer from the poem what kind of a rose we are talking about: a Damask rose and I am delighted because it's one of my favourites. Damask roses arrived in Europe during the time of the Crusades, in the 13th Century; there are usually pink, from almost white to intense pink, and often bloom in different colours. Their colours are always very delicate, and the shrubs, with light gray-green foliage are easily noticed from afar, not only for their beauty but also for the scent, intense and unmistakable: when we say that "it smells of roses" we are referring to Damask roses. We know (or strongly suspect) that the poet of this song is talking about those roses because he compares her beloved's lips to the colour of the roses, damask. It's a very special colour that really reminds of the lips, a greyish-pink.

I'm not able to mention the poet's name because it's unknown; the poem is part of a poetry collection by anonymous authors during the 16th and 17th centuries The English Galaxy of Shorter Poems, edited by Gerald Bullet in 1942 (Britten also took some poems from this compilation for his song cycle A Ceremony of Carols). We know, of course, the name of the composer, William Walton, who appears on Liederabend for the very first time. Walton, who lived between 1902 and 1983, has a relatively extensive work but I'm not sure if it's really well known; cinema lovers know him as the soundtrack composer in Sir Laurence Olivier's films, Hamlet, Richard III and Henry IV.

Anon. in Love (I love that name) is a cycle of six songs premiered in 1960 with a pretty unusual characteristic. We have often spoken about the relationship between composers and poets, about how a poem draws the musician attention and becomes a song, and about the close relationship between words and music. Anon. in Love turns out a different story altogether: Walton assigned the choice of six poems (all of them from the mentioned collection) to Christopher Hassall, and then he composed the cycle. I'm surprised, why would he do that? Didn't he trust his own poetic judgment? Did he really care about the poems? Maybe he didn't because it was a commissioned work... The point is that Hassall, librettist of Walton's opera Troilus and Cressida, chose the poems of this cycle and of the one composed two years later, A Song for the Lord Mayor's Table. You might think that it doesn't matter who chooses the poems because results are all that matters... Sure, results do matter, needless to say, but Christopher Hassall's name always appears on the cycle credits.

The cycle was commissioned by Peter Pears and Julian Bream, which is another of its peculiarities: Bream was a guitarist so the songs are accompanied by guitar. In 1971, Walton premiered the orchestral version and in 1990 the composer Christopher Palmer published an arrangement for voice and piano, we can listen to the cycle in different versions. We're listening to the first one with the first performers, Pears and Bream. Our song is the third one, Lady, when I behold the roses. This poem from the 16th-17th century and guitar accompaniment remind us of the lute-songs by John Dowland. The piece certainly shares that old air while it unmistakably sounds as a twentieth century work. I hope you enjoy this song as delicate as Damask roses.

Have a happy Saint George's Day!
Lady, when I behold the roses

Lady, when I behold the roses sprouting,
Which clad in damask mantles deck the arbours,
And then behold your lips where sweet love harbours,
My eyes present me with a double doubting;
For, viewing both alike, hardly my mind supposes
Whether the roses be your lips or your lips the roses.