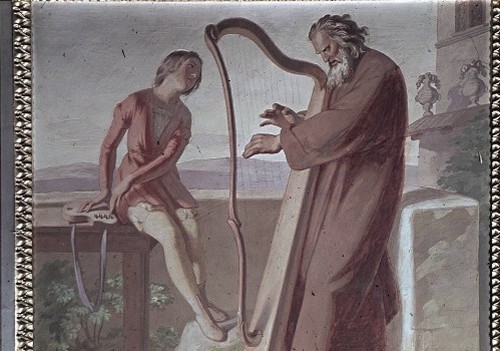 Mignon i l'arpista - G. Jäger
In my previous post of the series, I told you the story of Mignon that, as we discovered, was also the story of the harpist: they were father and daughter, even though they didn't know it. Wilhelm and his friends learned it almost by chance, when the Marquis noticed a tattoo on the dead girl's arm and identified her as his missing niece. Now we go into Chapter 10 of Book VIII, the last one of the novel. Wilhelm and his friends must decide whether to tell the Marquis what they know about his brother Augustin, the harpist, so they decide to send a letter to ask the doctor who's taking care of him if the harpist would be prepared to hear the news. When they start worrying because they don't get an answer, the doctor arrives at the castle, accompanied by a stranger, a relatively young man, well dressed and looking calm. Wilhelm recognizes him when he hears his voice, he's the harpist!

Everybody is very happy to see him so recovered. Finally, he has managed to find a way to calm himself down and heal his fear for death: he carries a flask of opium in his pocket; To know that he could decide to die at any moment helps him to keep live. The doctor, Wilhelm and the abbot choose not telling him for the time being what they know. Wilhelm and Felix will travel with the Marquis to Italy; they will explain him about Augustin, will meet the rest of his family and the places where Mignon once happily lived and will take over her inheritance.

Unfortunately, we won't have a happy ending to that story. One day, the harpist reaches the room where Wilhelm and his friends are. He is so excited that they think he has gone mad again, and he urges them to save Felix, who has been poisoned. They go fast and screaming, and as always happens in those situations: they frighten the boy who can hardly say: " "Dear papa, I did not drink from the bottle, I drank from the glass: I was very thirsty." The harpist cries "we lost him!" and runs away. On a table, there is a half-empty bottle of almond-milk, the flask of opium also empty and glass full with what the doctor identifies as poisoned almond-milk. The man recommended them not to upset Felix; if he has taken the poison, little can be done.

Some men who pursued the harpist find him lying in a pool of blood. He has slashed his neck with his razor blade but he is still alive; the doctor takes care of him and bandages his wound. The next day, both the child and the harpist are still alive and the harpist can explain what happened: he found and read the manuscript where the story told by the Marquis was written. Desperate, he decides to take his life and pours the opium on the almond-milk; at the very last moment, he has some doubts and goes to the garden. When he returns into the room he sees the child and we already know the rest of the story. The doctor suspects the child didn't drink from the glass; he would be dead by now. They ask him whether he drank from the bottle or from the glass and Felix insists he did from the glass. However, the following day he confesses Natalie that he drank from the bottle. Why didn't he tell the truth before? Because Therese and Wilhelm always scold him when he drinks from the bottle, he must drink from the glass! His bad habit saved his life.

Nevertheless, It's too late for the harpist, he is dead. Do you know what really amazes me? Goethe barely spares a few sentences in the middle of a paragraph:
"[...] Next morning Augustin was found lying dead in bed; he had cheated his attendants by a seeming rest; had silently loosened the bandages, and bled to death. [...]"
That's all. Not even one more word about the harpist in the few remaining pages of the novel.
We should close Wilhelm's story. Do you remember he was engaged to Therese? She was previously engaged to Lothario but they cancelled their wedding when he discovered he had an affair with Therese's mother. It turns out, however, that the abbot discovered (pay attention to a new soap opera turn) that Therese is not the daughter of his father's wife. In fact, she's the daughter of his father and a maid; To avoid a scandal, the wife agreed to pretend to be her mother in exchange for a lot of money and freedom to live her own life. So, Therese and Lothario can now get married. Wilhelm releases Therese from her promise but she doesn't accept, she gave her word. Everybody suspects that Wilhem is in love with Natalie, his amazon, and she loves him. Friedrich, who is less prejudiced and more spontaneous, makes jokes and drops hints into them, forcing everyone to speak clearly. This way couples can be rearranged and they all live happily ever after. Even Friedrich, because he finally gets Philine's love and now, they are expecting.
One of the hints that Friedrich drops into Natalie and Wilhelm is a song, the thirteen and last one in the book. It's very short, only five verses, and the only composer that musicalized it was,
you know
, Rubinstein. We don't have any recording but at least I can share the text:
Oh, ihr werdet Wunder sehn!
Was geschehn ist, ist geschehn,
Was gesagt ist, ist gesagt.
Eh' es tagt,
Sollt ihr Wunder sehn.
O ye shall wonders see!
What has been is not to be;
What is said is not to say,
Before the break of day
Ye shall wonders see! 
We won't end the post without music. Today, we recovered the harpist, let's also recover his last song, An die Turen will ich schleichen. We previously listened to Schumann's song and today we're listening to the one by Schubert, with Mauro Peter and Helmut Deutsch. Now, the series is almost ended! We'll have still a last post to discuss some more aspects before I put back the book onto my bookcase.
An die Turen will ich schleichen

An die Türen will ich schleichen,
Still und sittsam will ich stehn,
Fromme Hand wird Nahrung reichen,
Und ich werde weitergehn.
Jeder wird sich glücklich scheinen,
Wenn mein Bild vor ihm erscheint,
Eine Träne wird er weinen,
Und ich weiß nicht, was er weint.
Wheresoe'er my steps may lead me,
Meekly at the door I'll stay;
Pious hands will come to feed me,
And I'll wander on my way.
Each will feel a touch of gladness,
When my aged form appears;
Each will shed a tear of sadness,
 Though I reck not of his tears.
(translation by Thomas Carlyle)