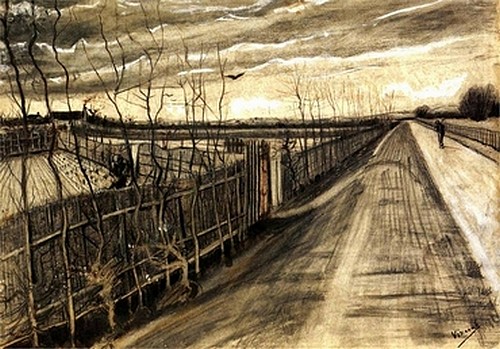 Camí rural - V. van Gogh
After our summer break, this is the post nº 9 of the
Wilhelm Meister's songs series
. In July, we left Wilhelm saying goodbye to the countess, once the celebrations in honor of the Prince (the one who took Wilhelm and the theater company to the castle) finished. That was the end of the 3rd book; now we are in the first chapter of the 4th book, where we'll find the sixth song of the series.
In these few pages the plot hasn't developed that much. The baron goes to see the troupe off and gives them some gifts on behalf of the Count and Countess, including a bag of gold coins for Wilhelm. Everyone is packing and the harpist tells Wilhelm that he's not going with him because misfortune haunts him and people around are in danger. The young man suspects that the harpist says this because he bears a lot of guilt (our Wilhelm is so perceptive!), and persuades him to remain under his protection. The chapter ends with these verses that Wilhelm had heard the harpist sing some days before:
Ihm färbt der Morgensonne Licht
Den reinen Horizont mit Flammen,
Und über seinem schuld'gen Haupte bricht
Das schöne Bild der ganzen Welt zusammen.
For him the light of ruddy morn
But paints the horizon red with flame;
And voices, from the depths of nature borne,
 Woe! woe! upon his guilty head proclaim.

This short song was ignored by almost all composers; the only one that musicalized it, during the 19th century, was the Russian composer Anton Rubinstein. His song cycle
Die Gedichte und das Requiem für Mignon aus Goethes Wilhelm Meisters Lehrjahre
, op. 91, written in 1872, is the most comprehensive because all the songs are included. But, as far as I know, there isn't any recording of this cycle. Since I hadn't found it, I asked
Elisa Rapado
for help, piano accompanists are always a fount of wisdom, and
Hélène Lindqvist
, also an expert herself with a recording of Rubinstein's songs. Nevertheless, they didn't know about a recording of Wilhelm Meister's cycle either. Hélène suggested that perhaps there was an old Russian recording, so here I get to google the Cyrillic alphabet.  Thankfully a Russian friend, Alexei, helped me and was kind enough to enquire about this recording on a forum about classical music. Unfortunately nobody did know about it.
That was one year ago, and I clearly understood that this Wilhelm Meister's series would remain incomplete, unless a label released a recording of the Rubinstein's cycle in extremis, that's why I'm talking about disappointment in the title of today's post. I thought that, if most of the composers had ignored this song (and some other one), I could do the same and go straight to the next one, but I finally decided to share my confusion with you; It really puzzles me that, having so many Rubinstein recordings, there isn't any recording of this cycle.
Something positive came out of this research, in addition to working with Elisa, Hélène and Alexei (thank you!): I found out that, nowadays, Wilhelm Meister still interests some composers. There are two more Ihm färbt der Morgensonne Licht songs. One of them is included in Marmorbilder, a work for soprano, two saxophones and percussion composed in 2011 by Markus Bongartz. The other one is part of Wünschelrüte, a song cycle for baritone and piano written by Rudi Spring in 2013.
Since we can't listen to the song corresponding to this post, we'll instead listen to another Russian composer, pupil of Rubinstein:  Pyotr Ilyich Tchaikovsky. Нет, только тот, кто знал (Net, tol'ko tot, Only he who knows longing) is the last of the Шесть романсов (Six Romances), Op.6, written in 1869. The Russian version of the original Goethe's poem is by Lev Mei and our performers are Christianne Stotjin and Julius Drake. We'll talk about the song context in the novel in our next post; today we're just enjoying one of the most famous songs  by Tchaikovsky.
If you know any recording from Ihm färbt der Morgensonne Licht, by Rubinstein but also by Spring or Bongartz, please share it with us.
Net, tol'ko tot  
Net, tol'ko tot,
kto znal svidan'ja, zhazhdu,
pojmjot, kak ja stradal
i kak ja strazhdu.
Gljazhu ja vdal'...
net sil, tusknejet oko...
Akh, kto menja ljubil
i znal - daleko!
Akh, tol'ko tot,
kto znal svidan'ja zhazhdu,
pojmjot, kak ja stradal
i kak ja strazhdu.
Vsja grud' gorit...
You never long'd and lov'd
You know not grief like mine:
Alone and far remov'd
From joys or hopes, I pine:
A foreign sky above,
And a foreign earth below me,
To the south I look all day;
For the hearts that love and know me
Are far, are far away. I burn, I faint, I languish,
My heart is waste, and sick, and sore;
Who has not long'd in baffled anguish
Cannot know what I deplore.
(translation by Thomas Carlyle)
As always, I'm copying the original text:
Нет, только тот,
кто знал свиданья, жажду,
поймёт, как я страдал
и как я стражду.
Гляжу я вдаль...
нет сил, тускнеет око...
Ах, кто меня любил
и знал - далеко!
Ах, только тот,
кто знал свиданья жажду,
поймёт, как я страдал
и как я стражду.
Вся грудь горит...