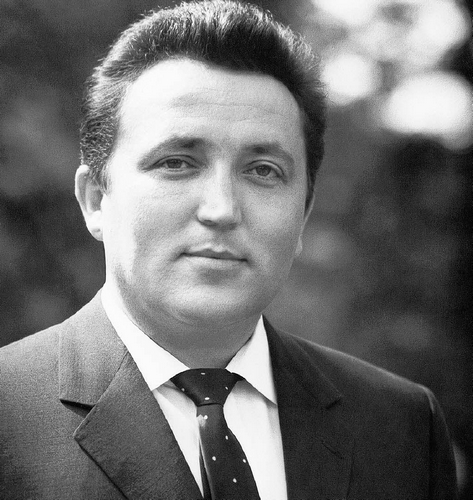 Fritz Wunderlich (photo: Siegfried Lauterwasser)
Tradition says (and it's a tradition that fills with light the end of summer) that every year around this date the voice of Fritz Wunderlich sounds on Liederabend. As I said in the first year, 2012, I am in the habit of recalling that great tenor on the anniversary of his death and I like to share it with you. It's a way of paying homage to him, thanking him for his music and enjoying an unforgettable voice for some minutes. And, who knows, maybe someone will discover him and fall in love with him...
Fritz Wunderlich died on 17 September 1966. Many media paid special attention to him this year because of the 50th anniversary so I would like to suggest you some links. The first one is an article (in Spanish) that my friend Natan Gonzalez posted on his blog
Remembering Stars
. Natan offers an overview on the wide repertoire of the tenor, and also talks about other music genres he sang, including art song. Be careful with the Stendhal syndrome if you listen to every piece of music! Second suggestion: Hurry up to listen to the program Lange Nacht, broadcasted by Deutschlandfunk last Saturday; it's only available until next Sunday. That's the
link
to their website, that includes a complete timeline of Wunderlich's life. And finally, also in German, an
interview
with Barbara, the singer's daughter, on BR-Klassik.
And now, let's talk about our song. Among the short repertoire of Lied that Wunderlich had time to sing we find some not very common pieces such Haydn's songs or the song by Schubert we're listening today:
Liebhaber in allen Gestalten
, a particular song for different reasons. For instance, it's a funny song, and sense of humour wasn't the most common trait of Schubert's work. However, the most surprising thing to me is that Goethe wrote the poem. There are personalities that I can't imagine laughing and Goethe, always so solemn and grave, is one of them (the same as Richard Wagner, for instance). But this poem has an undeniable sense of humour. The lover wishes to be a fish and let himself be fished by her beloved, or an always useful horse. Or even... why not a comfortable carriage? He also wishes to be gold, so as she can buy whatever she wants; or a monkey, to make her laugh when something annoys her. And a lamb, a lion, a fox and lynx, all in the same verse. Animals aside, he wishes to be faithful; and old and wrinkled, that way he wouldn't blame her if she left him... But he is just as he is, what can you do?
Don't you think that poem doesn't befit a gentleman as important as Johann Wolfgang von Goethe? It was published, according to some sources, in 1810; Other sources consider that it was published in 1815 or some years later, but Schubert composed his song in 1817. The date of the writing is even more vague, between 1780 and 1810; I read once that the poem was published without the consent of Goethe but I wasn't able to recover the article so let's say that's not verified rumour...
I told you about the whole poem because, depending on the recording, we're listening to different parts. The poem has
nine stanzas
, and Schubert musicalized four of them: the first three and the last one. When the Lied was published in 1885, it had only three stanzas: the horse and the carriage had disappeared. In the
Gesamtausgabe
, however, the nine stanzas are included. That means that the singers can choose the stanzas they sing, something relatively usual in strophic songs. Most of them sing four of them: the three comprised in the Peters edition and one more that changes. For example, Johannes Kalpers (Naxos Schubert Edition) sings the verses that Schubert set to music; Edith Mathis (Hyperion Schubert Edition) sings the verse of the lamb, the lion, the fox and the lynx; Barbara Bonney sings the verses that speak of fidelity and Sally Matthews those of the monkey. Fritz Wunderlich sings only three verses, according to the Peters edition.
I said before
Liebhaber in
allen
Gestalten
is a particular lied. Apart from being a witty song, it's rarely performed, at least during the last decades. Besides, I don't know why, it's usually performed by women. So, we can say we're listening to a rare piece. I hope you enjoy the light, fresh interpretation of Wunderlich and please be careful because it's a very catchy song. In a few minutes, you could be humming
Ich
wollt
' es wär'
ein
Fisch...
Liebhaber in allen Gestalten

Ich wollt' ich wär' ein Fisch,
So hurtig und frisch;
Und kämst Du zu angeln,
Ich würde nicht mangeln.
Ich wollt' ich wär' ein Fisch,
So hurtig und frisch.
Ich wollt' ich wäre Gold!
Dir immer im Sold;
Und tätst Du was kaufen,
Käm' ich gelaufen.
Ich wollt' ich wäre Gold!
Dir immer im Sold.
Doch bin ich wie ich bin,
Und nimm mich nur hin!
Willst bess're besitzen,
So lass Dir sie schnitzen.
Ich bin nun wie ich bin;
So nimm mich nur hin!
I wish I were a fish,
so quick and fresh;
and if you came to fish,
I would not stay away.
I wish I were a fish,
so quick and fresh;
I wish I were gold,
always in your pocket,
and if you used me to buy something,
I would come running back.
I wish I were gold,
always in your pocket.
But I am just as I am;
and take me for that!
If you want something better,
then let them carve it out of you.
For I am just as I am;
and take me for that.
(translation by Emily Ezust)