Since September 2013 I'm posting regularly in English in addition to Catalan. If you want to read this post translated to English, please use the automatic translator on the right column.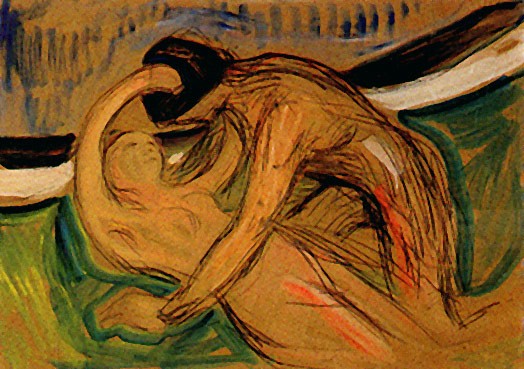 L'editor i crític Josep Janés va escriure a la seva joventut tres llibres de poemes. El segon, Combat del somni, és una col·lecció de vint sonets publicats el 1937 amb la següent dedicatòria: "Sonets a Maria Victòria, que va morir amb el seu somni". El poemari està dividit en dues parts: els sis primers sonets estan escrits el 1934; els catorze restants el 1936, quan Janés tenía 23 anys, després que Maria Victòria fos trobada morta al seu llit un matí.
Uns anys després Josep Janés i el compositor Frederic Mompou van fer amistat; una amistat d'aquelles que no entenen de diferències d'edat (Mompou era vint anys més gran que Janés), que inclou a les famílies i que duren tota la vida. Aquesta amistat va tenir un fruit musical, el cicle de cançons Combat del somni de Mompou.
Mompou va triar cinc dels sonets per fer-ne les cançons, escrites al llarg de gairebé deu anys: Damunt de tu només les flors (escrita el 1942), Aquesta nit un mateix vent (1946), Jo et pressentia com la mar (1948), Ara no sé si et veig encar (1950) i Fes-me la vida transparent (1951); la primera i l'última són de la segona part del llibre, les altres tres del primer. La cançó més coneguda del cicle és Damunt de tu només les flors, que sovint s'interpreta de forma aïllada i de la qual hi ha també una versió en castellà que recordo haver sentit a Pilar Lorengar; avui, però, escoltarem una altra de les cançons, Aquesta nit un mateix vent.
En aquesta cançó podem escoltar tres característiques de la música de Mompou. Per una banda la sobrietat; una de les obsessions de Mompou era aconseguir la màxima expressivitat amb el mínim de notes possibles, quan componia anava eliminant tot allò que no fos essencial. S'autodefinia com un home de poques paraules i un músic de poques notes, i deia que ell no componia, ell "descomponia". Una altra característica de la música de Mompou és l'ambient reposat i melancònic, la manca de moviment, que crea una atmosfera molt personal. La tercera característica és el que Mompou considerava el seu acord, l'"acord de campana", un acord amb un timbre metàl·lic habitual a la seva obra i que en aquesta cançó podem escoltar en dues ocasions, sobre les paraules transparència i mirall. D'on li venia a Mompou la seva estimació per aquest so? Sembla ser que de les visites que de petit feia al taller de campanes dels seus avis materns.
Sentim Aquesta nit un mateix vent en la versió de Marisa Martins i Doug McClure. Una cançó discreta d'un músic discret al qual recordem menys del que caldria, perquè la discreció sovint amaga, com en aquest el cas, molta bellesa.
Aquesta nit un mateix vent
Aquesta nit un mateix vent
i una mateixa vela encesa
devien dur el teu pensament
i el meu per mars on la tendresa
es torna música i cristall.
El bes se'ns feia transparència
-si tu eres l'aigua, jo el mirall-
com si abracéssim una absència.
El nostre cel fóra, potser,
un somni etern, així, de besos
fets melodia i un no ser
de cossos junts i d'ulls encesos
amb flames blanques i un sospir
d'acariciar sedes de llir?