Since September 2013 I'm posting regularly in English in addition to Catalan. If you want to read this post translated to English, please use the automatic translator on the right column.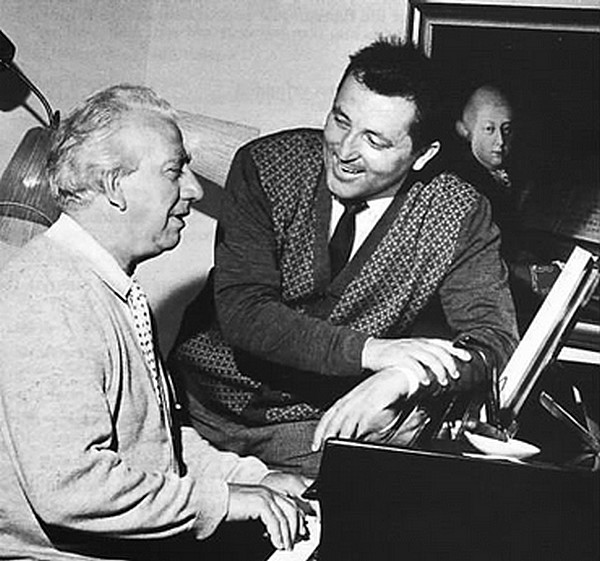 Fritz Wunderlich i Hubert Giesen
Apunt autobiogràfic: tinc una mena de dèria per les llibretes, especialment pels quaderns de fulls llisos. Per a mi són una eina de treball tan habitual com l'ordinador, la diferència és que l'ordinador és imprescindible i els quaderns no, aquesta és la gràcia de les dèries. Evidentment, també tinc una llibreta pel blog a on hi vaig apuntant idees, dades i una certa planificació de les entrades. Dic "certa" perquè la faig a llapis i vaig apuntant i esborrant segons em vénen les idees al cap.

I aquí és a on volia anar a parar amb aquesta història de les llibretes: ja fa molts mesos, pràcticament des del començament del blog, que al calendari aquesta setmana està marcada amb un nom propi: Fritz Wunderlich. Aquesta setmana en concret perquè dilluns, dia 17, va ser l'aniversari de la seva mort. No és que calguin excuses per escoltar Wunderlich, però volia compartir amb vosaltres el costum de dedicar-li un record en aquestes dates, un costum que em consta que alguns dels lectors del blog també teniu.

A aquells que no sabeu ben bé de qui estem parlant us podria dir que va ser un dels millors tenors del segle XX, però seria més il·lustratiu dir que Fritz Wunderlich és un tenor que enamora. Ho escric en present perquè va enamorar qui el va escoltar en un teatre i continua enamorant avui, no conec cap aficionat a qui no li agradi i no conec cap altre cantant de qui es pugui dir el mateix. Per desgràcia, va cantar durant molt poc de temps: va debutar el 1954 amb vint-i-quatre anys, cantant el paper de Tamino a La flauta màgica en una funció al conservatori, i va morir el 1966, uns dies abans de fer-ne trenta-sis.

A primers de 1963 va demanar el pianista Hubert Giesen que fos el seu acompanyant i mestre i des de llavors la seva carrera com a cantant de lied va ser extraordinària; escoltar-lo en directe devia de ser una experiència absolutament feliç però almenys ens queden els enregistraments per gaudir de la seva veu. Avui he triat una cançó de Beethoven, un compositor que Wunderlich va freqüentar. Es tracta de Zärtliche Liebe (Amor tendre), escrita el 1795 seguint els postulats de l'època: melodia i acompanyament senzills per destacar el poema, de Karl Friedrich Wilhelm Herrosee; una cançó que podria passar desapercebuda si no fos perquè està tan ben cantada. Confeso que quan escolto la veu de Wunderlich tan plena de vida sento un pessic de tristesa, tan és que hagin passat quaranta-sis anys des de la seva mort.


Zärtliche Liebe
Ich liebe dich, so wie du mich,
Am Abend und am Morgen,
Noch war kein Tag, wo du und ich
Nicht teilten unsre Sorgen.
Auch waren sie für dich und mich
Geteilt leicht zu ertragen;
Du tröstetest im Kummer mich,
Ich weint in deine Klagen.
Drum Gottes Segen über dir,
Du, meines Lebens Freude.
Gott schütze dich, erhalt dich mir,
Schütz und erhalt uns beide.
T'estimo com tu m'estimes
a la nit i al matí,
no va haver cap dia que tu i jo
no compartíssim els nostres problemes.
Així van ser per a tu i per a mi
més fàcils de suportar,
tu em vas consolar en el meu dolor
i jo vaig plorar les teves penes.
Per això, que Déu et beneeixi,
alegria de la meva vida.
Que Déu et protegeixi i et guardi per a mi,
que Déu ens protegeixi i ens guardi a tots dos.