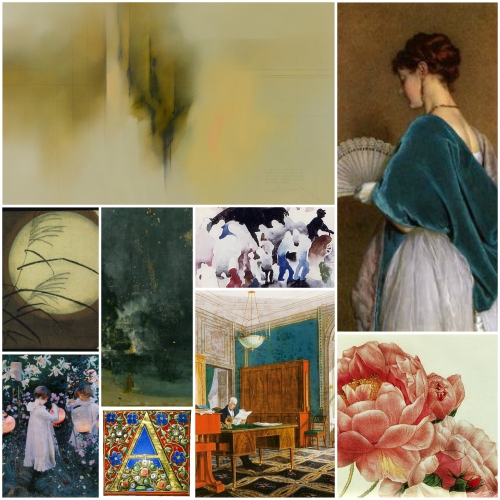 Today I'm bringing a birthday cake with five candles to celebrate the fifth anniversary of Liederabend. Five years of weekly meetings for sharing songs and stories around these songs. What could I say? I'm happy! Thank you all for being there! As usually, this anniversary post will be about what happened on this site during the last year. Our starting point: the deciphering of the traditional "mysterious" numbers that head this post:
During the past year we listened to 52 songs which means that I didn't lose my publication pace; A few weeks ago we were about to run out of posts because of a flu. Luckily enough, everything was almost ready, and with a little help the post arrived on time at your devices. It would have been the first blank week in five years!
We met eight new composers, one more than last year. Not many of them, or rather, there's still too many outstanding composers. I must admit that it's my fault (of course, who else?); a quarter of the total songs are from the apple of my eyes. But how could I do without Schubert?
Regarding the poets, I added 19 to the list, most of them little known (or simply unknown). While going over the new names, I especially liked to find among them the great Oscar Wilde, a name as well known as unusual in song.
We indulged ourselves with 17 new singers, half of which, as you could guess, baritones. I assure you that I don't do it on purpose! I know I could set quotas, that's what I do in courses, talks, etc to correct my bias, but here I allow myself not to go against my baritonophilia.
And finally, we also have 17 new pianists, and, fortunately, it doesn't matter whether they are or aren't baritones (wouldn't be that an interesting question to ask them? Just out of interest...)
In short: if we add these figures to that of the previous years, we heard 280 songs from 78 composers and 145 poets, performed by 137 singers and 130 pianists; these are the figures of the title. Of course, you can find every song listed on the "
We listened to
" page.
During the last year a long series ended and a new one, even longer, began. I posted the last four posts about the
Wilhelm Meister's Apprenticeship songs
; the last one, on June, 29th 2016, closed a series of nineteen posts that had started on October, 3rd 2013. Congratulations and my thanks if you followed it from beginning to end. The new series is
Liederabend's alphabet
, twenty-six posts that will take us, if everything goes to plan, at the end of 2018 or the beginning of 2019. Yes, those dates make my head spin. Moreover, before this season ends we'll have a special miniseries, thanks to a collaboration that has just begun and I like very much. I'll tell you more about this series in a while...
Contributions
, the page where I link the articles I write for other media, kept growing during the last months, and I added to the
Clippings
some interesting articles and interview about Art Song. I would like to know your opinion about the page including the
main festivals and seasons in Europe
; so far, I tried to update them one by one and it didn't work, so I decided basically to link to every website (I included only those concert halls that have a significant amount of song recitals, at least four or five). As you know, the recitals in Catalonia are gathered together in a
calendar
; in both cases, please let me know if you miss something.
And now, a song! I asked one of the best teams of composers and poets to help me to blow my birthday candles: Gustav Mahler and Friedrich Rückert. My beloved Rückert wrote the poem,
Verbotener Blick
(Forbidden look) probably because someone (perhaps his wife Luise?) made him nervous by poking around what he wrote. A deeper read suggests that Rückert would be talking about the creative process, about not questioning the how (not even the author himself) but the final result. My beloved Mahler chose that poem to write the song known by its first line,
Blicke mir
nicht
in die Lieder
(Look not into my songs). By the way, note that when Rückert says
Lieder
is referring to his poems; that was a usual meaning of that word in the XIX century, although the Duden dictionary defines
Lied
as
epische Gedichte
(epic poem).
Some time ago we listened to
Liebst du um Schönheit
, a
Rückert-Lieder
too; back then, I explained some things about this cycle, composed in 1901 (and orchestrated in 1905). It's said that Mahler chose the five poems because he identified himself with them; it seems that
Blicke mir
nicht
in die Lieder
fits perfectly this idea because according to Alma, her husband didn't stand anybody looking at him while working (and who likes to be snooped while writing, even if it's the shopping list?); maybe he also agreed with Rückert thoughts about the creation process. Some people say this is a silly song that detracts from the rest of the Rückert-Lieder; as you can imagine, I don't agree. I think that
Blicke mir
nicht
in die Lieder
is a beautiful miniature, with that indignant tone of voice (
enfatico
, according to the score) and the industrious bees mentioned in the second stanza buzzing throughout the song, as you can hear at the piano.
Before going to the song, please let me thank you again for being here during five long years! And now, please listen to Lorraine Hunt Lieberson and Roger Vignoles performing
Blicke mir
nicht
in die Lieder
.
Blicke mir nicht in die Lieder

Blicke mir nicht in die Lieder!
Meine Augen schlag' ich nieder,
Wie ertappt auf böser That;
Selber darf ich nicht getrauen,
Ihrem Wachsen zuzuschauen:
Deine Neugier ist Verrath.
Bienen, wenn sie Zellen bauen,
Lassen auch nicht zu sich schauen,
Schauen selber auch nicht zu.
Wann die reichen Honigwaben
Sie zu Tag gefördert haben,
Dann vor allen nasche du!
Look not into my songs!
My eyes I lower,
as if I've been caught in an evil deed.
I can't even trust myself
to watch them grow.
Your curiosity is a betrayal!
Bees, when they build their cells,
also do not let anyone observe them;
even themselves.
When the rich honeycombs
are brought out to the light of day,
then you shall taste them before everyone else!
(translation by Emily Ezust)