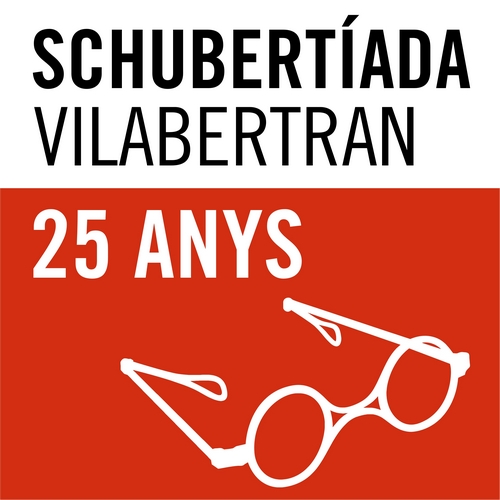 Today at noon, the Schubertiade Vilabertran was presented in Barcelona, the 25th festival! Twenty-five years performing chamber music in a really small village at the Empordà, 150 km far from Barcelona! There are things of which we, no matter if we love music or don't, should be proud, and this is one of them. Art Song lovers, in addition, should be happy and grateful!

I'm posting later than usual but I think it's worth it, I wanted to tell you about the programme, as usual. The Schubertiade will take place between August 17th and September 3rd and will include five song recitals. I must admit that, if I had to pick just one, it would be really hard:
And those were the five song recitals... In case you overlooked it, please let me point out that the great Malcolm Martineau will perform three of them. Three. What a fantastic treat! Also in case you missed it, please note that four recitals out of five are in the same week.
The programme also includes a concert by Isabel Villanueva and Francois Dumont, viola and piano; three piano concerts with Mario Mora, Nicholas Angelich and Javier Perianes; two concerts the Camerata 432 (one of them, the family one), and, to close the Schubertiade, the Deutsche Messe by Schubert performed by the Chamber Choir of the Diputació de Girona. And now, the most special event for such a special year: The Cuarteto Casals will perform for the very first time the complete string quartets of Beethoven! Schubert would be very happy of sharing his festival with his beloved Beethoven. You'll find the detailed information about the Schubertiade Vilabertran on its
web page
. When it's released, I'll edit this post to link the five song recitals.
To finish this post, some Schubert, one of the songs we're listening at the opening concert:
Der Einsame
(The lonely) with poem by Karl Gottlieb Lappe. You might think it's a sad reflection on loneliness, but, on the contrary, that lovely song tells us about a man who sits in front of his fireplace to enjoy some time before bedtime ... Meditation
avant la lettre
. Our performers will be Hermann Prey and Karl Engel.
Der Einsame

Wenn meine Grillen schwirren,
Bei Nacht, am spät erwärmten Herd,
Dann sitz' ich mit vergnügtem Sinn
Vertraulich zu der Flamme hin,
So leicht, so unbeschwert.
Ein trautes, stilles Stündchen
Bleibt man noch gern am Feuer wach,
Man schürt, wenn sich die Lohe senkt,
Die Funken auf und sinnt und denkt:
"Nun abermal ein Tag!"
Was Liebes oder Leides
Sein Lauf für uns dahergebracht,
Es geht noch einmal durch den Sinn;
Allein das Böse wirft man hin,
Es störe nicht die Nacht.
Zu einem frohen Traume,
Bereitet man gemach sich zu,
Wenn sorgenlos ein holdes Bild
Mit sanfter Lust die Seele füllt,
Ergibt man sich der Ruh.
Oh, wie ich mir gefalle
In meiner stillen Ländlichkeit!
Was in dem Schwarm der lauten Welt
Dar irre Herz gefesselt hält,
Gibt nicht Zufriedenheit.
Zirpt immer, liebe Heimchen,
In meiner Klause eng und klein.
Ich duld' euch gern: ihr stört mich nicht,
Wenn euer Lied das Schweigen bricht,
Bin ich nicht ganz allein.
When my crickets sing
at night by my late-burning hearth,
then I sit with pleasure,
cosily by the fire,
so light-hearted and untroubled.
For one dear, quiet little hour
one enjoys remaining alert by the fire:
one stokes it when it sinks to embers,
making sparks fly; and one feels and thinks:
another day has past!
What love or sorrow
has brought to us in the course of the day -
this passes through our mind;
one discards the bad alone,
so that it will not disturb the night.
For pleasant dreams
one prepares oneself,
and when, carefree, a sweet image
fills one's soul with gentle pleasure,
one submits to sleep.
O how I love
my quiet rusticity!
In the tumult of the loud world
the restless heart would be held captive
and never find contentment.
Chirp on and on, dear cricket,
in my narrow and small hermitage.
I tolerate you gladly: you do not disturb me
when your song breaks the silence,
for then I am no longer so entirely alone.

(translation by Emily Ezust)