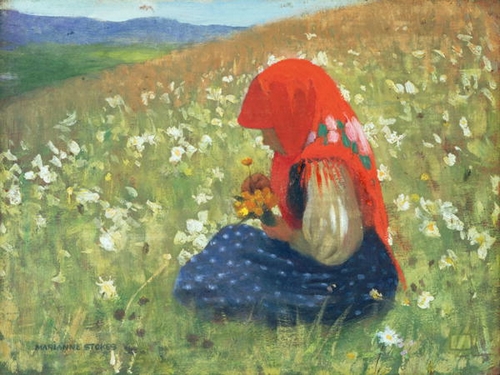 Girl of the Tatra - M. Stokes
On Christmas Eve, I heard some songs on the radio by a Polish composer that I liked. A few weeks later, I also heard some other songs on the radio by another Polish composer and I thought I should spend some time learning about Polish song because I hardly knew anything about it. Some days ago, I talked about Sibelius, and how his songs weren't known well enough because their Swedish language became a barrier for singers; something similar happens to Polish songs. It's probably even more difficult to make them known because there are less singers with an international projection whose own language is Polish. But then, one of them, tenor Piotr Beczala, handed me this post on a silver platter when sang the beautiful song we're listening today during his recital at the Palau de la Música Catalana some weeks ago. Beczala and Deutsch offered several concerts before and after, and all of them shared the same programme: Dichterliebe in the first part and songs by Sergei Rachmaninoff, Antonin Dvorák and Mieczysław Karlowicz in the second; for some reason though, in Barcelona the second part was devoted to opera arias and we had to be content with one of Karlowicz' songs as an encore, a song that is my excuse for introducing the composer on Liederabend.

By the end of the 19th century, musicians of many countries try to combine the latest trends in Europe (mainly in Germany and France) with their own cultural traditions. In that context, Mieczysław Karłowicz was one of the main representatives of the Young Poland movement. He was born in 1786 in Vishneya, today a town in Belarus, near the border with Lithuania. As a child, he lived in Heidelberg, Prague and Dresden, before his family settled down in Warsaw in 1887; Once there, he began to study music, his instrument was the violin. In 1895, he moved to Berlin to study, where he focused on composition; his favorite form was the symphonic poem (not surprising at all because his main reference was Richard Strauss) and today he is recognized, apart from his involvement in spreading the culture of his country, for his six symphonic poems. He went back to Warsaw in 1901, and in 1907 he moved to Zakopane, a town at the feet of Tatra Mountains (a mountain range in the Carpathians Mountains, between Poland and Slovakia; yes, I had to check it because of my poor geography knowledge). He was very fond of mountaineering and died in an avalanche in 1909, when he was just 32.

His brief work is collected in only fifteen opus; we're interested in his twenty-two songs,, composed mostly between late 1895 and late 1896, during his stay in Berlin, and included in opus 1, 3 & 4. The poet Kazimierz Przerwa-Tetmajer, the author of our song poem, Pamiętam ciche, jasne, złote dnie, op. 1/5, was also a prominent member of Young Poland. Born in 1865, he died in 1940, some days after the Nazis evacuated the hotel where he lived, very sick, in Warsaw. His poetry inspired songs not only to Karlowicz but also to two more recent and probably best known composers as Krzysztof Penderecki and Henryk Górecki. In the song we're listening, one of the characteristics of Polish poetry and music, melancholy, can be heard; the song talks about the longing for a lost paradise: childhood.

When Piotr Beczala sang this song at the Palau de la Música, he ended it with a great long, filato high note (I would say that it sounds better than in the recording I'm sharing, also with Helmut Deutsch; maybe it was the excitement of a live concert). In the score, the last note is marked forte and lasts only six beats; I've been listening to other versions and I would say that every singer does as they feel. Some sing this note with the indicated length and some lengthen it along the theoretical postlude. What Beczala does is really beautiful, so, for once, let's welcome heterodoxy. Enjoy the song!
Pamiętam ciche, jasne, złote dnie

Pamiętam ciche, jasne, złote dnie,
Co mi się dzisiaj cudnym zdają snem,
Bo był otwarty raj także i mnie
W dzieciństwie mym.
I czasem myślę, żem ja tylko spał,
że całe życie moje było snem;
Zbudzę się, raj ten odnajdę, com miał,
W dzieciństwie mym.
I remember quiet, clear, golden days
To me it seems, today, like a wonderful dream
but then it was overt paradise for me
because it was so in my childhood
I sometimes think that i was only sleeping
that my whole life was a dream
I will wake up and I will find that this paradise was mine.
mine in my childhood.
(translation from Adam Smith)