Since September 2013 I'm posting regularly in English in addition to Catalan. If you want to read this post translated to English, please use the automatic translator on the right column.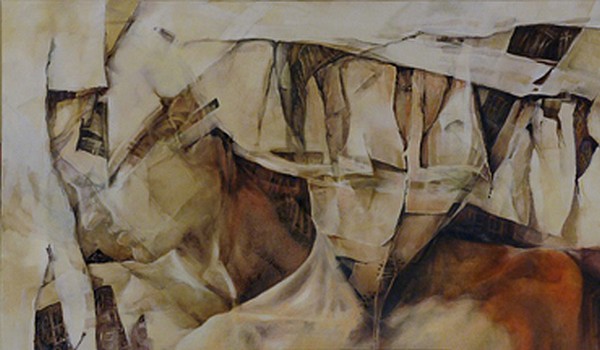 Solitud - G. Paulska
Quan un compositor sap com transmetre sentiments, estima les formes clàssiques, té un do per a les melodies, és extremadament sensible i té tendència a la malenconia sembla que només li falti ser al lloc adequat en el moment adequat per ser també un compositor de lieder.
Piotr Ilitx Txaikovski era al moment adequat: havia nascut el 1840, set anys més tard que Brahms, i era també al lloc adequat. No és que Sant Petersburg sigui a tocar d'Alemanya però la Rússia imperial era afí a la cultura alemanya i Txaikovski va viatjar sovint a aquest país des dels vint anys fins a la seva mort el 1893. I sí, Txaikovski va escriure cançons durant tota la seva vida, aproximadament una centena; la que escoltarem avui és Снова, как прежде (
Snova, kak prejde
, Un altre cop, com abans, sol), una de les nostres
deu cançons més tristes
.
L'agost de 1892 un jove de 24 anys anomenat Daniil Maksimovich Ratgauz (o Daniel Rathaus) va enviar dos poemes seus a Txaikovski demanant la seva opinió. Txaikovski li va dir que no estava qualificat per jutjar-ne la qualitat literària, però que eren molt musicals i li prometia que els faria servir. Rathaus li va respondre enviant cinc poemes més i la primavera de 1893 Txaikovski va publicar Шесть романсов, op 73 (
xest' romansov
, Sis romanços), descartant un dels poemes.
Un altre cop, com abans, sol
és la sisena cançó i la darrera que va escriure Txaikovski.
Aquí és on barregem música i biografia i em pregunto si conéixer les circumstàncies personals que envolten la creació d'una obra influeix en la nostra percepció. Després d'aquestes cançons, Txaikovski només va escriure la seva sisena simfonia, una obra que no acostuma a faltar a les llistes d'obres tristes i a la qual ell mateix va donar el sobrenom de "Patètica"; uns dies després de l'estrena, el compositor moria de còlera. S'ha parlat molt sobre la possibilitat que fos un suïcidi i més recentment que la mort fos induïda per un noble, pare d'un jove amant de Txaikovski que hauria amenaçat de fer pública la seva homosexualitat (arruinant-li així la vida) si no se suïcidava. Per si esteu pensant que beure aigua contaminada és una forma poc usual de llevar-se la vida hauríem d'afegir que la mare de Txaikovski, la mort de la qual el compositor no va poder assumir mai, va ser deguda també al còlera.
Sigui com sigui la qüestió és que la cançó, més enllà del poema, transmet una tristesa enorme i això ho aconsegueix Txaikovski al meu parer amb l'estructura que dóna a la cançó. Tots els versos excepte dos tenen el mateix patró: prenent com a mesura la corxera, la primera síl·laba dura cuatre corxeres, les cinc següents una i la setena set; així, tot i que la melodia pugui variar, tenim la sensació de repetició. De fet, la melodia tampoc no varia gaire; els dos primers versos són iguals entre si i iguals també als dos primers de la segona estrofa.
A partir del setè vers la melodia va pujant, i en el novè i el desè el patró que comentàvem es modifica lleugerament, prou com per donar a la primera síl·laba,
"Vsjo"
(Tot), una forta càrrega dramàtica. Després la veu queda en silenci durant un compàs i els dos darrers versos, novament idèntics als dos primers, queden aïllats. Si parem atenció al piano sentirem que durant bona part de la cançó estem sentint sempre el mateix acord, i que el postludi que la tanca és idèntic al preludi.
Les repeticions, especialment aquest final igual al començament, fan que sentim la fatalitat, que no hi ha res a fer. Però fan també que el cantant tingui la difícil tasca de fer que soni diferent el que està escrit igual. La versió que us proposo és la de Georgy Nelepp acompanyat al piano per Matvei Sakharov; és una interpretació que m'agrada molt però difícil de trobar, l'hem d'agrair a un amic que me l'ha feta arribar.
Aquest cop crec que no pot haver gaire debat sobre el caràcter de la cançó, com passava amb
Sei mir gegrüßt
, però llanço una altra pregunta: la percebríem igual de trista si no coneguéssim la biografia del compositor?
Snova, kak prejde
Snova, kak prezhde, odin,
Snova ob"jat ja toskoj
Smotritsja topol' v okno,
Ves' ozarjonnyj lunoj
Smotritsja topol' v okno
Shepchut o chem to listy
V zvezdakh gorjat nebesa
Gde teper', milaja, ty?
Vsjo, chto tvoritsja so mnoj,
Ja peredat' ne berus'.
Drug! pomolis' za menja,
Ja za tebja uzh moljus'!
Un altre cop, com abans, sol,
un altre cop m'abraça la nostàlgia,
un àlber em mira des de la finestra
il·luminat per la lluna.
Un àlber em mira des de la finestra,
les seves fulles mormolen alguna cosa,
el cel és ple d'estels
On ets ara, amor meu?
Tot el que m'ha pasat
no sóc capaç d'explicar-t'ho.
Amic, prega per mi
jo estic pregant per tu.
Espero que les transcripcions al català del nom de la cançó i del cicle siguin correctes; pel que fa al text, no m'he vist amb cor de fer-la i he fet servir una transcripció a l'anglès; la traducció per descomptat (o millor dit, pel meu desconeixement del rus) està feta a partir de l'anglès també. Afegeixo el text original, potser hi ha algun lector que en podrà gaudir.


Снова, как прежде, один,
Снова объят я тоской.
Смотрится тополь в окно,
Весь озаренный луной.
Смотрится тополь в окно,
Шепчут о чем-то листы.
В звездах горят небеса...
Где теперь, милая, ты?
Всё, что творится со мной,
Я передать не берусь...
Друг! помолись за меня,
Я за тебя уж молюсь.