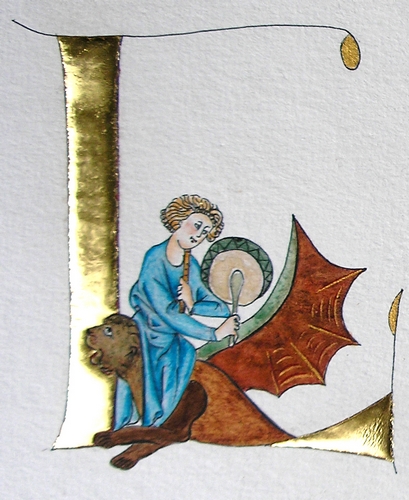 Liederabend is the German word for song recital. When trying to find a name for my website, I made a list with options that, for one reason or another, I ruled out. After a couple of days of unsuccesful search, I dreamed of the name: Liederabend. You could say that the muse visited me in my dreams or, more prosaic, that my brain was too focused on the search, either way; when I woke up I had the name: a song recital is the best place to meet other song lovers. In our alphabet, the "L" is for this word that evokes so many emotions, Liederabend; it will be the excuse to talk about other German words which are also part of the vocabulary of Art Song and I often mention. I hope you'll like to mull over words as much as I do. Just one more thing before going ahead: as I was writing the Catalan post I realised that some things I was explaining didn't make sense when translated because they concerned a particular language, so this time the English post is not a mere translation.
The most common loanword, of course, is Lied, the name of the genre when talking about German song (although, by extension, it often refers to Art Song in any other language). Strictly speaking, we should talk of Kunstlied (literally, Art Song), in opposition to Volkslied (Folk Song), but in most languages, when we say Lied, we know what we are talking about.
When the music of a song is repeated in each stanza, we say it's a strophic song (for instance, Auf dem Wasser zu singen or Liebhaber in alle Gestalten); when the music changes at every stanza, that kind of song (Im Walde or An die Geliebte, for example) is called durchkomponiert in German; As far as I know, the direct translation to Catalan doesn't exist so I have to explain its meaning every time or use a less precise word. However, durchkomponiert has a literal translation to English: through-composed, no need for further explanations.
One of the things that people from Romanticism loved was wandern; this German word also has a direct translation into English, to wander, with the same sense; Who wanders is a wanderer both in German and English and even wanderlust also exists in English. No doubt, things are easier when two languages belong to the same family. Which are your favourite wanderers? Maybe those from Die schöne Müllerin and Winterreise? Both cycles begin with someone who left his place, but we also met a wanderer in the gorgeous Kerner-Lieder. And what about those two gems, Wandrers Nachtlied I and II?
When we hear the word Liebestod, we all think of Wagner, but Isolde's love death is not the only in Romanticism. We're not talking about suicide (Isolde simply dies) but of joyful acceptance of death when you broke the rules and lost your principles in the name of love; Isolde falls in love with the man who killed her beloved and is taking her as spoils of war (with glorious music, for sure) to marry the King. Talking about Liebestod in songs, not long ago we listened to Olaf's story, convicted of having seduced the king's daughter (who was really happy of being seduced) and executed on their wedding day. However, the most chilling Liebestod we heard so far is that of the Queen who died happy, strangled by his dwarf (Der Zwerg), whom she cheated with the King .
And finally, THE word: Sehnsucht. Duden dictionary tells us (approximately) that Sehnsucht is "the Intimate, deep, painful desire or need for someone or something [deprived or faraway]". I think the idea is clear, but the translation doesn't, neither in Catalan nor in English. Dictionaries translate Sehnsucht to English as desire, craving, yearning, aspiration, longing, homesickness, nostalgia... Translations to Catalan are equally numerous and we should find in each case the best approach, according to a context which talks of the past, the future, a person, a feeling, a place... Sometimes you find a translation that matches perfectly and sometimes you don't quite like your choice, no matter how long you look into the sentence... In some cases, I even find that the best option is to leave the word in German...
There is a huge amount of Lieder from, again, a huge amount of composers that speak of Sehnsucht, (among the ones we listened so far,
Gestillte Sehnsucht
,
An
eine
Äolsharfe
or
Sei mir gegrüsst
). Franz Schubert has nine Lieder in his catalog called Sehnsucht: the D. 310, D. 359, D. 481 and D. 656, which are versions first to fourth of the poem by Goethe
Nur
wer
die Sehnsucht Kennt
(he also composed the fifth and sixth, both included in the D. 877, officially called
Lied der Mignon
and
Mignon und der Harfner
); D. 123, also with a poem by Goethe (
Was
zieht
mir das Herz so
); the D. 636 and D. 52, both from a poem by Schiller (
Ach,
aus dieses
Tales Gründen
); D. 512, with a poem by Mayrhofer (
Der Lerche
wolkennahe
Lieder
) and D. 879, with a poem by Seidl (
Die Scheibe
friert
, der Wind ist
rauh). We're listening to the latter, written in 1826, performed by Thomas Meglioranza and Reiko Uchida. I hope you like it!
Sehnsucht, D. 879

Die Scheibe friert, der Wind ist rauh,
Der nächt'ge Himmel rein und blau.
Ich sitz' in meinem Kämmerlein
Und schau' ins reine Blau hinein.
Mir fehlt etwas, das fühl' ich gut,
Mir fehlt mein Lieb, das treue Blut;
Und will ich in die Sterne seh'n,
Muß stets das Aug' mir übergeh'n.
Mein Lieb, wo weilst du nur so fern,
Mein schöner Stern, mein Augenstern?
Du weißt, dich lieb' und brauch' ich ja,
Die Träne tritt mir wieder nah.
Da quält' ich mich so manchen Tag,
Weil mir kein Lied gelingen mag,
Weil's nimmer sich erzwingen läßt
Und frei hinsäuselt wie der West.
Wie mild mich's wieder g'rad' durchglüht!
Sieh' nur, das ist ja schon ein Lied!
Wenn mich mein Los vom Liebchen warf,
Dann fühl' ich, daß ich singen darf.
The window-pane freezes, the wind is rough,
 the night sky is clear and blue.
 I sit in my little room
 and gaze into clear blue.
 Something is lacking, I feel all too well;
 I miss my love, my true life's blood,
 and if I gaze at the stars
 my eyes must overflow with tears.
 My love, where do you tarry so far away,
 my beautiful star, delight of my eyes?
 You know that I love and need you;
 again tears threaten.
 I have suffered for so many days
 and for me no song will come,
 because one cannot force a song
 to murmur forth freely like the west wind.
 How softly does this glow suffuse me now!
 Look - it is a song already!
 Even though my lot was to be cast far from my love,
 I feel now that I can still sing.
(translation by Emily Ezust)