From the academic year 2014-15, ESMUC (Escola Superior de Música de Catalunya) offers a quite exotic Master's Degree on Lied, the only one for that matter in Spain. Since this is an introduction, let's remember, at least this first time, its official name in full: Master's Degree in Advanced Studies in Lied, Spanish Song and Catalan Song "Victoria de los Ángeles". It is aimed at singers and pianists who want to specialize in their lied interpretation, and provides a training that includes both those purely musical aspects as well as others that, as you readers know by now, are essential for those who want to devote themselves to this genre.

One of this Master's Degree modules is called Genre Literature. Repertoire of the German Lied, and it is given by pianist Viviana Salisi. In this module, a general overview of text-music relationship is given, including different composers, ages and styles, while the songs are grouped by subjects.. My friend M, former student of the master's degree, thought that as the module's final work, students could prepare a post for Liederabend's blog. That means, choosing a Lied, gathering information, writing the content in both languages and choosing a performance and an illustration. Both Viviana and I thought it was a fantastic idea. From the academic point of view, singers and pianists should address to their potential audience with words and not with music, as they usually do; From Liederabend's point of view, I liked the idea that the master's degree left its home to visit mine.

So, today's post and those in following weeks will belong to some of the works presented by students and selected by Viviana and I to be shared with you; These posts will be collected in a miniseries which can be found in this link.

The first post is written by Elena Mateo, who talks about Ihr Glocken von Marling, a Lied by Franz Liszt that we will hear performed by Hildegard Behrens and Cord Garben. Thank you very much, Elena!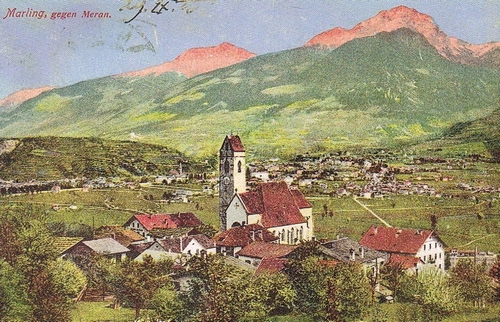 Marling, according to a card from 1908
"Music is the heart of life. She speaks love; without it, there is no possible good and with it everything is beautiful."
Franz Liszt (1811-1886)
Here we have a sample of its beauty, a work that enchants and fills the heart with goodness from the first moment...

We know that Liszt was the virtuous pianist, without a rival of his time; The performer who revolutionized the concert format and for the first time in history goes alone to the stage as the only musician of the evening. He also positions the profile piano, as we are accustomed to: he is the inventor of the recital. Even, perhaps, we know that Heinrich Heine, a great contemporary poet, used the word "Lisztomanía" to describe the phenomenon, and that the doctors acquired the word to be able to treat the inexplicable and serious pathology caused by the interpreter. The passion and obsession that unleashed its passage across Europe were unprecedented, it was the first music star in history: fainting, fights to get their gloves or broken strings, parades to see him, memories of their clothes or hair...

In contrast to all this Liszt always experienced an increasing religious interest and a transcendental set that led him to seek the deep sense of his life; To definitively embrace its pedagogical, compositional and religious aspects, abandoning superficiality and vanity. The image of the musician with cassock is famous when after the 54 years he receives the minor Orders in Rome. For him, the purpose of art was to improve humanity and bring it closer to God, and, therefore, he composed with this aim.

Ihr Glocken von Marling, S. 328, belongs to the age of maturity and strong religious sentiment, he was 63 years old and dedicated it to Marie von Hohenlohe, daughter of Princess Carolyne zu Sayn-Wittgenstein; The woman who was her partner and, once ordered, shared a platonic relationship until the end of their lives. The poem by Emil Kuh (1828-1878) evokes and entrusts to the bells of Marling, a town in South Tyrol, whose church and bell tower dates back to the 13th century and surely during this century their bells have dominated the Valley.

Liszt who defended the "program music" wants us to represent a scene, image and even a mood. The piece begins with a slow, suspended and steady piano, a hint of etheric bells that gives entrance to a solemn and calm touch of big bells. This sound is lost in space and perhaps even the landscape; The voice appears, a spectator at the feet of this church, who appeals the bells of Marling. They keep their constant, imperturbable, bright and pleasant repeat, alien to the time and to the world, they are the celestial language. The viewer, who could well be any of us, exclaims his admiration and devotion to this sacred sound, describes how this song preserves the world. It is then that the piano intensifies the melody and the sound is brighter and sharper, the sound of Marling's bells extends and flies, like a sturdy and gentle protector over the valley that dominates; Then the viewer asks to be led by this divine effluvium. In fervor he invokes them and, humble and discreet, he asks them to protect him and take care of him up to four times; Lovingly praise them while they disappear and vanish in blessing and serenity.

This piece belongs to my reduced and select group of pieces that cause an immediate fall in love and never disappoint your soul, treasures that throughout your life are discovered by drops. There are pieces that at the time of singing stimulate more direct or primary stimuli such as passion, pain, sadness, joy, etc. This work does not seek to be direct, it simply gets trapped like a ray of serenity and joy; Interpreting it is easy, driving it too, she gives you all the tools and you just have to be happy. A work in which perhaps the composer sought to convey what might be the state of grace.

The largest and most widely known portion of Liszt's music is his work for piano, but his vocal legacy is not at all negligible, about 150 pieces between Lied and Oratorio. A vocal work full of jewels that are a gift for interpreters and listeners; Unique, exceptional and inspired scores, which once again demonstrate, as Liszt himself said, that: "Music is the heart of life. She speaks love; without it, there is no possible good and with it everything is beautiful."
Ihr Glocken von Marling

Ihr Glocken von Marling, wie braust ihr so hell!
Ein wohliges Lauten, als sänge der Quell.
Ihr Glocken von Marling, ein heil'ger Gesang
Umwallet wie schützend den weltlichen Klang,
Nehmt mich in die Mitte der tönenden Flut -
Ihr Glocken von Marling, behütet mich gut!
Bells of Marling, How sweetly you ring;
Such a comforting voice, Like a burbling spring.
Bells of Marling, Your holy sound
Enfolds and protects from The world's merry-go-round.
Take me into your midst, These waves are my balm,
Oh bells of Marling, See I come to no harm.
---
About the author

Elena Mateo begins his musical studies with the classical guitar. Later he graduated as a singer at the Liceu Superior Conservatory and nowadays he expands his technical and interpretative knowledge in the Master's Degree in Lied Victoria dels Àngels at ESMUC.