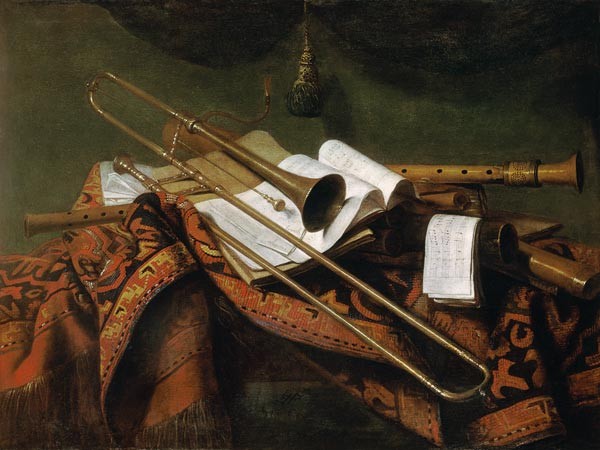 Quiet life vith trumpet and flute - F. F. Franck
September is here! Welcome back if you were on holiday during the last weeks. I wish you all a great Art Song season! A new season begins, but summer is still in the air, so I suggest a musical trip until the next
city break
comes. A few years ago, Wolf and Mörike took us to their island,
Orplid
, the first week of September and today, Britten and Auden will take us to theirs.
Benjamin Britten and W. H. Auden first met in the summer of 1935, when the General Post Office Film Unit hired them to write music and text, respectively, to their documentaries. Cinema was the new mass media and both welcomed that opportunity to reach a wide audience. Auden was twenty-seven and had received recognition for his first volumes of poetry; Britten was twenty-one and had just left the Royal College of Music. His training was essentially musical and, for his inclinations, very conservative; Auden was aware of cultural avant-gardes. In addition, his circle, committed to the political left, lived homosexuality as naturally as circumstances allowed it to. All in all, Britten felt at ease in that atmosphere. Musician and poet recognized each other's value and, also became friends, so a professional relationship began soon that lasted until 1942 and left us many works.
One of the first works is the song cycle I'm presenting today,
On this Island
, op. 11, which includes songs composed in May and October 1937. Four out of five songs have poems from a collection published by Auden in 1936; As the poet was traveling through Iceland, the publishers weren't able to ask about the title and chose the first verse of the first poem,
Look, Stranger!
That same year, the American edition came out with the title Auden had decided,
On this Island
, and Britten took this title, too. Which island does the poet speak about? Some people recognize in the first poem the cliffs of Dover, so the island would be Great Britain; Other authors speak of the Island of Wight and others about a feeling of isolation, beyond a real or imaginary island.
Those five poems that Britten chose, speak about very different subjects and we don't find in the songs any musical unity, musical themes are inspired by Baroque as well as by dance music of the 30's, so we could talk about a collection of songs rather than a cycle. I jotted down in my notebook long time ago the first song of
On this Island
,
Let the florid music praise
, but a whole season passed by and I didn't share it; then I thought a fanfare would be a perfect way of beginning the season. Well, that's how the song opens: Britten takes the reference to flute and trumpet at the second verse and turns the first sentences into a fanfare (it's not our first one, we listened to Strauss'
Ich liebe dich
some time ago). Those trumpets remind us of Baroque music, which becomes more evident at the end of the first verse, with the melismas at the words "shine on". A really florid music!
Auden's poem has two stanzas, with a very similar metric. However, they have a very different character: in the first one, music praises love (according to some experts, the verses are dedicated to a writer's lover), while in the second one, the initial euphoria becomes a more meditative feeling. Maybe that's why Britten doesn't write an strophic song but also gives a very different atmosphere to both parts. However, he keeps the melismas at the second stanza, at the same place than in the first one; this time, shorter, on the word "break". Let the florid music praise is a very original song, an early work by one of the most important songwriters in the 20th century. Our performers will be Peter Pears and Benjamin Britten.
Let the florid music praise

Let a florid music praise,
The flute and the trumpet,
Beauty's conquest of your face:
In that land of flesh and bone,
Where from citadels on high
Her imperial standards fly,
Let the hot sun
Shine on, shine on.
O but the unloved have had power,
The weeping and striking,
Always: time will bring their hour;
Their secretive children walk
Through your vigilance of breath
To unpardonable Death,
And my vows break
Before his look.
Related articles