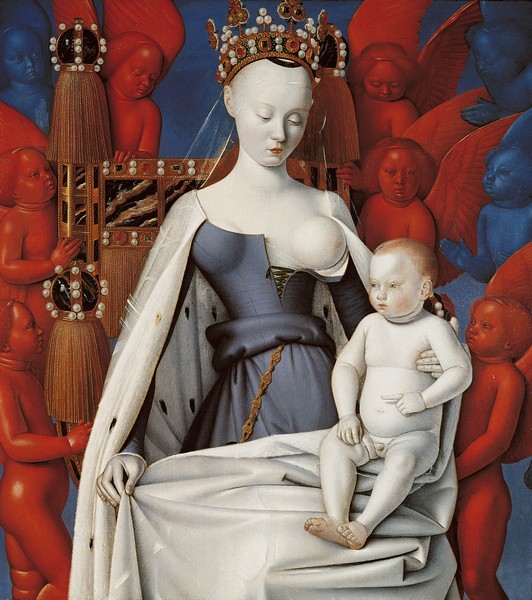 Virgin and Child (Melun diptych) - J. Fouquet
A few people have recently told to me that despite Christmas is upon us, they weren't fully aware of it: neither home decorating nor gifts, nor meals thought... We're living hard times, to say the least, and the spirit of Christmas is downhearted. That is why I thought of one of those balm-songs for the first of the three posts of this season, a wonderful song by Francis Poulenc, Priez pour paix.

The text was published at Le Figaro on 29 September 1938, when Europe was fearing a new war, only twenty years after the end of that terrible conflict that had bled the continent. Poulenc immediately wrote his mélodie:
"I have tried in this mélodie to give an impression of fervour and above all, of humility, which for me its the finest quality of prayer."
Poulenc knew very well what was approaching, he has been mobilized at the end of the First World War being still so young (he was born in 1899); so did the author of the poem, Charles, Duke of Orléans. He had experienced the war five hundred years earlier. Born in 1394, he took part at 19 in the battle of Agincourt, during the Hundred Years' War, which was a French defeat. Charles was taken prisoner and taken to England. It was usual to demand a large ransom for the return of the noble prisoners, it was a way of financing the war; when the families paid the ransom, the prisoner was set free. Henry V, however, considered that the Duke of Orleans was more valuable captive (that is, controlled) and prohibited a random was asked for him, a prohibition that also bound his successors. Finally, in 1440, eighteen years after the King's death, a ransom was asked and paid and the Duke of Orléans could return home. During those long 25 years in captivity, Charles wrote most of his vast poetic work, including the poem that Poulenc musicalized. After returning to France, he retired to his land and devoted himself to the arts, maintaining a famous literary circle; He still lived for twenty-five more years, maybe a kind of poetic justice.
Those verses published by Le Figaro weren't the complete poem, it was just the beginning of a ballad with five sections very similar: In all of them, the poet asks someone for a prayer for peace. At the first one, our mélodie, he asks the Virgin Mary; at the second one, he asks the clergy; at the third one, the nobility; at the fourth, people who suffer because of tyranny and at the fifth, people who love. The ballad is closed with a
envoie
, a shorter verse, usually addressed to a superior authority to ask him for something; In this case, the
envoie
is addressed to God.
The version of
Priez pour
paix that I chose is that of John Brancy, a young baritone I discovered at the Wigmore Hall / Kohn Foundation International Song Competition this year, I really liked him (every round is live-streamed, it's worth to follow the competition); he speaks of Poulenc's
mélodie
in this article
. I hope that you like John Brancy and Peter Dugan as much as I do.
I wish you a Merry Christmas. Let's celebrate with the people we love and have in our thoughts the families that are kept separated.
Priez pour paix

Priez pour paix Doulce Vierge Marie
Reyne des cieulx et du monde maîtresse
Faictes prier par vostre courtoisie
Saints et Saintes et prenez vostre adresse
Vers vostre Fils Requerant sa haultesse
Qu'il Lui plaise son peuple regarder
Que de son sang a voulu racheter
En déboutant guerre qui tout desvoye
De prières ne vous vueillez lasser
Priez pour paix, priez pour paix
Le vray trésor de joye.
Please visit this
link
if you need an English translation p