Since September 2013 I'm posting regularly in English in addition to Catalan. If you want to read this post translated to English, please use the automatic translator on the right column.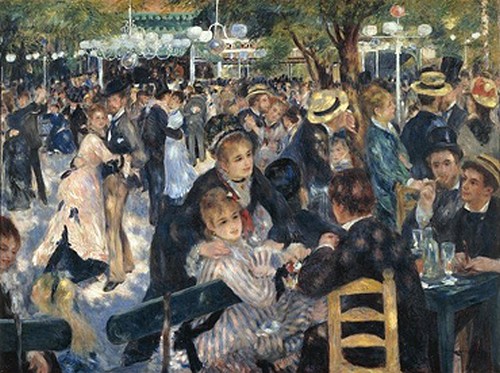 Ball al Molí de la Galette - A. Renoir
Després d'haver escoltat algunes de les
deu cançons més tristes
ja no ens hauria d'impressionar una nova declaració de tristesa. Però si la cançó es mou a ritme de vals i aquest to festiu es veu interromput per una frase tan dramàtica com la que tanca cadascuna de les seves estrofes, és inevitable sentir-se impressionat.
Une tristesse affreuse
. No sé ben bé quina seria la millor traducció per
affreuse
en aquest context. Una tristesa terrible, horrible, espantosa, paorosa... Però ens en fem una idea, oi? Algú que en un dia radiant de primavera, rodejat de gent que beu, riu, estima i és feliç, se sent completament al marge d'aquesta alegria i només fa que repetir que se sent terriblement trist.
La cançó és
Tristesse
(Tristesa), de Gabriel Fauré, escrita el 1873, quan el compositor tenia 28 anys, i publicada el 1879 en el seu primer recull de cançons,
Vingt Mélodies
(Vint melodies). El poema és de Théophile Gautier, que el 1838 havia publicat un recull de poemes anomenat
La comédie de la mort
; com a la
Divina Comèdia
, en aquest poemari el poeta viatja per un indret mític acompanyat per un guia i va mostrant diferents imatges sobre la mort. Algun dia hi tornarem, sobre
La comédie de la mort
, perquè poc després de la seva publicació Hector Berlioz va fer servir vuit dels poemes per escriure
Les nuits d'étè
, però de moment ens quedem amb
Tristesse
.
Com ja us vaig avançar quan us vaig proposar la llista de cançons tristes, per a mi aquesta cançó va lligada a un intèrpret, Gérard Souzay. Potser perquè és la primera versió que vaig escoltar (i a més amb insistència, perquè quan una cançó m'agrada puc repetir-la molts cops), però no n'he sentit encara cap altra que m'agradi prou. La intrepretació de Souzay em sembla tan elegant, tan lleugera quan descriu l'alegria dels altres i tan conmovedora quan parla de la seva tristesa... Està plena de matisos estrofa a estrofa, i si la paraula clau de la cançó és
affreuse
, fixeu-vos com els quatre cops que la diu sona diferent. El darrer és per indicació del compositor, que demana que tot el vers es canti en
forte
i
rallentando
el final, però els tres primers cops estan marcats igual: el vers començant en
forte
i amb un
diminuendo
a l'última paraula. És l'intèrpret qui ha de trobar en cada cas la millor forma de dir-ho.
Evidentment, sentirem
Tristesse
en un dels enregistraments que va deixar Gérard Souzay, acompanyat en aquest cas per Dalton Baldwin. Si no vaig errada, l'enregistrament és de 1974, és a dir que Souzay tenia llavors 56 anys. Espero que us agradi, però si no us agrada no estareu sols perquè les interpretacions que el baríton va fer d'aquesta cançó van tenir també dures crítiques.
Tristesse 
Avril est de retour,
La première des roses,
De ses lèvres mi-closes,
Rit au premier beau jour,
La terre bien heureuse
S'ouvre et s'épanouit ;
Tout aime, tout jouit.
Hélas! j'ai dans le coeur une tristesse affreuse.
Les buveurs en gaîté,
Dans leurs chansons vermeilles,
Célèbrent sous les treilles
Le vin et la beauté ;
La musique joyeuse,
Avec leur rire clair
S'éparpille dans l'air.
Hélas! j'ai dans le coeur une tristesse affreuse.
En déshabillé blanc
Les jeunes demoiselles
S'en vont sous les tonnelles
Au bras de leur galant ;
La lune langoureuse
Argente leurs baisers
Longuement appuyés,
Hélas! j'ai dans le coeur une tristesse affreuse.
Moi, je n'aime plus rien,
Ni l'homme, ni la femme,
Ni mon corps, ni mon âme,
Pas même mon vieux chien.
Allez dire qu'on creuse,
Sous le pâle gazon
Une fosse sans nom.
Hélas! j'ai dans le coeur une tristesse affreuse.
Abril ha tornat,
la primera de les roses
amb els llavis entreoberts
somriu al primer dia bell.
La terra ben feliç
s'obre i floreix.
Tothom és feliç, tothom gaudeix,
Ai las! Jo tinc al cor una tristesa espantosa.
Els bevedors, alegrement,
amb les seves cançons rubicundes
celebren sota els emparrats
el vi i la bellesa;
la música alegre
amb el seu riure clar
s'escampa per l'aire.
Ai las! Jo tinc al cor una tristesa espantosa.
Amb vestits blancs
les joves donzelles
se'n van sota les pèrgoles
de bracet del seu galant.
La lluna llangorosa
banyen d'argent les seves besades
llargament mantingudes.
Ai las! Jo tinc al cor una tristesa espantosa.
Jo, ja no estimo res,
cap home, ni cap dona,
ni el meu cos, ni la meva ànima,
ni tan sols el meu vell gos.
Aneu a demanar que cavin
sota la pàl·lida gespa
una fossa sense nom.
Ai las! Jo tinc al cor una tristesa espantosa.