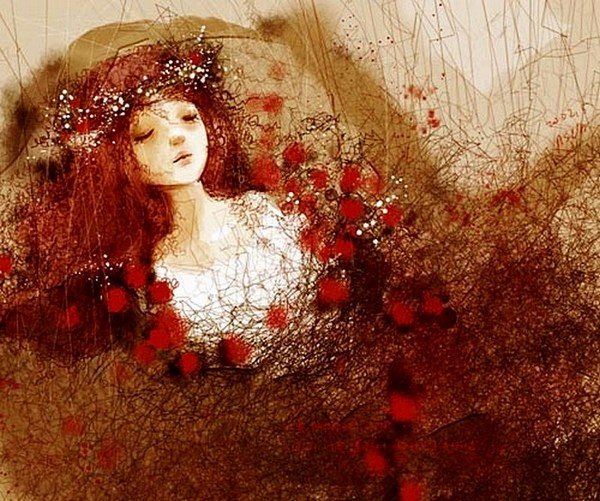 Illustration by Christian Asuh
When Friedrich Klopstock says in his poem Das Rosenband "my life hung with that gaze on her life" and later "her life hung with this gaze on my life" ("mein Leben hing mit diesem Blick 'an ihrem Leben" and "Ihr Leben hing mit diesem Blick' an meinen Leben"), he doesn't say anything that he and his fiancée, Margareta Moller, wouldn't say to each other in their letters. If the tenderness and gentleness of Klopstock's poems matched, as it seems, with reality, the couple's time together should have been really happy. Let's take, for instance, three poems that became songs thanks to Schubert: Margareta (Cidli at the poems) is the young woman who sleeps in the shade ofs pring at Das Rosenband; she is also the young girl to whom the poet asks not to worry at Furcht der Geliebten and is that "she" at the poem An Sie. Unfortunately, their marriage was brief: Margareta died in 1758, only four years after getting married.
If we talk about Das Rosenband, we should pay attention, to begin with, to the title. Rosenband is a neologism created by Klopstock and we don't know exactly what he's referring to. At first sight, we could say he's thinking of a garland, but I wouldn't recommend making a garland with roses, you'd break the stems and prick yourself. Rose lovers may have thought that there's a Banks rose in the garden where Cidli sleeps because its thornless, flexible stalks in bloom remind of garlands, but the first Banks rose didn't arrive at Europe until 1825 (as you see, I also thought of it). A Band could also be, literally, a ribbon, with embroidered or pinned roses. We don't need to be so literal, maybe the poet just cut a few roses and spread them around the young girl, creating an imaginary ribbon to tie their fates. Whatever the interpretations, the roses are a tribute to the young sleeping woman the poet falls in love with the very minute he sees her.
From time to time, I suggest reading the poem before listening to the song, so we can appreciate more details while we listen. In this case, I highly recommend it, because the poem is full of details that we will probably miss in our first reading. For example, in the first stanza, Klopstock tells us that she doesn't realize the roses around her, sie fühlt' es nicht; In the second one, he explains how he senses a glance is enough to fall in love, ich fühlt' es wohl; he uses an expression that mirrors the first one. He also tells us that roses are not just an offering; unable to say a word, he rustles the roses to wake her up. And, of course, there is that games of looks I previously mentioned which bind their lives. Besides, there are those details that we miss in the translation and we perceive when we listen to the song (if we can read the original poem).
I should tell you though which song we are talking about because it's not Schubert's. Strangely enough, despite Klopstock's pre-eminent position in German poetry, there wasn't any composer after him who used his poems more than sporadically; One of them was Strauss, and that circumstance is quite uncommon, basically for two reasons. The first one is that he rarely used poems that had already been composed, and he wrote Das Rosenband shortly after the publication of Schubert's Lied (he also composed his own version of An Sie). The second reason is that he used to write upon contemporary poets, and by choosing this poem, written in 1752, he placed himself in a period when he later would set his opera Der Rosenkavalier. The result was the best-known Lied among all those composed from Klopstock's poems.
When you listen to Strauss' Das Rosenband, you will notice those details linked to the original language (hello, programmers who don't provide the texts in your recitals!) that I suggested previously. There are plenty of alliterations that Strauss slightly emphasizes, but there is one in the last verse, three monosyllables with the same vowel he repeats: "und um uns" (and around us); the first time I heard this song, I was stuck in these three words. And what's around them? The Elysium, a paradise where those lovers feel transported when they recognize their mutual love; Strauss makes this word, through melismas, the most important one in the poem.
The composer wrote this song with orchestral accompaniment and soon after, he wrote his version with piano. The orchestral version has been said to be a bit excessive, maybe there's too much orchestral development and too much passion for such a tender poem; not unusual in Strauss' music. To be honest, in my opinion, the piano version's intimacy fits more closely with the tone of the poem, even though I think the orchestral version is really beautiful. Now I'm sharing an orthodox performance, with a soprano (Diana Damrau) and an orchestra (the Münchner Philharmoniker, conducted by Christian Tielemann). Pay attention to the violin after the word Elysium: does it remind to the violin that opens Morgen, orchestrated by Strauss during the same period?
If you feel like it, after listening to this performance of Das Rosenband, you can do some immersion work by listening to Strauss version' with piano, Schubert's Lied (which is, of course, very different from that of Strauss) or that by Zemlinsky's, less-known, composed in 1890 (although posthumously published, so Strauss would hardly know any of it when he composed his own Lied).
Das Rosenband

Im Frühlingsschatten fand ich Sie;
Da band ich Sie mit Rosenbändern:
Sie fühlt' es nicht und schlummerte.
Ich sah Sie an; mein Leben hing
Mit diesem Blick' an ihrem Leben:
Ich fühlt' es wohl, und wußt' es nicht.
Doch lispelt' ich Ihr sprachlos zu,
Und rauschte mit den Rosenbändern:
Da wachte Sie vom Schlummer auf.
Sie sah mich an; Ihr Leben hing
Mit diesem Blick' an meinem Leben,
Und um uns ward's Elysium.
In spring shade I found her,
and bound her with rosy ribbons:
she did not feel it, and slumbered on.
I looked at her; my life hung
with that gaze on her life:
I felt it well, but knew it not.
But I whispered wordlesly to her
and rustled the rosy ribbons.
Then she awoke from her slumber.
She looked at me; her life hung
with this gaze on my life:
and around us it became Elysium.
(traslated by Emily Ezust)