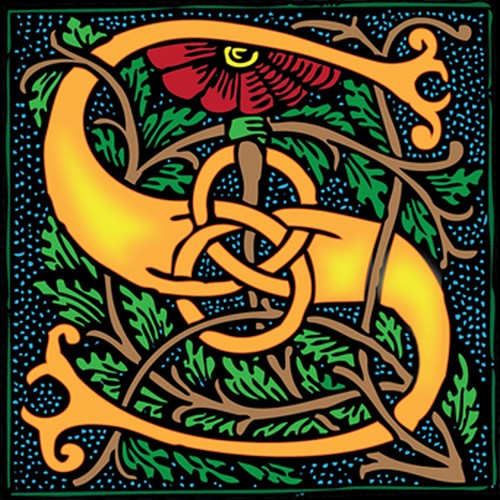 S is for Schubert, of course. The most spoilt composer in Liederabend, the one I mention with any excuse whatsoever, the one who appears on drawings (him and his music) in a outstanding position on this web. Schubert, the apple of my eyes. Why Schubert? There are composers (and I'm talking generally now, not only referring to Art Song) that I liked immediately, as a revelation. Others I learned to love them. With some others, I hold a strange relationship because I like very much some of their works and very little the rest. Even worse: I like some parts of their works very much and very little some others. There are also composers who, according to Music-lovers handbooks, should be among my favourites but I feel terribly lazy about them, or composers who prove to be a sure asset and would never disappoint...
And then, there are Schubert and Mozart. Or Mozart and Schubert. Two composers who go beyond any category and are a category by themselves: my home. The place where I live, musically speaking. It's not about whether they are the best or not; in fact, I don't mind, and not all their works are my favourite, that would be nonsense. If you feel with some other composer something similar you will understand it, it's a matter of affinity, to feel with them something that I do not feel with any other composer. You see, there are Mozart and Schubert, or Schubert and Mozart, and then, everyone else.
In a site dedicated to song, Mozart has little room, as would Schubert in a site dedicated to opera; that's why Schubert is the only apple of my eyes on Liederabend. During the week of November 19th, the anniversary of his death, I always dedicate a post to him and the rest of the year, we listen to him so often that I would understand if, at some point, some of you would feel overwhelmed. A quick look through his page on the "We listened to" section proves that he is, by far, my most represented composer, as today I've taken my time to count how many songs I've already shared: seventy-three. That meaning that one out of five songs we've listened to is his. And given how prolific he was, there isn't any risk we'll run out of them.
As you can see, for both objective and subjective reasons, the letter S of Liederabend's alphabet had to be for Schubert. Thomas Quasthoff once said that his songs "fly through the sky like angels." That was in this interview in The Guardian, in response to the interviewer's question about where a newcomer should start listening Lied. The baritone also spoke of Brahms, "whose music is so strong and earthy" and Schumann, "a crazy guy who wrote the most beautiful endings to his songs." I don't know if he didn't mention Wolf because he's not his cup of tea or because he doesn't consider him suitable for a beginner, but these three names would join Schubert in my particular court. After them, Mahler, Strauss and lots of other composers.
It was hard to choose a song to illustrate this post, too many candidates. Finally, I chose a Lied that shows the duality so present in his work, happiness and sadness often inseparable, and we can't figure out exactly where we stand. Lachen und weinen is essentially a light-hearted song, the piano part is playful, but joy is tinged every now and then with sadness. Friedrich Rückert told us the reason in his poem: when you're in love, you can laugh and cry randomly without knowing really why. In two stanzas, he tells us of symmetrical structure, laughter and tears and tears and laughter; The way that poetic voice gets puzzled by these sudden mood swings makes me think of Cherubino, the teenager who doesn't know how to deal with his feelings (don't we all go back to our teens when we fall in love?). The poem was published in 1822, it's part of the Östliche Rosen (Eastern Roses); Schubert, always aware of the latest published poetry collections, composed this Lied along with his other five Rückert-Lieder between the end of 1822 and the beginning of 1823 (we listened to one of those songs, Sei mir gegrüsst). As I said no long ago, I have always regretted the composer and the poet never crossed paths again.
The poem didn't have any title in the first edition; it appeared later under the title Lachens und Weinens Grund (The reason for laughter and tears). Four poems later, we find one entitled Quelle der Freuden und Schmerzen (Origin of joys and sorrows), which ends with these three verses; Maybe they've something to do with Lachen und Weinen, maybe don't.
Meine Freuden, meine Schmerzen,
Liegen nicht in meinen Herzen,
Sondern in der Freundin Blick.
My joy, my sorrow
do not lie in my heart
but in my sweetheart's gaze.
Lachen und Weinen has been recorded often, I suggest you listen to different versions because there are significative tempi variations among them and this modifies our perception of the two mixed feelings. I suggest, to begin with, the recording of Robert Holl and David Lutz. From here on, it's up to you...
Lachen und Weinen

Lachen und Weinen zu jeglicher Stunde
Ruht bei der Lieb' auf so mancherlei Grunde.
Morgens lacht' ich vor Lust;
Und warum ich nun weine
Bei des Abendes Scheine,
Ist mir selb' nicht bewusst.
Weinen und Lachen zu jeglicher Stunde
Ruht bei der Lieb' auf so mancherlei Grunde.
Abends weint' ich vor Schmerz;
Und warum du erwachen
Kannst am Morgen mit Lachen,
Muss ich dich fragen, o Herz.
When you're in love, laughter and tears
can come at any time, and for so many reasons.
In the morning I laughed for joy;
and why I'm crying
now that it's evening,
I don't even know myself!
When you're in love, tears and laughter
can come at any time, and for so many reasons.
In the evening I cried with pain;
and how you can wake up
laughing this morning:
this I must ask you, my heart!