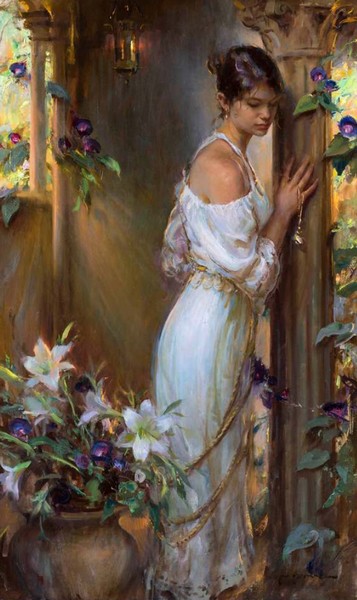 I la foscor no vencerà - D.F. Gerhartz
Epheu is the third of the four songs that make up Mädchenblumen, Op.22, cycle that was composed by the german Richard Strauss (1864-1949). Mädchenblumen dates from 1886 and is based on the texts of Felix Dahn (1834-1912), who was a German poet, historian and jurist.
The four songs that make up this inspired cycle are: Kornblumen (Cornflowers), Mohnblumen (Poppies), Epheu (Ivy) and Wasserrose (Water Lily). Epheu will be the main theme of this article, but we will also talk briefly about the other songs of this book, because the environment they propose and their contextualization make all them a work with unity, so it can not be understood one of them without the others.
The first of the Mädchenblumen is Kornblumen, or the cornflowers. These are a type of violet or bluish flower that the poet compares with tender and smiling girls. Strauss creates for it a melodic atmosphere that represents that tenderness, and a syncopated accompaniment that shows the smiling character that has relation with the following song: Mohnblumen.
The second song, the poppies, are much more playful and joyful, a character that makes itself felt with the jumps, trills in misadventures of the accompaniment and a more cheerful character in the voice of the singer.
And after the presentation of the first two Mädchenblumen, is when the expected Epheu or Ivy, comes, like a song with sensitive and noble character.
The ivy according to the poet is like tender and simple girls who have inside their greatest treasure, their great sensitivity or what would be their flower. The poem tells how they can not stand alone from their roots, because they do not have enough strength. Strauss captures it by making a succession of four ascents in the singing voice that always end up descending. And on the piano, each ascent is the representation of the continuous attempt to grow ivy.
Later he talks about his most important characteristic: once they choose their first and only love they will become entangled with him forever, and his destiny will depend on him, because they are special flowers that only bloom once in his life. Strauss manages to give importance to that moment of the description with ascents that seek chords in long sounds, in intensity pp (pianissimo), creating a unique expectation. And with that one time the ivies bloom in his life, Epheu ends, starting the final sentence with low intensity in the voice and rising when he says the word "einmal", which means "once", and give emphasizes to this idea that concludes with the ascending and delicate arpeggios of the piano.
And finally, we can't finish the article without talking about the song that closes the cycle, Wasserrose or Water Lily, which would be difficult to interpret if the environment previously created with Epheu wasn't exist. Wasserrose stands out for the magic that is created with the ostinatos, wanting remind us of the pond water it is located.
Undoubtedly Epheu is an example of a song that shows how the simplicity of a melody and an accompaniment can be combine and become one of the most beautiful songs of the cycle. The way in which the poet speaks of this flower comparing it with a deeply sensitive girl and the accompaniment that Strauss creates in such an inspiring way make Epheu a delight for those who interpret it and for those who listen to it.
As a pianist, the biggest challenge that Epheu entails is to generate the feeling that the ivy is growing little by little, and imagine that through the arpeggios you can generate the charming atmosphere that accompanies the description of it. The version of the soprano Diana Damrau and the pianist Stephan Matthias Lademann represent a good example of what to try to achieve with this wonderful song.
Epheu

Aber Efeu nenn' ich jene
Mädchen, mit den sanften Worten,
Mit dem Haar, dem schlichten, hellen,
Um den leis gewölbten Brauen,
Mit den braunen, seelenvollen
Rehenaugen, die in Thränen
Steh'n so oft, in ihren Thränen
Grade sind unwiderstehlich;
Ohne Kraft und Selbstgefühl,
Schmucklos, mit verborgner Blüthe,
Doch mit unerschöpflich tiefer,
Treuer, inniger Empfindung
Können sie mit eigner Triebkraft
Nie sich heben aus den Wurzeln,
Sind geboren, sich zu ranken
Liebend um ein ander Leben:—
An der ersten Liebumrankung
Hängt ihr ganzes Lebensschicksal,
Denn sie zählen zu den seltnen
Blumen, die nur einmal blühen.
But ivy I call those girls
with gentle words,
with the simple, arranged light hair,
framing delicately arched brows,
with the soulful, brown doe-eyes,
that are so often in tears,
and in their tears are
especially irresistible;
powerless and without self-importance,
unadorned with borrowed beauty,
but with inexhaustible deep,
true-hearted sincere sentiment;
they can never raise themselves up out their roots
with their own motive power,
they are born to twine themselves
lovingly around another life:
their entire life's destiny
depends upon that first entwining love,
for they are among the rare flowers
that only bloom once.
(translation by Beaumont Glass)