Since September 2013 I'm posting regularly in English in addition to Catalan. If you want to read this post translated to English, please use the automatic translator on the right column.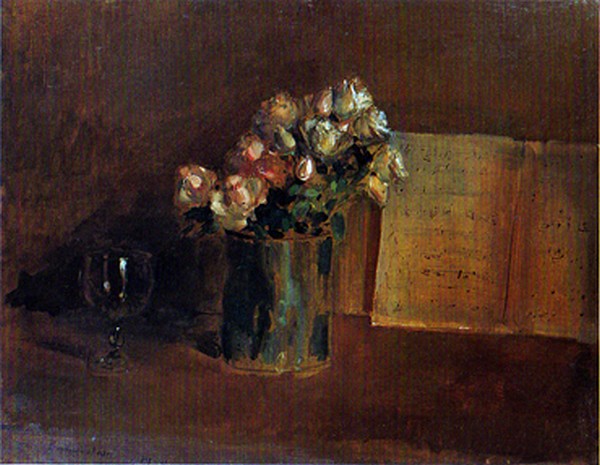 Homenatge a Mozart - R. Gaya
Aquesta setmana a Liederabend celebrem un aniversari, el nostre: el dia 2 es complia un any des de la publicació de la primera entrada. Gràcies a tots per ser-hi durant aquest temps!
Pels aficionats a les dades, han estat 56 entrades i 61 cançons. Ens han visitat 31 compositors, 43 poetes, 43 cantants i 37 pianistes. La distribució de cançons no ha estat precisament regular, la major part dels compositors només en tenen una ("com és possible que en Tal només tingui una cançó!") i Schubert, també conegut com el rei de la casa, en té quinze. Als qui us amoïneu per la meva baritonofília us podria dir que només 10 dels cantants són barítons, però com que ells solets han cantat el 40% de les cançons us diré que sí, que pateixo de baritonofília. Què hi farem.
Dos-cents anys de cançons, entre 1795 i 1999; evidentment la majoria són del segle XIX, però n'hi ha bastantes, gairebé un terç, del segle XX; també un terç de les cançons estan escrites en una de les sis llengües diferents de la predominant, l'alemanya. En resum, i per acabar amb les dades: la cançó tipus és de Schubert i la canta en alemany un baríton.
Aquest no és un blog d'actualitat i les entrades giren habitualment entorn de les cançons, però en algun moment ens hem aturat a mirar què passa per aquí fora; vam compartir la tristesa per la mort de Dietrich Fischer-Dieskau, vam celebrar algun premi, vam apadrinar una paraula i fins i tot hem tingut una entrada-protesta. I una llista! (recordeu-me que la propera llista sigui de cinc cançons, perquè deu se'ns eternitzen).
Amb una freqüència de publicació setmanal no hi ha temps per gaire més i la llibreta va acumulant entrades pendents, però ara com ara no veig gaire viable passar-me a dues entrades setmanals. I parlant d'entrades, no vull oblidar-me dels amics que han col·laborat al blog i ens han donat un altre punt de vista sobre el lied; moltes gràcies!
En aquest any també hem anat incorporant-nos a d'altres xarxes socials. La pàgina de Facebook és sobretot pels qui preferiu trobar-vos les entrades al vostre mur; de tant en tant hi publico també altres informacions relacionades amb la cançó i amb la música en un sentit més ampli. A Twitter, la xarxa "teletipus", hi trobareu sobretot actualitat (recitals, retransmissions a la ràdio,...) i més cançons (per a completar una entrada, recordar efemèrides...). Finalment, als taulells de Pinterest hi podeu trobar junts tots els quadres que il·lustren les entrades, els discos dels quals he extret les cançons, entrevistes... informacions complementàries. També tenim el web, amb informació sobre els cursos i un enllaç al blog... i torna a començar. Si trobeu a faltar alguna cosa al blog o a les seves circumstàncies, potser és un bon moment per dir-ho, no us sembla?
I ara anem a la música. Per celebrar l'aniversari, una cançó d'un compositor molt especial per a mi, Wolfgang Amadeus Mozart. De fet, estrictament parlant el rei de la casa seria ell, però com que va morir abans que nasqués el lied romàntic no té inconvenient en compartir la corona musical amb Schubert. Mozart va escriure al llarg de la seva vida unes trenta cançons; la que escoltarem avui, escrita el juny de 1785 partint d'un poema de Goethe, és tan bonica com la seva protagonista. Es tracta de Das Veilchen (La violeta), la trista història d'una violeta esclafada per la pastora de qui està enamorada. L'interpreten Barbara Bonney i Geoffrey Parsons.
Das Veilchen
Ein Veilchen auf der Wiese stand,
Gebückt in sich und unbekannt;
Es war ein herzigs Veilchen.
Da kam eine junge Schäferin
Mit leichtem Schritt und muntrem Sinn
Daher, daher,
Die Wiese her, und sang.
Ach! denkt das Veilchen, wär ich nur
Die schönste Blume der Natur,
Ach, nur ein kleines Weilchen,
Bis mich das Liebchen abgepflückt
Und an dem Busen matt gedrückt!
Ach nur, ach nur
Ein Viertelstündchen lang!
Ach! aber ach! das Mädchen kam
Und nicht in Acht das Veilchen nahm,
Ertrat das arme Veilchen.
Es sank und starb und freut' sich noch:
Und sterb' ich denn, so sterb' ich doch
Durch sie, durch sie,
Zu ihren Füßen doch.
Das arme Veilchen!
Es war ein herzigs Veilchen.
Hi havia una violeta al prat,
recollida i discreta;
era una bonica violeta.
S'acostà una jove pastora
amb pas lleuger i el cor alegre
d'allà, d'allà,
cap el prat, i cantava.
Ah! pensa la violeta, si pogués ser
la flor més bella de la Natura,
ah, només una estoneta,
fins que l'estimada em culli
i al seu pit m'enganxi!
Ah, només, només
un quartet d'hora!
Però, ai las!, la donzella arribà
i no va parar atenció a la violeta,
trepitjà la pobre violeta.
S'enfonsava i moria i tot i així s'alegrava:
d'acord, moro, però moro
per ella, per ella,
als seus peus.
Pobre violeta!
Era una bonica violeta.