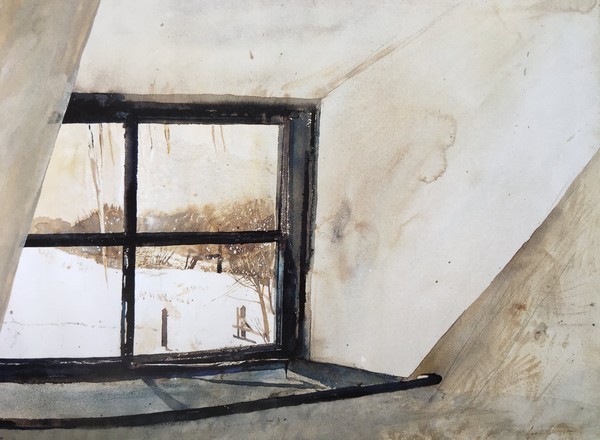 Andrew Wyeth – Temps de fred
The Schubertíada will be presented next Friday; we already know some of the concerts, but there is still many other to be discovered and I would like to explain every detail to you that very day; that's why today we have a new momento musical. While Friday arrives, I suggest that we listen to one of the songs we'll listen in Vilabertran, a kind of "music on hold".
Andrè Schuen made his debut in Vilabertran last summer, singing Die schöne Müllerin, and I fell in love with his singing; the fact is that I tend to fall in love with baritones, but I assure you that, in this case, it was the only option. So I'm happy he will come back this summer. He will sing Schwanengesang, a cycle that he and Daniel Heide will combine with other Schubert's lieder; Among them, there's one of the many unknown pearls of his catalogue: Am Fenster.
In this Lied, composed in March 1826 with a poem by Johann Gabriel Seidl, the poetic voice addresses the walls around him. They knew that some years ago he was a sad person; Now everything has changed and they see him calm and happy. I imagine someone who had a hard life and finally found peace; In the booklet of his Schubert Edition, Graham Johnson tells that he's a monk in his cell. I didn't think of it before, but the truth is that it fits with the poem, and the music has something of religious, beyond its introspective and contemplative nature. Listen to Am Fenster and let me know what it evokes you... Our performers are Tomasz Wija and David Santos.
See you on Friday!
Am Fenster

Ihr lieben Mauern, sanft und traut,
Die ihr mich kühl umschließt,
Und silberglänzig niederschaut,
Wann droben Vollmond ist:
Ihr saht mich einst so traurig da,
Mein Haupt auf schlaffer Hand, -
Als ich in mir allein mich sah,
Und keiner mich verstand.
Jetzt brach ein ander Licht heran:
Die Trauerzeit ist um:
Und manche ziehn mit mir die Bahn
Durch's Lebensheiligthum.
Sie raubt der Zufall ewig nie
Aus meinem treuen Sinn:
In tiefster Seele trag' ich sie, -
Da reicht kein Zufall hin.
Du Mauer wähnst mich trüb' wie einst
Das ist die stille Freud';
Wenn du vom Mondlicht wiederscheinst,
Wird mir die Brust so weit.
An jedem Fenster wähn' ich dann
Ein Freundeshaupt, gesenkt,
Das auch so schaut zum Himmel an,
Das auch so meiner denkt!
You dear walls, lovely and cosy,
that coolly surround me
and gaze down on me with a silver gleam
when above the moon is full!
You once saw me here so sad,
my head in my weary hands,
when I saw only into myself alone
and no one understood me.
Now a new dawn has broken:
the time of sadness is past.
And many follow with me this path
through sacred Life.
Fate will never steal them
from my faithful regard,
for I carry them deep in my soul
where Fate does not have power.
You walls suppose me as gloomy as before,
because this is a quiet joy.
When you shine from moonlight
my heart swells.
At every window, I imagine
a friendly head, lowered,
that soon gazes upward toward the sky
and thinks about me as well.
(translation by Emily Ezust)