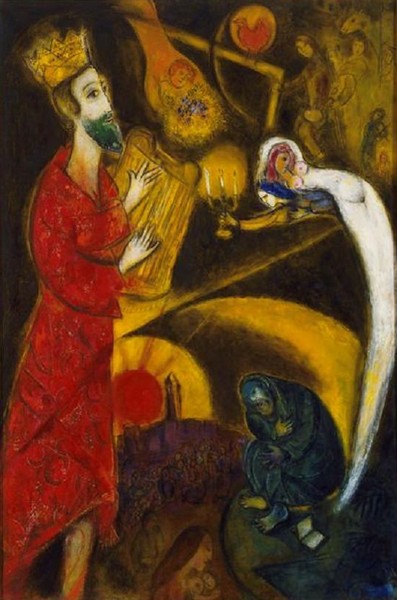 El rei David - M. Chagall
"I'd say it's the greatest British Art Song ever written." Sarah Connolly said this about King David on Twitter and I jotted down the song in my notebook. Her words referred to her concert with Julius Drake at the Teatro de la Zarzuela some days before; Unfortunately, I missed that, but I had already heard about how wonderful it was and also, about the encore, King David. And this is how this song overtakes another one from the same composer, Herbert Howells, which I've kept for a long time waiting for its moment to come.
Howells was born in 1892. He belongs to the same generation as other composers we've heard on this website, such as his friend Ivor Gurney, George Butterworth or Peter Warlock. Although he lived until 1983, most of his songs belong to the British Art Son's golden age in the early twentieth century, together with those of the three musicians who died before their time. By 1934, Howells had published forty songs; ten more remained unpublished. After that year, he no longer published any other song. In 1935, his youngest son, Michael, died unexpectedly at nine after a short illness which hardly lasted three days; Howells spent many months without composing and when he resumed it, he mainly devoted himself to the sacred music, for which he is best known nowadays.
But we are interested in his songs, so let's go back to 1919. Howells, who had already written a couple of cycles, found inspiration in the poetry of Walter de la Mare, a famous writer at that time (I wonder if he's still that well-known; I'd just say that his works can hardly be found in Barcelona's bookstores). He wrote twelve songs that year and published seven of them in 1923; Six in a collection for children titled as the poem collection, Peacock Pie, a Book of Rhymes, and the seventh, Kind David, alone. If that name, Peacock Pie, sounds familiar to you, it might be because only ten years later, Benjamin Britten wrote six songs from poems of the same book, which eventually became the cycle Tit for tat.
Following these songs, Howells became friends with De la Mare and their friendship lasted until the poet's death in 1956. It was then when Howells thought about writing a song cycle to pay homage to his friend; They were, according to his words, the only songs "he wanted and needed to write" in all those years. He recovered some drafts, wrote new songs and in 1957, he released a first version of Garland for de la Mare, with six songs. A few years later he wrote a seventh one, and he went again over his project when the centenary of the poet's birth approached. That year 1973 went by and the cycle wasn't published, but during the 1980s, a group of friends of the composer decided to edit an publish it while Howells was able to advise them. It shouldn't have been easy, given the dispersion of the work; just as an example, they found six different versions from the same song. Finally, the work was completed shortly after Howells' death. But the composer had already mentioned that he didn't want Garland for de la Mare to be published without including King David and he didn't own the rights, so his friends respected his will and the songs went back again into a drawer.
Finally, in 1995, after the eleven new songs were recorded on occasion of the composer's centenary, the persistent friends and disciples of Howells (among them, if I'm not wrong, Julius Drake) managed to edit the complete Garland for de la Mare, with King David as the 12th song ending the cycle. It's a gorgeous song; If you don't already know, wait to listen to it. I would say, however, that wasn't necessarily Howells' only reason to include it in his new cycle; After all, it had already been published and was a well-known song. I'd like to think that it meant something special for Howells and De la Mare. The composer said that he was "prouder to have written King David than almost anything mine"; the poet, that the song was "so perfect that he did not want anyone else to set it".
Music often gives comfort in time of sorrow; That's what King David is about. And also, about the encounter with nature. When neither his friends' company nor the harps playing for him succeeded in easing his sadness, quite odd because there was no reason for it, the nightingale's song during a lonely walk does the job. The nightingale, unaware of the king, sings its grief, and the more it sings, the more it soothes his pain. We know that only sad music can alleviate sadness, don't we?
Howells' music tells as much as De la Mare's words. The sadness of the king, at the first stanza; the hundred harps that play at the second one; the phrase "He rose" becomes a warning of something important is about to happen; the nightingale we hear immediately after, even before the king hears it; the sadness of the bird and the king's peace of heart. The song is full of details, but even if we don't get them in a first listening, the atmosphere, the sensitivity and the empathy with the king created become enough to stop the time.
It catches my attention the importance of music in those books in the Old Testament dedicated to someone as relevant as King David; The first time we know about him, as a young shepherd, is precisely in relation to an episode very similar to that of the song, but referred to King Saul: disturbed by an evil spirit, he asks his men to find someone who can play beautifully for him, and they call David:
"And it came to pass, when the evil spirit from God was upon Saul, that David took an harp, and played with his hand: so Saul was refreshed, and was well, and the evil spirit departed from him."
I Samuel, 16:23
Later on, the second Book of Samuel describes in detail how David organizes singers and musicians in the Temple of Jerusalem, their names, the instruments they play; there is little doubt about the importance of music for David and, in fact, throughout the History of Art, he is represented with a harp more often than with his other usual attribute, the sling.
If I'm not wrong, the Bible doesn't describe at any moment the event that De la Mare tells; in the Psalms, King David tells his remorse for his terrible mistakes of the past:
"My wounds stink and are corrupt because of my foolishness."
Psalms, 38,5
This might be the connection with the poem, or maybe not, and some gentle reader will be so kind as to explain to us its origin. Meanwhile, enjoy this wonderful song and the wonderful version of Sarah Connolly and Malcolm Martineau.
King David

King David was a sorrowful man:
No cause for his sorrow had he;
And he called for the music of a hundred harps,
To ease his melancholy.
They played till they all fell silent:
Played and play sweet did they;
But the sorrow that haunted the heart of King David
They could not charm away.
He rose; and in his garden
Walked by the moon alone,
A nightingale hidden in a cypress tree,
Jargoned on and on.
King David lifted his sad eyes
Into the dark-boughed tree --
"Tell me, thou little bird that singest,
Who taught my grief to thee?"
But the bird in no-wise heeded;
And the king in the cool of the moon
Hearkened to the nightingale's sorrowfulness,
Till all his own was gone.