Fourth week of the series in collaboration with the Master's Degree of Lied-ESMUC.Arturo Asensi presents Mit Myrthen und Rosen, from Liederkreis, op. 24 by Robert Schumann. Thank you very much, Arturo!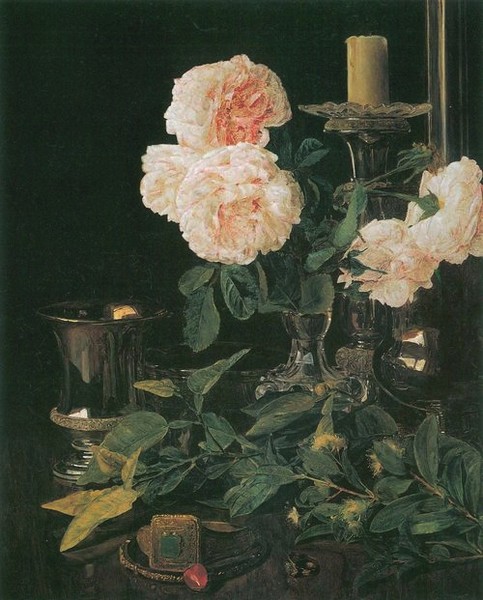 Rosenstillleben - F.G. Waldmüller
Mit Myrthen und Rosen is the last Lied of the work Liederkreis op.24 by Robert Schumann. Due to its duration and its own value, it is the only one that is occasionally interpreted separately, although, in my opinion it takes on all its poetic meaning if it really is the culmination of the cycle and the story that happens to the poet along the previous 8 songs.
In this blog has already been written several times about the year 1840, the Liederjahr of Schumann. It's the year in which Schumann dedicated himself exclusively to this genre and which was a huge gift for all of us who love the Lied. He composed jewels such as Liederkreis op.24 and op.39, Myrthen op.25, Lieder und Gesänge vol .I, Liebesfrühling op.37, Frauenliebe und leben op.42 or the wonderful Dichterliebe op.48, to name a few. So that is absolutely amazing the huge production during that famous and prolific year for the composer.
After the poet waits and despairs to see appear his beloved, he decides to leve the city to be able to turn the page and overcome the lack of love, or that's he believes. In this last Lied, the poet decides to bury the songs, as a metaphor to close this unfortunate chapter of his life, where a beautiful flower of tranquility will grow. He wishes that one day the beloved will find that flower and when listening to the songs she will understand the love that the poet felt for her. However, the suffering is not completely solved because he confesses that he will not find peace until he will be himself inside the coffin and not his songs. He aspires to death as a positive way to stop suffering and grief, as the last and only solution. It is very common to find among the repertoire of Lied that a poet entrusts to the songs the mission of telling, in his name, the love that he does not reach or can not express for his beloved; for example we already find it in the first cycle of lied conceived as such, which is none other than An die ferne Geliebte op.98 by Ludwig van Beethoven.
Throughout the song we find numerous symbols as in the first verse that presents the myrtles and roses, two plants symbol, since ancient times, of love and beauty dedicated to the goddess Aphrodite; metaphor of that love that is the guiding thread of the whole cycle. Next, he cites the smell of cypress, which, despite being habitually associated with death and cemeteries, is historically in various cultures a symbol of immortality and resurrection (for its evergreen leaves and being resistant to fire). It was a symbol of welcome and union between heaven and earth because of its height and vertical development. It is, then, the perfect tree to express the love that the poet feels, that far from overcoming it and "turning the page" will remain eternal despite not being reciprocated, hoping someday to be able to express oneself. Furthermore we must add the previously mentioned of the symbolism of death as the salvation of suffering and not as a tragic end.
Schumann expresses all this accumulation of emotions, the final outcome of the story, with a melodic line in the piano prelude, very suggestive with an ascending melody that sounds like hope, improvisation suggested by the smell of roses, myrtles, cypresses and the tinsel. The same melody that becomes impetuous and overwhelming when you compare the love that the poet feels with the fury of the Etna volcano. On the other hand, in the second section that begins with the verse "Und is wird mir im Herzen viel Ahnung laut" (and many hunches are born in my heart) the piano becomes more unstable and transparent to finish in the postludio expressing masterly the nostalgia and the breath of love. As for the vocal line, with a fairly broad register, it has, in general, a sweet and hopeful color, which conveys that desire that the beloved get to see those songs buried for her. With a point of mystery to speak of the spirit of love and overwhelming melancholy closes the lied "und flüstern mit Wehmut und liebeshauch" (and whisper with nostalgia and breath of love).
The version I propose is by tenor Ian Bostridge with Julius Drake on piano. I have chosen it because I believe that Bostridge does a magnificent job with the text contributing to each word all its meaning with the color of the voice, and German phonetics. However, I strongly recommend that you also listen to the Fischer-Dieskau version, which despite not being in the original tone of Schumann makes an incredible interpretation as the reference singer of Lied he is. I hope you enjoy this wonderful lied that ends the cycle Liederkreis op.24.
Mit Myrthen und Rosen

Mit Myrten und Rosen, lieblich und hold,
Mit duft'gen Zypressen und Flittergold,
Möcht' ich zieren dies Buch wie 'nen Totenschrein,
Und sargen meine Lieder hinein.
O könnt' ich die Liebe sargen hinzu!
Auf dem Grabe der Liebe wächst Blümlein der Ruh'
Da blüht es hervor, da pflückt man es ab-
Doch mir blüht's nur, wenn ich selber im Grab.
Hier sind nun die Lieder, die einst so wild,
Wie ein Lavastrom, der dem Ätna entquillt,
Hervorgestürzt aus dem tiefsten Gemüt,
Und rings viel blitzende Funken versprüht!
Nun liegen sie stumm und totengleich,
Nun starren sie kalt und nebelbleich,
Doch aufs neu' die alte Glut sie belebt,
Wenn der Liebe Geist einst über sie schwebt.
Und es wird mir im Herzen viel Ahnung laut:
Der Liebe Geist einst über sie taut;
Einst kommt dies Buch in deine Hand.
Du süßes Lieb im fernen Land.
Dann löst sich des Liedes Zauberbann
Die blassen Buchstaben schau'n dich an,
Sie schauen dir flehend ins schöne Aug',
Und flüstern mit Wehmut und Liebeshauch.
With myrtle and roses, lovely and pretty,
with fragrant cypresses and gold tinsel,
I would decorate this book like a coffin
and bury my songs inside it.
O if only I could bury my love there as well!
On the grave of Love grows the blossom of peace;
it blooms and then is plucked, -
yet it will bloom for me only when I am myself in the grave.
Here now are the songs which, once so wild,
like a stream of lava that flowed from Etna,
burst from the depths of my heart,
and spray glittering sparks everywhere!
Now they lie mute and death-like,
now they stare coldly, pale as mist,
but the old glow will revive them afresh,
when the spirit of love someday floats above them.
And in my heart the thought grows loud:
the spirit of love will someday thaw them;
someday this book will arrive in your hands,
you, my sweet love in a distant land.
Then shall the songs' magic spell be broken,
and the white letters shall gaze at you;
they'll gaze beseechingly into your lovely eyes,
and whisper with sadness and a breath of love.
(translation by Emily Ezust)