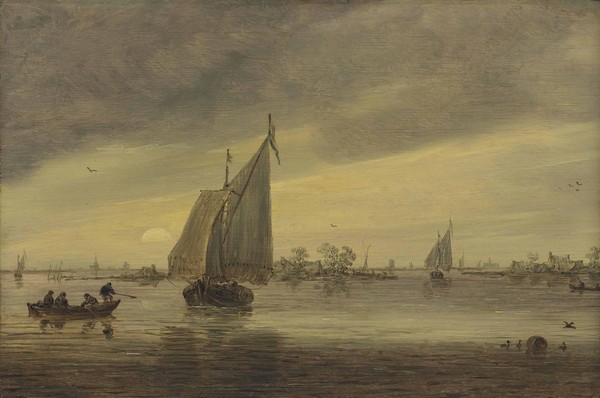 Sunrise over the Haarlemmermeer with a schmalship and other boats - J. van Goyen
My dearest, September begins. Welcome back if you went on holiday last weeks, be patient if you (still) didn't go, you are not alone. The last notes from the Schubertíada remain in my mind, I enjoyed so much! After the last concert, my friends A. and J. told me: "You should explain in your blog that we had a terrific time at the Schubertíada!" They're right, we had a great time; we let ourselves be dragged into the darkest Lieder, we were happy Stendhal Syndrome victims and our dopamine release was really high. You should try it if you never went to Vilabertran.
To start the season (although I will go on holiday soon and I will disconnect from the web and social networks for a few days), I invite you to take a virtual trip, as we did in previous years. Or maybe I should say two virtual trips because we will listen to two Lieder to the same poem.
Wasserfahrt (Sea voyage) belongs to the first poetry collection by Heinrich Heine, Junge Leiden, (Young sorrows) written between 1817 and 1821 (a few years before Lyrisches Intermezzo, a well-known reference because it's Dichterliebe's source). We hear someone who bids farewell when his journey begins; The boat sails fast and moves away from his country and his beloved. We don't know if the man leaves forever or if he's a sailor who will come back home; If he leaves because she rejected him or if she's so sad that she doesn't even dare to say goodbye. We only know that his heart is broken.
We could expect a song written from this poem to be sad, even desperate, except that Felix Mendelssohn is the composer; his Wasserfahrt has something of epic, it sounds even unconcerned, as denying the poet's words. The song, strophic with a small variation in the third stanza, is a duet for two voices and piano, probably composed in 1838; It's known that he signed the contract with the publisher the previous year and that the song was included in the Drei zweistimmige Volkslieder, WoO. 11, published in 1839. The piece of music is relatively well-known and can be heard in several combinations of voices: soprano and mezzo soprano, soprano and baritone, tenor and baritone... we're listening to a less common duo, two basses; it's the great version of Kurt Moll and Harald Stamm, accompanied by Wilhelm von Grunelius.
Just a few years before his brother Felix, Fanny Hensel (married to painter Wilhelm Hensel in 1829) had already written a song with this poem. It was in 1835, a gift for the daughter of the family with whom she stayed for a while in Düsseldorf (the place where Heine, at that time exiled to Paris, was born). Ich stand gelehnet an den Mast, Fanny takes the first verse of the poem as a title, is also a duo, now a cappella; she also shares with his brother the strophic structure, but her song has a more melancholy atmosphere than that of Felix. We will listen to it sung by two sopranos, Felicitas and Judith Erb; that's how Fanny Hensel wrote it.
I hope you enjoy these two sea voyages so similar and still so different!
Wasserfahrt

Ich stand gelehnet an den Mast

Ich stand gelehnet an den Mast,
Und zählte jede Welle.
Ade! mein schönes Vaterland!
Mein Schiff, das segelt schnelle!
Ich kam schön Liebchens Haus vorbei,
Die Fensterscheiben blinken;
Ich guck' mir fast die Augen aus,
Doch will mir niemand winken.
Ihr Tränen, bleibt mir aus dem Aug',
Daß ich nicht dunkel sehe.
Du armes Herz, brich mir nicht
Vor allzugroßem Wehe!
I stood leaning against the mast
and counted every wave.
Adieu, my fair fatherland!
My ship, it sails so swiftly!
I passed my fair sweetheart's house,
the windowpanes flashing;
I almost stared my eyes out,
but no one waved to me.
You tears, stay away from my eyes,
for you make it too dark to see.
My sick heart, do not break
from this overwhelming grief.
(translation by
Emily Ezust)