We started last year a collaboration with the ESMUC (Escola Superior de Música de Catalunya), with its Master's Degree of Lied (the long official name is Master's Degree in Advanced Studies in Lied, Spanish Song and Catalan Song "Victoria de los Ángeles"). The students of the module "Genre Literature. Repertoire of the German Lied" given by pianist Viviana Salisi, prepared a post for Liederabend's blog as the final work of this module. Viviana suggested doing this collaboration again this year and I'm delighted to welcome those singers and pianists that are starting to address to us from the platform. So for four weeks, I yield the floor to four young performers; later, I will add the rest of the works to the page of the Master's Degree of Lied, where you can also find last year's works.

The first post of this miniseries is that of Mireia Tarragó, who talks about a lied by Clara Schumann, Warum willst du and're fragen?. Thank you very much, Mireia!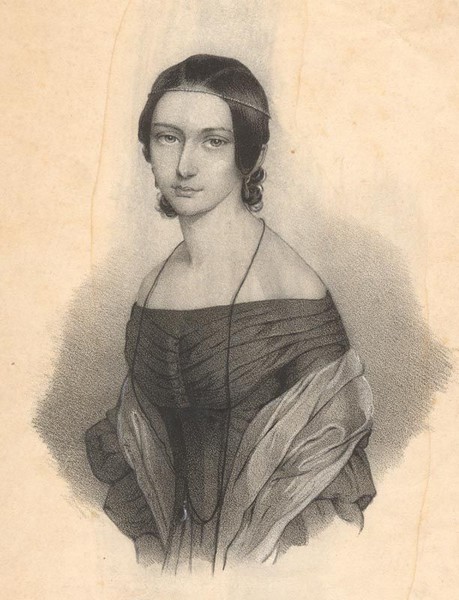 Portrait of Clara Schumann
"This week I sat down a lot to compose and finally I succeeded with four poems by Rückert for my beloved Robert. I hope this would give him at least a little pleasure, which would make my wish come true".
The Marriage Diaries of Robert and Clara Schumann. January 1841
Clara Wieck and Robert Schumann got married on September 12th of 1840, after a long conflict with Friedrieck, Clara's father. As she was a great concert pianist, Mr Wieck did not want that the marriage diverted her from her career. Furthermore, Robert was nine years older, which only complicated the situation. Eventually, despite all impediments, they got married.
During the first years of marriage was when Robert composed more lieder, including the most well-known ones. Specifically, between 1840 and 1841 wrote more than 150 Lieder. The Myrten cycle was composed as a present for Clara on their wedding day.
As we can read in the cited fragment from The Marriage Diaries of Robert and Clara Schumann, during 1841 they composed together the Zwölf Gedichte aus Friedrich Rückerts Liebesfrühling cycle, from twelve poems from Friedrich Rückert.
Friedrich Rückert, as it is explained in two other articles of this website, was a German poet representative of the late romanticism period. Not only had he cultivated many poetry styles but also, he had translated much literature to German, specifically he had a great interest in oriental poetry. Many other composers also used Rückert's poems for their lieder. This is the case of Gustav Mahler's Kindertotenlieder or Franz Schubert with the lied Du bist die Ruh. However, we will focus on the Liebesfrühling collection of poems, which is entitled "Spring's love" and was written during the years after getting engaged to Luise Wiethaus-Fischer and was published in 1834.
From the twelve poems of Liebesfrüling that Clara and Robert composed, nine are from Robert and three are from Clara. Er ist gekommen in Sturm und Regen, Liebst du um Schönheit and Warum willst du and're fragen are the ones from Clara, which I sang in many occasions together because I think they constitute a beautiful unit. The one that I chose for this article is the last one, Warum willst du and're fragen, which is the eleventh of the cycle.
Clara Schumann, as far as we know, was a great pianist and performed many concerts around the world, as a real star. She was internationally recognized and despite her marriage with Schumann and her eight sons, she was able to offer many concerts during the rest of her life, something that was unthinkable at that time. She had received an exceptional musical formation from her father, which allowed her to successfully address her facet as a composer, especially during her youth. Nevertheless, she never believed in her creative talent and was convinced that women should refuse certain things, as herself wrote in her diary on February 17th 1843, some years after composing Rückert songs.
It has been only three years since I became interested on Clara Schumann's compositions, and it was the first time I dealt with a repertoire written by a woman. This was because, together with a graduate pianist from the master, we created a concert for Women's Day. We decided to emphasise Clara's composer facet and make an overview of her life through her relationships with Robert Schumann and Johannes Brahms.
It was then that I discovered the lied that I would like to talk you about. Warum willst du and're fragen is apparently a simple song, but it has a great emotional complexity. The lyrics are about suspicions and infidelities, where the protagonist asks her beloved not to believe on what others say but believe on her eyes, which are the only ones that tell the truth. Even though it is clear what the text says, I have always imagined when singing this song that it describes the difficulties that Robert and Clara had before getting married, when they could only tell their love through their look, without listening to other's words.
In Clara Schumann's songs, her ability and quality as a pianist are evident as the melodies written in the piano part are always very nice and respected. As I said, this lied is quite pleasant and despite the sadness and desperation of the protagonist, music and harmony reflect clearly deep love. The melody follows an ascendant line, always to the word Augen – those eyes that have all the love in their look – both in the first and the second verse. In the third verse, we find the high point of all the song when it finally says: Was auch meine Lieppen sagen / Sieh mein Aug', ich liebe dich! (Whatever my lips may say / See my eyes, I love you!); and to close this expansion, she repeats these two last phrases with a beautiful melody in piano dynamics, which gets so emotional. In summary, I think that it is extremely interesting to know the repertoire of this great composer, not only to reclaim her figure and women's in general but also because it is really worthy.
We owe a lot to Clara.
Warum willst du and're fragen?

Warum willst du and're fragen,
Die's nicht meinen treu mit dir?
Glaube nicht, als was dir sagen
Diese beiden Augen hier!
Glaube nicht den fremden Leuten,
Glaube nicht dem eignen Wahn;
Nicht mein Tun auch sollst du deuten,
Sondern sieh die Augen an!
Schweigt die Lippe deinen Fragen,
Oder zeugt sie gegen mich?
Was auch meine Lippen sagen,
Sieh mein Aug', ich liebe dich!
Why will you question others,
Who are not faithful to you?
Believe nothing but what
Both these eyes say!
Believe not strange people,
Believe not peculiar fancies;
Even my actions you shouldn't interpret,
But look in these eyes!
Will lips silence your questions,
Or turn them against me?
Whatever my lips may say,
See my eyes: I love you!
(translation by David Kenneth Smith)