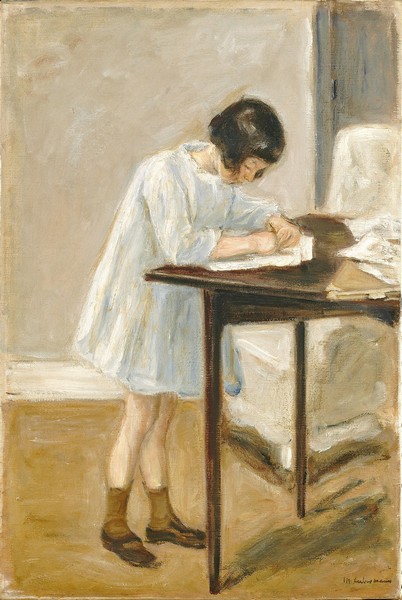 The Artist's Granddaughter at the Table – M. Liebermann
My dearest, as I said last week, I'm on holiday. I hope everything works out and you receive this postcard.
You may be surprised to find here Anton Bruckner; He's not a composer we associate with Art Song, but he wrote a few lieder, about twenty, in addition to the symphonies, masses and motets with which we related him.
Frühlingslied [Spring Song], with a poem by Heinrich Heine, is the Lied that illustrates this postcard. Bruckner composed it in 1851, at the monastery of Sankt Florian; He had been a boy choir singer there and now he was the organist, after having been the teacher's assistant. This little song (it has twenty-four measures, I wonder if he wrote any shorter works) was dedicated by Bruckner to Aloisia, the daughter of the teacher, Michael Bogner, with whom he stayed.
I hope you like this postcard, performed by Robert Holzer and Thomas Kerbl. Greetings from...
Frühlingslied
Leise zieht durch mein Gemüt
Liebliches Geläute,
Klinge, kleines Frühlingslied,
Kling hinaus ins Weite.
Kling hinaus bis an das Haus,
Wo die Blumen sprießen,
Wenn du eine Rose schaust,
Sag, ich laß sie grüßen.
If you need an English translation please visit this
link