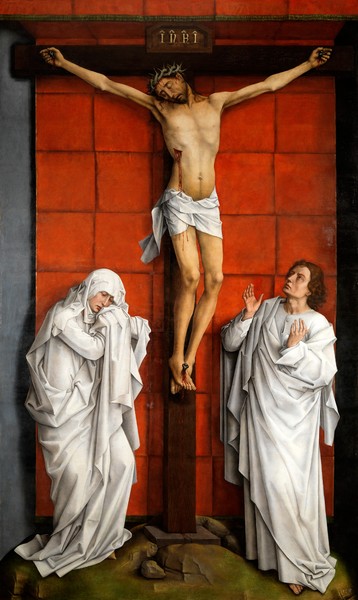 Calvari - R. van der Weyden
La setmana passada mencionava uns quants discos publicats recentment, caracteritzats tots ells per presentar repertori inèdit o gairebé. Entre ells, un amb cançons de Charles Villiers Stanford, de les quals n'escoltarem una aquesta setmana.
Songs of Faith, op. 97 és una de les obres gairebé inèdites; hi ha almenys un enregistrament de quatre de les cançons, però aquest amb Roderick Williams i Andrew West és el primer que se'n fa complet. Stanford va compondre el cicle entre el maig i el desembre de 1906, i el va publicar en dos quaderns: el primer, amb les tres cançons amb poemes d'Alfred Tennyson, i el segon, amb les tres amb poemes de Walt Whitman. Malgrat que tots dos poetes són contemporanis, Tennyson va viure entre 1809 i 1892 i Whitman, deu anys més jove, va morir el mateix any que ell, a l'anglès i a l'americà els separa molt més que un oceà, per estil i per vivències. Així i tot, el cicle manté una unitat temàtica, la reflexió sobre la fe, el patiment, la mort i el més enllà.
La cançó que escoltarem aquesta setmana és Tears, la cinquena, amb un poema de Whitman inclòs a Leaves of Grass. Com vam veure fa un temps, aquest recull tenia dotze poemes a la primera edició del 1855, i va anar creixent en les sis edicions posteriors fins arribar als més de quatre-cents. Tears és el tercer dels onze poemes de la col·lecció Sea-Drift [Brossa marina], inclosa a Leaves of Grass a la sisena edició, la de 1881. Ens parla de les llàgrimes que es ploren de nit, en solitud, una imatge que ja trobàvavem en Stille Tränen, un gran lied de Robert Schumann amb poema de Justinus Kerner. En el poema de Whitman, l'ànima que plora és a la platja, a la vora de l'oceà que recull les llàgrimes, i la cançó de Stanford reflecteix el moviment d'aquest oceà poderós a mesura que avança la cançó, que comença amb caràcter contemplatiu.
Charles Villiers Stanford s'estrena amb Tears a Liederabend. Un altre dia el presentaré com es mereix (hi haurà almenys una altra cançó seva, molt diferent, durant aquest any), però la tradició diu que l'entrada de la Setmana Santa és curta, perquè arriba entre dies de descans; la tradició diu també que la cançó ha de ser de caràcter espiritual, d'aquí que hagi triat precisament Tears, una cançó que a més m'agrada especialment, per començar el recorregut de Stanford.
Que tingueu una bona Pasqua!
Tears
Tears! tears! tears!
In the night, in solitude, tears,
On the white shore dripping, dripping, suck'd in by the sand,
Tears, not a star shining, all dark and desolate,
Moist tears from the eyes of a muffled head;
O who is that ghost? that form in the dark, with tears?
What shapeless lump is that, bent, crouch'd there on the sand?
Streaming tears, sobbing tears, throes, choked with wild cries;
O storm, embodied, rising, careering with swift steps along the beach!
O wild and dismal night storm, with wind – O howling and desperate!
O shade so sedate by day, with calm countenance and steady pace,
But away at night as you fly, none looking – O then the unloosen'd ocean,
Of tears! tears! tears!
Llàgrimes! Llàgrimes! Llàgrimes!
A la nit, a soles, llàgrimes,
escolant-se sobre la blanca riba, escolant-se, begudes per la sorra,
llàgrimes, cap estel brilla, tot fosc i desolat,
llàgrimes humides dels ulls d'un cap emboçat;
oh, qui és aquest fantasma? Aquesta figura a la foscor, amb llàgrimes?
Quina mena d'embalum sense forma és, inclinat, ajupit sobre l'arena?
Llàgrimes que llisquen, llàgrimes que sangloten, prostració, prenyades de crits salvatges;
oh, tempesta, encarnada, creixent, que avança amb passes veloces per la platja!
Oh tempesta nocturna, salvatge i funesta, i el vent, violent i desesperat!
Oh ombra calmada durant el dia, amb contenció serena i pas segur,
però lluny de nit quan voles, no mira ningú... oh, llavors l'oceà desfermat
de llàgrimes! Llàgrimes! Llàgrimes!
Articles relacionats