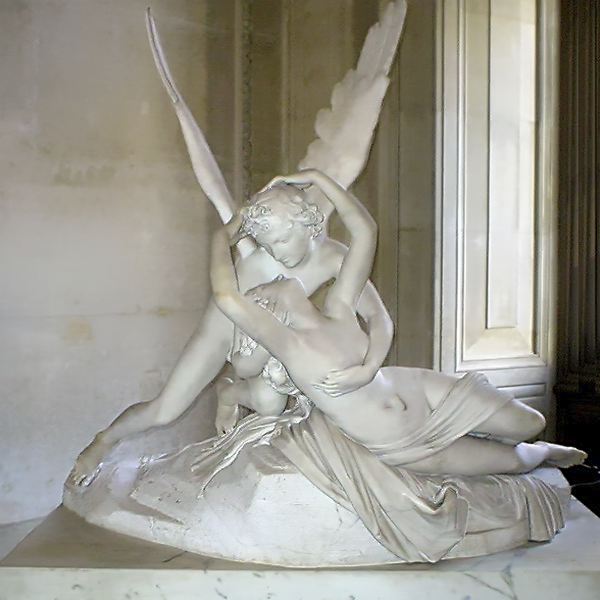 Amore e Psiche - A. Canova
A Hugo Wolf li interessava especialment escriure lieder a partir de fonts poètiques poc explorades per altres compositors, com ara Möricke, l'Spanisches Liederbuch o l'Italienisches Liederbuch. Quan s'hi posava, a més, no s'hi posava per poc, i així tenim els cinquanta-tres lieder del primer cicle, els quaranta-quatre del segon o els quaranta-sis del tercer. I un dia, concretament el 27 d'octubre de 1888, s'hi va posar amb Goethe; és la sèrie de lieder situada cronològicament entre els Möricke-Lieder i l'Italienisches Liederbuch.
Per descomptat, Goethe era un poeta musicat per tothom, i difícilment podia superar (si és que era la seva intenció) el rècord de Schubert, que havia escrit setanta-quatre lieder amb poemes seus; Wolf "només" en va escriure quaranta-tres. Va fer una excepció al seu costum de no compondre a partir de poemes ja musicats per fer la seva versió de les cançons de l'arpista i de Mignon d'Anys d'aprenentatge de Wilhelm Meister, però quan es va aturar al West-östlicher Divan, potser perquè el poemari és molt extens, va evitar els poemes més musicats. Va escriure disset lieder a partir d'aquesta obra, deu dels quals a partir de poemes del Llibre de Suleika, però no hi ha els dos més coneguts pels aficionats al lied, és a dir, els que hem escoltat amb els títols Suleika I i Suleika II en la versió de Schubert. Però això no significa que l'autora d'aquests dos poemes, Marianne von Willemer, no estigui representada en el cicle de Wolf, perquè va compondre altres dos lieder a partir de poemes seus: Nimmer will ich dich verlieren i Hochbeglückt in deiner Liebe.
Això vol dir, entre altres coses, que Marianne von Willemer, de qui parlàvem fa unes setmanes, ha estat musicada brillantment per Schubert, Schumann i Wolf, per esmentar només els noms més importants d'un seguit de noms importants. No gaire poetes poden presumir-ne, i m'agrada pensar que ella va conèixer les versions dels seus contemporanis: Schubert, Schumann i els germans Mendelssohn. Quan va Wolf va escriure els Goethe-Lieder feia trenta anys que Willemer havia mort, i vint que Hermann Grimm havia publicat l'article en el qual revelava que cinc dels poemes del West-östlicher Divan (o cinc i escaig, perquè se li atribueixen estrofes d'un sisè) els havia escrit ella. Ho sabia Wolf? Probablement no, perquè la notícia va trigar força a divulgar-se, i d'entrada es va posar en dubte; referències importants de mitjan segle XX encara troben a faltar proves que demostrin que el que Willemer li va explicar a Grimm fos cert.
Us proposo que escoltem el número 40 dels Goethe-Lieder, Hochbeglückt in deiner Liebe, compost el 23 de gener de 1889. És la resposta de Suleika/Willemer al lied (i poema) anterior, de Hatem/Goethe, compost dos dies abans, que comença amb les paraules amb les quals comença aquest article: "No és l'ocasió qui fa el lladre", i continua dient "ella mateixa és el més gran lladre". Hatem diu que l'ocasió li va robar tot l'amor que li restava al cor, i ara és paupèrrim i depèn completament d'ella, de Suleika; però veu la compassió als seus ulls, i en els seus braços gaudeix d'un nou destí. Amb aquest petit resum s'entén millor, crec, el sentit del poema de Willemer.
Si sou coneixedors dels lieder de Wolf, potser esperareu que Hochbeglückt in deiner Liebe tingui un caràcter líric i contemplatiu com altres cançons d'amor seves, però, precisament per aquest coneixement previ, no us vindrà de nou sentir una cançó arrauxada, amb una escriptura complexa de la part del piano, que si la introducció us sorprèn, espereu a sentir el postludi. La partitura porta la indicació de caràcter Äußerst leidenschaftlich und sehr lebhaft [extremadament apassionat i molt viu], però jo hi sento, més que passió (almenys, la passió d'un Ein Traum de Grieg), un to burleta que plana per damunt de tota la cançó. I el fet que tots dos lieder junts siguin un diàleg entre els dos amants em fa pensar també en el to juganer que sentim en el següent cicle que escriuria, l'Italienisches Liederbuch.
Hochbeglückt in deiner Liebe és un lied espectacular, que sentirem interpretat per Felicity Lott i Geoffrey Parsons. L'he triat perquè serà la peça que tancarà el recital de Nathalie Pérez i Daniel Heide dimecres vinent al Palau; l'última part del programa estarà dedicada al West-östlicher Divan i hi podrem sentir vuit lieder compostos a partir de poemes d'aquesta col·lecció per cinc compositors al llarg de gairebé dos-cents anys. Si sou lectors habituals, estareu familiaritzats amb els textos i les seves circumstàncies!
Hochbeglückt in deiner Liebe
Hochbeglückt in deiner Liebe
Schelt ich nicht Gelegenheit;
Ward sie auch an dir zum Diebe,
Wie mich solch ein Raub erfreut!
Und wozu denn auch berauben?
Gib dich mir aus freier Wahl;
Gar zu gerne möcht ich glauben –
Ja, ich bin's, die dich bestahl.
Was so willig du gegeben,
Bringt dir herrlichen Gewinn,
Meine Ruh, mein reiches Leben
Geb ich freudig, nimm es hin!
Scherze nicht! Nichts von Verarmen!
Macht uns nicht die Liebe reich?
Halt ich dich in meinen Armen,
Jedem Glück ist meines gleich.
Benaurada pel teu amor
no blasmo l'ocasió;
tot i que t' ha robat,
com m'alegra aital robatori!
Però, per què caldria robar?
Dóna't a mi lliurement;
em plauria molt creure...
Sí, que sóc jo, qui et robà.
El que tant generosament donares,
et retornarà un esplèndid guany,
la meva pau, la meva vida rica
et dono joiosa, accepta-les!
No facis broma! No parlis de pobresa!
Que potser no ens fa rics l'amor?
Quan et tinc entre els meus braços
La meva joia iguala la de qualsevol.
Articles relacionats