Els alumnes de l'assignatura Literatura del gènere. Repertori del lied alemany del Màster en Lied de l'ESMUC, impartida per la professora Viviana Salisi, ens visiten un any més per proposar-nos una cançó; si voleu recuperar els treballs dels cursos anteriors, els teniu tots aquí. La pianista Mar Compte comença aquesta cinquena temporada i ens parla de Shakespeare i d'Amy Beach. Gràcies, Mar!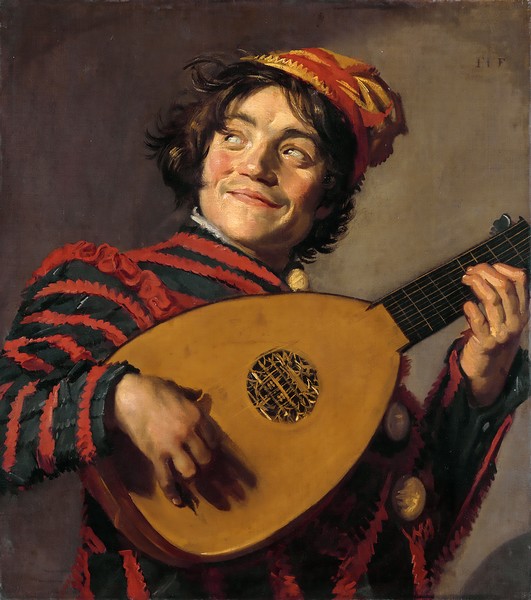 Bufó tocant el llaut - F. Hals
Ens trobem enmig del segon acte de la comèdia Twelfth Night de William Shakespeare, en un moment on dos dels personatges principals li demanen al bufó, Feste, que els canti una cançó:
SIR TOBY BELCH
((giving the FOOL money) Yes, come on. Here's sixpence for you. Let's hear a song.
(donant diners al bufó) Sí, vinga. Aquí tens sis penics per tu. Escoltem una cançó.
SIR ANDREW
(giving the FOOL money) Here's something from me too. If one knight gives—
(donant diners al bufó) Aquí tens alguna cosa de part meva també. Si un cavaller dona...)
FESTE
Would you rather hear a love song or a song about the good life?
Preferiu escoltar una cançó d'amor o una cançó sobre la bona vida?
SIR TOBY BELCH
A love song, a love song.
Una cançó d'amor, una cançó d'amor.
SIR ANDREW
Yes, yes. I'm not interested in being good.
Sí, sí. No estic interessast en ser bo.
I el bufó comença cantant una cançó a l'estimada que descriu com s'ha de viure en el present perquè la joventut no és eterna, que deixi de buscar l'amor en altres llocs, perquè l'amor és ara.
He volgut parlar d'aquesta cançó perquè considero que és una cançó pensada com a cançó i això em fa agafar-li un punt d'autenticitat que no sempre és fàcil de trobar en el repertori. L'espontaneïtat i la frescor que Shakespeare va saber trobar amb Feste, crec que Beach l'ha sapigut trobar de la mateixa manera amb aquesta música. A més a més, quan es tracta de tocar-la en públic, com que en certa manera jo també estic fent la mateixa feina que el bufó, empatitzo molt amb el personatge.
El fet que es pugui ubicar en un context tan concret ajuda a l'intèrpret a respondre moltes de les preguntes que ens fem quan treballem una cançó (què passa al poema?, qui parla?, està sol o parla a algú?, què ha passat abans que el poema comencés?, què està passant en el present?, com és el personatge?), tota aquesta informació ja la tenim gràcies a Shakespeare i facilita el procés de creixement de l'obra i ens ajuda a situar-la amb claredat, tot i que a vegades, també s'ha de dir que el fet d'haver d'inventar-se totes aquestes respostes té un punt molt interessant com a músic.
La cançó, igual que el poema, està dividia en dues parts i està escrita en sol major i sota una indicació de tempo Alegretto grazioso que ajuda a establir el caràcter lleuger i alegre de l'atmosfera de la cançó.
Si l'escoltem veurem que hi ha un tema principal que es va repetint tota l'estona, les primeres notes que fa la veu (si, sol, mi, re) seran les que, juntament amb el piano, aniran apareixent. A vegades amb tonalitats diferents, amb caràcters diferents i amb el dibuix una mica canviat. Com a pianista, m'agrada imaginar-me que cada cop que apareix aquest motiu és l'estimat que xiula a l'estimada per cridar-li l'atenció i recordar-li que l'amor és ara. A més, com que la veu posa lletra a aquest motiu (O mistress mine, O senyora meva) és una cosa que com a pianista també m'ajuda molt: poder posar paraules concretes a la música.
És la primera cançó del recull de la compositora Three Shakespeare Songs, que com indica el títol són tres cançons extretes de tres obres diferents de l'autor (O mistress mine, Take o take those lips away i Fairy Lullaby). No podem parlar de cicle perquè les tres juntes no expliquen una història, però sí que, sota la temàtica del mateix autor, podem parlar de quadern de cançons.
Amy Beach va ser una pianista i compositora de finals del segle XIX i principis del segle XX. Cal destacar-ne el fet que era una dona, un altre motiu pel qual he volgut triar aquesta cançó, i que va ser de les primeres que va poder desenvolupar una carrera exitosa en l'àmbit de la música que va desenvolupar entre els Estats Units i Europa.
La versió que proposo és la de la soprano anglesa Emma Kirkby amb el pianista James Lisney, que trobo que en fan una versió molt encertada i la veu de la cantant, especialitzada en música renaixentista i barroca, pel meu gust, aconsegueix uns colors i una frescor molt agradable.
Sobre l'autora. Mar Compte és una pianista catalana que va estudiar el grau superior a l'ESMUC i actualment es troba cursant el Màster de Lied Victoria de los Ángeles compaginant-ho donant classes de música i fent de voluntària al Festival Life Victoria.
O Mistress Mine

O mistress mine, where are you roaming?
O, stay and hear; your true love's coming,
That can sing both high and low:
Trip no further, pretty sweeting;
Journeys end in lovers meeting,
Every wise man's son doth know.
What is love? 'tis not hereafter;
Present mirth hath present laughter;
What's to come is still unsure:
In delay there lies no plenty;
Then come kiss me, sweet and twenty,
Youth's a stuff will not endure.
Oh senyora meva, per on passeges?
Oh, queda't i escolta, el teu amor venir
que tan pot cantar fort com suau.
No vagis més lluny, dolça bellesa;
els viatges acaben en les reunions d'amants,
Cada fill d'home savi ho sap.
Què és l'amor? No és d'ara en endavant:
l'alegria present té somriures presents;
el que ha de venir encara no és segur:
En la demora no hi ha plenitud;
llavors vine a besar-me, dolça i vint;
la joventut és una cosa que no dura.