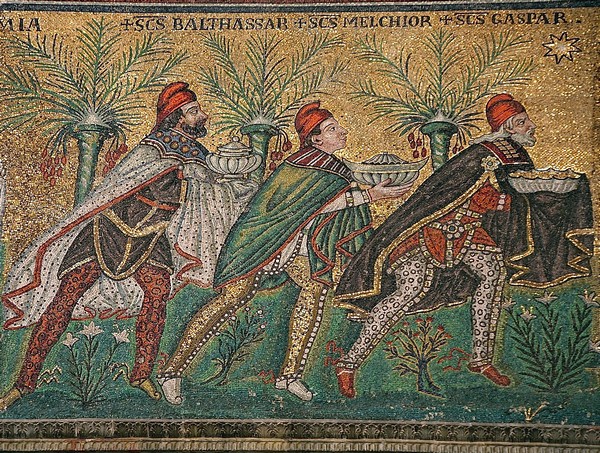 Els Reis (Mosaic a la Basílica de Sant'Apollinare Nuvo (Ràvena), s. VI)
"On és el rei dels jueus que ha nascut? Hem vist a l'orient la seva estrella, i hem vingut a fer-li homenatge."

Mt 2,2
L'evangelista Mateu ens parla breument dels mags que van arribar fins a Betlem per prosternar-se davant del nen de Maria i oferir-li presents, i la tradició ha completat els detalls que hi faltaven: els mags són tres, són reis, van ricament vestits, es desplacen muntats en camell i els assisteixen sengles patges reals. Els poetes també n'han parlat; de vegades en to lleuger, com Goethe (un poema deliciós que Wolf va convertir en un lied deliciós), de vegades amb senzill recolliment, com trobem al 37è poema de Die Heimkehr del Buch der Lieder de Heinrich Heine. Tres estrofes ens parlen del camí cap a Betlem (obviant, com gairebé tota la literatura, la intervenció del manipulador Herodes) i ens fa somriure al final amb l'enrenou que hi devia haver a la casa de Josep, amb el bou mugint, el nen plorant i els tres reis cantant.
El 1905 Strauss va publicar l'últim recull de cançons abans d'una aturada que va durar fins al 1918, quan va retornar al gènere d'una manera ben peculiar. L'aturada la va provocar, sobretot, la dedicació del compositor a l'òpera; aquests darrers sis lieder, l'op. 56, els va compondre tot just després de l'estrena de Salome i mentre componia Elektra. L'últim lied posa música a aquest poema de Heine sobre els Reis, Die heiligen drei Könige aus Morgenland, i forma part de la sèrie que estem seguint aquests darrers mesos, "El Buch der Lieder i deu compositors". És un lied poc conegut i, al meu parer, preciós, que recorda els lieder orquestrals del compositor, els seus Gesänge i Hymnus. Un llarg preludi d'atmosfera religiosa ens anticipa el misteri que viurem, i els cants de celebració dels reis els sentim en l'encara més llarg postludi.
Strauss va compondre tots sis lieder de l'op. 56 per a veu i piano, i immediatament va orquestrar el nostre; aquesta versió, l'orquestrada, és la que he triat per compartir amb vosaltres, interpretada per Gundula Janowitz i l'Academy of London dirigida per Richard Stamp. Els admiradors dels poemes simfònics i les óperes del compositor hi trobareu sonoritats conegudes. Després he pensat que també val la pena escoltar la versió original per a veu i piano, si disposeu d'uns minuts més; us proposo la interpretació de Christiane Karg i Gerold Huber.
La màgia fa que cada any els Reis viatgin des de l'Orient fins a les nostres cases amb els camells carregats d'il·lusió. Això serà aquesta nit, si esteu llegint l'entrada el dia que es publica; feu bondat. Que tingueu una bona diada de Reis, i que la il·lusió que ens portin ens duri tot l'any.
Die heiligen drei Könige aus Morgenland (veu i orquestra)
Die heiligen drei Könige aus Morgenland (veu i piano)
Die heil'gen drei Kön'ge aus Morgenland,
Sie frugen in jedem Städtchen:
Wo geht der Weg nach Bethlehem,
Ihr lieben Buben und Mädchen?
Die Jungen und Alten, sie wußten's nicht,
Die Könige zogen weiter;
Sie folgten einem goldenen Stern,
Der leuchtete lieblich und heiter.
Der Stern blieb stehn über Josephs Haus,
Da sind sie hineingegangen;
Das Öchslein brüllte, das Kindlein schrie,
Die heil'gen drei Könige sangen.
Els tres reis mags d'Orient
preguntaren a cada ciutat:
on és el camí que va a Betlem,
estimats nens i nenes?
Ni els joves o els vells ho sabien,
els reis continuaren el camí;
seguiren una estrella daurada
que brillava gentil i serena.
L'estrella s'aturà damunt la casa de Josep,
i els reis hi entraren;
el bou mugia, el petit infant cridava,
els tres reis mags cantaven.
(traducció de Salvador Pila)
Articles relacionats