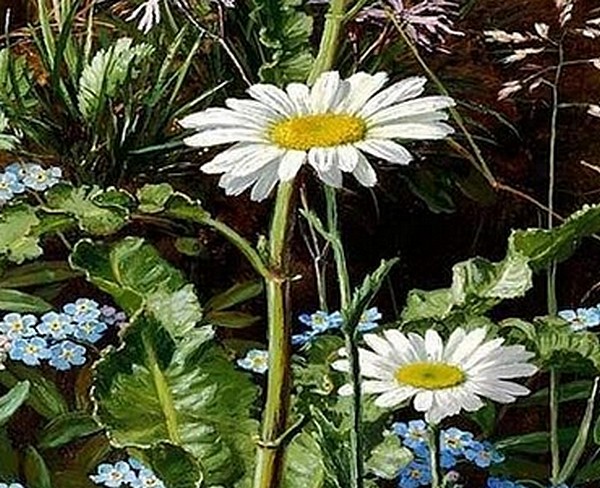 Roses de bardissa, miosotis, margarides, botons d'or i trevols - Otto Ottesen (detall)
Primera entrada del blog publicada únicament al nou web (recordeu que
la setmana passada
ens vam acomiadar de Blogger, si hi ha res que no us funcioni correctament si us plau feu-m'ho saber!). He pensat que per celebrar-ho era bona idea dedicar una entrada al lied. És clar, com totes, em direu. Però no ben bé. Avui sentirem la veu de compositors, poetes i experts en deu cites sobre el lied.
Comencem amb una definició del lied per comparació amb l'òpera:
1) Si l'òpera és una embriaguesa, amb ritus, amb cortinatges, el lied és un misteri, només una escolta cega.
(André Tubeuf - Le Lied. Poètes et paysages)
Sobre els intèrprets i també sobre el públic:
2) A la cançó, és fonamental que s'expliqui la música i la lletra.
(Josep M. Ainaud de Lasarte, a Conxita Badia no existeix)
3) L'intèrpret ha de començar amb quatre possessions: tècnica perfecta, magnestisme, sentit de l'atmosfera i domini del color.
(H. Plumket Greene - Interpretation in Song)
4) El públic ha d'anar a escoltar les cançons i no només a escoltar una veu. I cantants i mestres han de ser absolutament respectuosos amb les intencions del compositor i no permetre's "llicències" improvisades només per aconseguir un efecte aïllat
(Sidney Northcote - Byrd to Britten)
I els compositors, què en pensen, de fer cançons?
5) [fer cançons] és realment el més difícil i el que més art i coneixement necessita: abocar en una forma petita un contingut gran.
(Gustav Mahler - Erinnerungen an Gustav Mahler , Natalie Bauer-Lechner)
Les relacions entre poetes i compositors sempre han estat complicades. Alguns poetes es delien perquè els seus poemes es convertissin en cançons. Wilhelm Müller, per exemple, que no va arribar a saber mai què existien
Die schöne Müllerin
i
Winterreise
de Schubert:
6) Els meus poemes gaudeixen només d'una existència a mitges: una existència de paper en blanc i negre, fins que la música els desperti i els animi amb un alè de vida
(Wilhelm Müller en una carta a Bernhard Josef Klein)
D'altres, com Victor Hugo, no n'eren gens partidaris:
7) Res no m'irrita tant com l'entossudiment a convertir bells versos en música. Com que els músics tenen un art inacabat, tenen la dèria de voler acabar la poesia, que és un art complet.
(Victor Hugo - Tas de pierres)
Els compositors, evidentment, veuen d'una altra manera la relació entre poesia i música:
8) Totes dues existeixen per separat, però arriben a l'excel·lència quan s'uneixen, perquè es com trobar bellesa i intel·ligència a la mateixa persona.
(Henry Purcell, al pròleg de Prophetess, or The History of Dioclesian)
N'hi ha que filen més prim, depèn de la poesia (no he trobat la referència de la cita; potser algun de vosaltres, amables lectors, la podreu aportar):
9) Un poema perfecte de Goethe no necessita música, precisament en el cas de Goethe, la música afebleix i apaga la paraula.
(Richard Strauss)
La darrera cita la tenim en forma de lied. Hugo Wolf va triar per obrir la seva col·lecció de cançons italianes,
Italienisches Liederbuch
, un poema que és tota una declaració de principis i que en la seva versió original en italià diu:
Le cose piccoline son pur belle!
Le cose piccoline son pur care!
Ponete mente come son le perle:
son piccoline, e si fanno pagare.
Ponete mente come l'è l'uliva:
l'è piccolina, e di buon frutto mena.
Ponete mente come l'è la rosa:
l'è piccolina, e l'è tanto odorosa.
El poema està recollit a
Canti popolari toscani, corsi, illirici, greci, raccolti ed illustrati da Niccolò Tommaseo, Venezia, G. Tasso
i Wolf va fer servir la traducció de Paul Heyse. Escoltarem el lied interpretat per Mojca Erdmann i Gerold Huber.
Auch kleine Dinge
Auch kleine Dinge können uns entzücken,
Auch kleine Dinge können teuer sein.
Bedenkt, wie gern wir uns mit Perlen schmücken;
Sie werden schwer bezahlt und sind nur klein.
Bedenkt, wie klein ist die Olivenfrucht,
Und wird um ihre Güte doch gesucht.
Denkt an die Rose nur, wie klein sie ist,
Und duftet doch so lieblich, wie ihr wißt.
També les coses petites poden encisar-nos,
també les coses petites poden ser precioses.
Penseu com ens agrada guarnir-nos amb perles;
són molt valuoses i tanmateix són petites.
Penseu com són de petites les olives,
i són tan valorades pel seu gust,
penseu a la rosa, com n'és, de petita,
i fan tanta bona olor com ja sabeu.