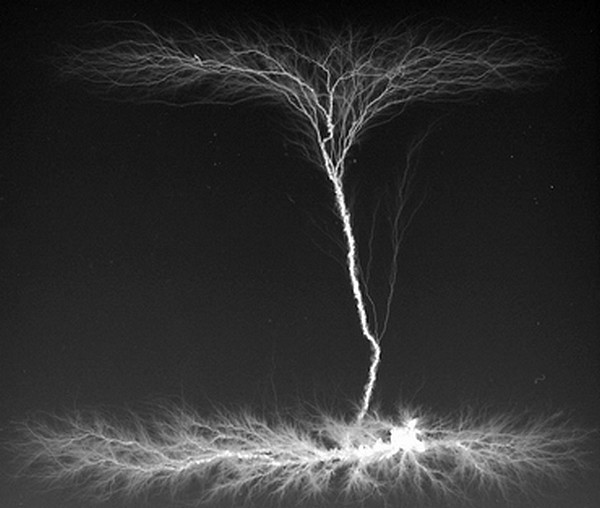 Figura de Lichtenberg
Hi ha cançons que són amor a primera vista. És escoltar-les i córrer a mirar d'esbrinar-hi el què, qui, quan i perquè. Però, sobretot, és córrer a escoltar-la un cop i un altre. La brevíssima cançó d'aquesta setmana és un amor a primera vista; estrictament parlant, la segona, perquè mentre l'escoltava i pensava que tenia alguna cosa d'especial ja s'havia acabat (hi ha cançons curtes, molt curtes i després hi ha les de Ned Rorem) i hi vaig haver de tornar així que per dir-ho bé va ser un amor a segona audició.
O you whom I often and silently come
és, com us deia, una cançó de Ned Rorem, escrita l'estiu de 1957 per encàrrec d'un cantant aficionat, Wilder Luke Burnap. El senyor Burnap, que, si no ho tinc mal entès, era productor a Broadway, li va demanar un cicle de cançons per acompanyar-se ell mateix amb un virginal, un instrument que als segles XVI i XVII era molt comú però que a mitjans del segle XX era prou exòtic. Rorem li va escriure les
Five Songs to texts of Walt Whitman
, la segona de les quals és
O you whom I often and silently come
. Imagino que el senyor Burnap devia quedar encantat amb les seves cançons.
Walt Whitman (1819-1892) és un dels poetes més important dels Estats Units i un dels que més han freqüentat els compositors; només de cançons se n'han fet més de quatre-centes. Ned Rorem és un d'aquests compositors que s'hi ha inspirat sovint, entre d'altres coses perquè "li va proporcionar els seus texts més sentits". Com que ja vam fer un primer acostament al músic en
aquesta entrada
aquest cop ens centrarem en presentar el poeta, que ens visita per primer cop.
La influent obra poètica de Whitman està recollida en un únic volum,
Leaves of Grass
(Fulles d'herba), editat per primer cop el 1855 i reeditat per l'autor sis cops més. En aquella primera edició no apareixia el seu nom a la coberta ni a la pàgina del títol; només es podia llegir amb lletra menuda a la pàgina del copyright i, això és el més interessant, com a part del primer poema, on l'autor es descrivia amb unes frases que ens serviran també a nosaltres com a presentació:
"Walt Whitman, an American, one of the roughs, a kosmos, / Disorderly fleshy and sensual….eating drinking and breeding,/ No sentimentalist….no stander above men and women or apart from them….no more modest than immodest."
(Walt Whitman, americà, un dels rudes, un cosmos / desordenadament carnal i sensual... menjant, bebent i engendrant / no sentimental... no per sobre dels homes ni les dones ni al marge d'ells... no més modest que immodest.)
Dins de
Leaves of Grass
els poemes s'agrupen per col·leccions;
O you whom I often and silently come
pertany a
Calamus,
una col·lecció apareguda per primer cop a la tercera edició el 1860, que celebra les relacions entre homes, el que Whitman anomena
"the manly love of comrades"
. El nom del recull fa referència a un personatge mitològic, Kalamos, enamorat d'un altre noi, Karpos. Quan Karpos mor ofegat al riu la desesperació de Kalamos és tan gran que es deixa morir també. El seu pare, el déu Meandre, el converteix en un càlam, una planta que neix a les ribes, així que que quan sentiu el vent que mou les tiges del càlam penseu que en realitat esteu sentint els laments de Kalamos per la mort de Karpos. Potser perquè els poemes eren ambigus o perquè els lectors de l'època anaven curts d'imaginació,
Leaves of Grass
no va ser considerat un llibre escandalós per aquest recull sinó per una altra col·lecció,
Children of Adam
, que parla d'amor entre home i dona de manera molt més explícita.
Encara ara es debat sobre l'orientació sexual de Whitman; no hi ha dubtes sobre les seves relacions amb dones però es continua discutint si les seves relacions amb homes eren físiques o només platòniques. Fos com fos, el que sembla clar és que als seus poemes hi ha molt d'amor i un bon exemple és
O you whom I often I silently come
(el 43è poema de la primera versió de
Calamus
i el penúltim dels trenta-nou que Whitman va conservar-ne a la darrera i definitiva versió de
Leaves of Grass
). En tres versos el poeta descriu la necessitat de ser a prop de l'home desitjat i la reacció que li produeix només veure'l, aquest
subtil foc elèctric
, ja no diguem un frec. És pot ser més precís amb menys paraules? No és estrany que aquest preciós poema sigui un dels més cèlebres de
Leaves of Grass
i no ho és tampoc que la cançó de Rorem sigui una de les més conegudes. L'escoltarem en l'elegant alhora que apassionada versió del baríton americà Donald Cramm, acompanyat al piano per Eugene Istomin.
O you whom I often and silently come
O you whom I often and silently come where you are, that I may be with you,
As I walk by your side, or sit near, or remain in the same room with you,
Little you know the subtle electric fire that for your sake is playing within me.
O, tu, a qui sovint i silenciosament m'acosto i vinc on ets per poder ser amb tu,
quan camino al teu costat, o m'assec aprop, o sóc a la mateixa estança amb tu,
poc que t'imagines el subtil foc elèctric que per causa teva crema en mi.