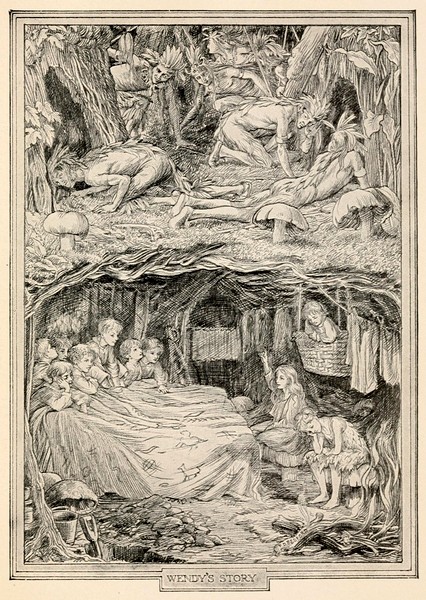 La rondalla de Wendy - F.D. Bedford
Dissabte passat es complia el centenari del naixement de Leonard Bernstein. A les xarxes tots ens movem en el nostre microcosmos i el meu està poblat per aficionats a la música, revistes, músics i programadors que aquell dia van celebrar l'aniversari del gran músic amb obres seves, imatges, anècdotes, un munt d'articles interessants, molta alegria i molt d'afecte. Era com si tothom estigués sota la influència de la seva energia encomanadissa.
A Liederabend, com ja sabeu, Bernstein també és un compositor molt estimat i per això he volgut afegir-me a la celebració tancant la temporada 2017-2018 amb una cançó seva que ja us avanço que, estrictament parlant, s'escapa del gènere. Com d'altres vegades, aprofito que feu vacances per fer una petita excursió musical.
Tot va començar el 1949, quan a Broadway es preparava un muntatge de Peter Pan, l'obra de James M. Barrie ben coneguda per tots, estrenada a Londres el 1904 i que el cinema encara no havia popularitzat (la pel·lícula de Walt Disney arribaria quatre anys després). Als responsables del muntatge, Peter Lawrence i R. L. Stevens, se'ls va acudir d'encarregar a Leonard Bernstein algunes peces instrumentals com a música d'escena. En aquell moment, el compositor ja havia fet el seu sonat debut com a director de la New York Philharmonic i havia compost dues simfonies i un musical d'èxit, On the town. que aquell mateix any es passaria al cinema dirigit per Stanley Donen convertint-se en un dels gran musicals de la Història.
No estava previst que Peter Pan fos un musical, entre d'altres coses perquè els protagonistes, dos actors tan prestigiosos a l'època com Jean Arthur (Peter Pan) i Boris Karloff (Capità Garfi) no eren cantants, però l'obra va acabar estrenant-se el 24 d'abril de 1950 amb cinc cançons de Bernstein amb lletres també seves, cantades pels personatges de Wendy, el Capità Garfi, els pirates i les sirenes; es va representar durant un any amb força èxit, però després es va anar oblidant. Per sort, es va enregistrar i avui podem gaudir tots d'aquella primera versió perquè es el disc es va reeditar en CD.
El 2001, onze anys després de la mort de Bernstein, el director d'orquestra Alexander Frey va saber que almenys una de les cançons que havia escrit el compositor per a Peter Pan no s'havia inclòs en el muntatge i es va preguntar si no hi hauria més música descartada; va cercar, va restaurar, va coordinar les orquestracions de les parts encara inèdites i després d'uns anys, el 2005, va publicar Peter Pan amb tota la música escrita per Bernstein: set cançons i la música incidental que, per algun motiu, s'havia descartat seixanta ans abans i s'havia substituït per la d'Alex Wilder, un nom que no apareixia al programa de mà de l'espectacle. Fet i fet, Bernstein havia escrit un musical sencer!
D'aquestes set cançons, avui n'escoltarem Peter, Peter, que trobem ja a la primera versió de l'obra; és una de les tres que canta Wendy. És una cançó petita i encantadora que no es pot escoltar sense un somriure, em fa la sensació que la nena que fa de mare de tots s'ha enamorat del nen que no vol fer-se gran. Us proposo d'escoltar-la no en cap dels dos enregistraments que he esmentat sinó en un tercer, el disc de cançons de Bernstein que Roberta Alexander va gravar amb Tan Crane al piano. Espero que us agradi i us animeu a escoltar tota la música de Peter Pan. Visca Bernstein!
Peter, Peter

Peter, Peter,
You've got a smudge on your face;
Allow me, Peter, Peter,
to wipe it away;
I know it's just an old excuse to feel your touch,
But I love you very much!
Peter, Peter,
Your hair is all out of place;
Allow me, Peter, Peter,
to fix it, I pray;
I have to touch you to make sure you're really real,
And I love the way you feel.
The touch of you, I'd cherish,
I long for it, night and day.
Without your touch, I'll perish,
So I've got to find, some way:
Let's see!
It's really true!
Believe me, Peter, Peter,
You've got a mosquito on you!
Of course, it's just a poor excuse to feel your touch,
But I want to feel your touch,
And I love you very much!
Peter, Peter,
tens una taca a la cara;
permet-me, Peter, Peter,
que te la netegi;
sé que només és una vella excusa per sentir el teu contacte,
però t'estimo molt!
Peter, Peter,
els teus cabells són esbullats,
permet-me, Peter, Peter,
que te'ls pentini, t'ho prego;
haig de tocar-te per estar segura que ets realment real,
i estimo el teu contacte.
Em deleixo per sentir el teu contacte,
l'enyoro, dia i nit.
Sense sentir-lo, moriré,
així que haig de trobar-ne la manera:
Vejam!
És realment cert!
Creu-me, Peter, Peter,
tens un mosquit a sobre!
És clar, és només una pobre excusa per sentir el teu contacte,
però vull sentir el teu contacte,
i t'estimo molt!